Just like that 6 weeks of FASTer Way to Fat Loss with Stacy is behind me! Ready for my honest review of my first round (including before/afters)?!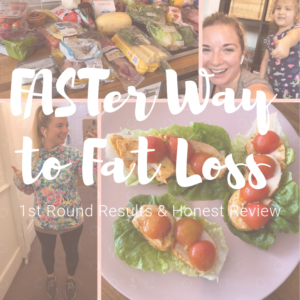 If I'm being totally honest, I haven't ever really had success with any specific diet and exercise plans since having Sully, so I wasn't expecting too much. We also had travel coming up and that always feels like a vacation so my weight loss goals weren't high on that front either. I was for sure hopeful and very, very fed up with our eating and (lack of) exercise patterns with all the travel and craziness of life. So in we jumped!
Here's how the program works in a visual which is what I needed: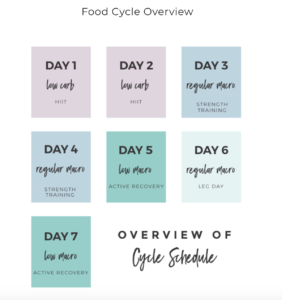 It actually really overwhelmed me when I first saw the above and read all about the program. That said, you get a trial week to test everything out and ask all the questions. You also get the hang rather quickly which surprised me. Using the My Fitness Pal app also made tracking easy. Not to mention, my coach Stacy was just the best. Our small closed Facebook group with daily check-ins were integral to my success. I do well with accountability. Stacy and our group were a huge factor of why this was successful for me!
Okay, okay, okay… how much weight did I actually lose? Well, hold ya horses now. First and foremost, the absolute number one benefit of this program for me has actually ended up not being the weight loss. It's the fact that I now understand what my body reacts to best. I recognize so much now.
For example, I totally had a milkshake the other day and it was bad. We cut dairy during our program except for the cheese in France and other things here and there. Now my tummy doesn't feel so stellar after eating a bunch of it, to say the least.
I also surprisingly love love loved the fasting. I weirdly have insane energy in the mornings now! I just feel more in control and balanced. It's a good feeling y'all.
Now, the lbs. I lost 12 pounds and 7.5 inches in 6 weeks y'all!!!
Yay! I'm so pumped about those facts. Even more, I love how I feel lighter and had to buy a pair of dark skinny jeans a size smaller because my go-tos were too big after the first initial wear. Even my PJ pants feel too baggy. Ryan has noticed too – which says a lot when a guy notices! The above photo on the left was during our trip to Greenville in September and then on the right is us in Birmingham last weekend. Crazy!
What did I actually eat?
Overall, I usually ate eggs to break my fast at noon. I would add smoked salmon or prosciutto or truffle oil to feel fancier, but always tried to include chia seeds and spinach too. I also did a lot of lettuce wraps with pre-cooked chicken breast slices (pictured below).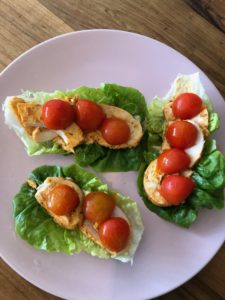 Then for dinner, we would have some version of meat + veggie side. At least once a week we ate a rotisserie chicken with broccoli or cauli rice. One night a week we would splurge with a bunless burger and sweet potato fries (see below)! These pictures are terrible, gosh sorry y'all. But Mama was HUNGRY and had no time to be taking good pictures hahaha.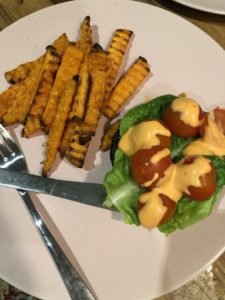 Snack wise, it depends if it was a low carb or regular macro day. The buffalo chicken I showed on my Stories the other day was consistent (6 chicken breast in the slow cooker, shredded, with a bit of mayo and hot sauce, and celery or peppers to dip). Then it was things like berries, almonds, hummus, and peppers.
I have a huge sweet tooth so peanut butter with some dark chocolate on a spoon was my saving grace. That or the dark chocolate sea salt almonds from Trader Joes my girl Sam smuggled over when she visited.
What about Ryan and Sully's meals?
We're lucky that Sully only goes through picky phases, but overall is a good eater of all things. If I could get my act together in time, she would eat what we ate, but I would add some pasta or rice and make sure things weren't super spicy. Ryan ate every single thing I ate, he was committed to sticking to the eating with me which was great. I mean it when I say I feel like I ate A LOT of food on this program. Yes, I was hungry during fasting, but overall felt really full most the time.
Do you have to eliminate dairy and gluten?
Nope, definitely not. They suggest you try one or the other, but it's absolutely not a necessity. I had been wanting to do this awhile so I tried to eliminate both. Overall we were successful here, but I totally didn't hold back in Paris, when we went out with friends, or were celebrating special occasions.
What about the workouts?
They were hard. But they were easy to do in our flat in the morning. The only thing I would change next time around is to get some heavier weights from home. Sometimes I would skip the workouts and swap in my runs because I made a promise to myself before starting this to do 2-3 runs a week.
I have to say I absolutely did not do this 100%. Meaning I didn't follow every rule and do every day perfect. Quite the opposite actually with Paris and other trips thrown in there, plus just everyday life. That's why I would love to do another round in January, but want to keep things going as best I can over the next month. The results would be insane if I did it at 100%!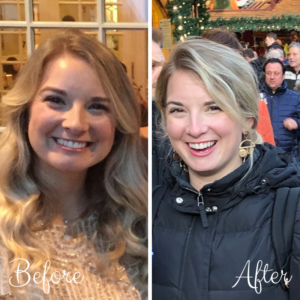 I can't recommend this program enough, but make sure you do it with Stacy!!! You can sign up here. She is also doing an abbreviated version of the program (minus the fasting and carb cycling) with 12 workouts and a 12-day meal plan (plus a cute tank and big Amazon giveaway) called 12 Days of Fitmas for only $49. Go here to sign up for that – registration is only open until tomorrow, the 9th!
What other questions do you have for me? I still have about 10lbs I'd like to lose, but I'm giving myself grace and celebrating my progress over the holiday season. What this looks like for me is still intermittent fasting (only eat 12pm-8pm), working out at least 4 times a week (mix running and some of the workout moves from FWTFL), watching my dairy and gluten intake, and meal prepping when I can so I choose healthy.
I heard someone say this the other day and I love it. Before I mindlessly pop something in my mouth, I ask myself, "Does this bless my body?". Sounds weird, but it is working.
Feel free to comment below with anything else, email me, DM me on Instagram, follow Stacy on Instagram for inspo, or reach out to Stacy directly. Lastly…