I took a poll and the majority of you wanted to see a Target try-on session! So that's precisely what I did today on my Instagram Stories. Now here are the links to it all! I went with items to update my spring and summer wardrobe and hope you love them too. I'm most excited about the two dresses that I found. One of them I know I'll be living in all summer!
Another great part? Everything is UNDER $35!
PS: I also ordered two pairs of jeans and some other things I really, really didn't care for at all. Note on the jeans, order a size or maybe even two down! If you need white jeans for summer, go with these.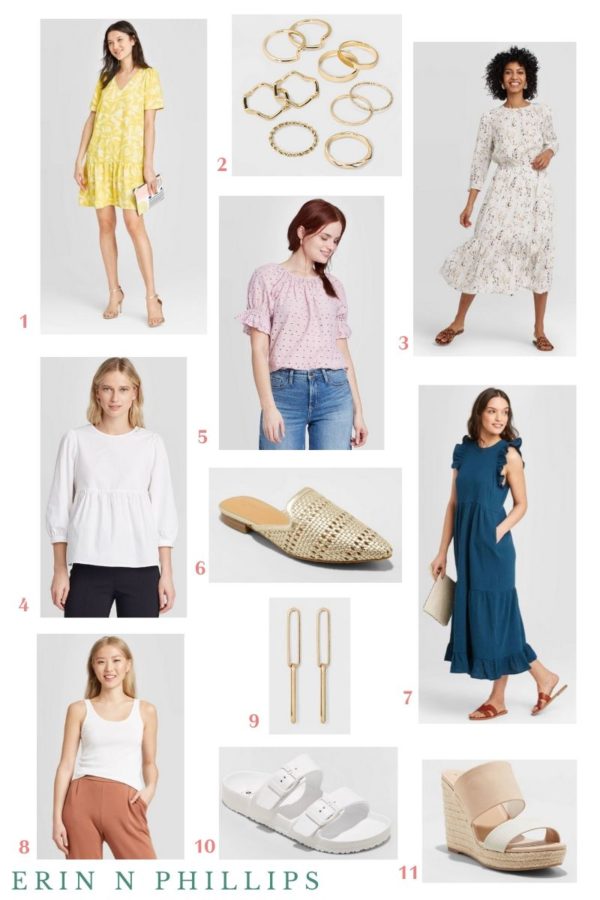 1. Short-Sleeve Ruffle Hem Dress – $24.99 (size down, 8 colors)
3. Sleeved Midi Dress – $27.99 (MY FAVORITE, 4 colors!)
4. Balloon Tie Back Top – $29.99 (also in polka dots)
5. Eyelet Ruffle Sleeve Shirt – $24.99 (needs a tank under, 3 colors)
6. Gold Woven Mules – $24.99 (3 colors!)
7. Ruffle Sleeve Mini Dress – $34.99 (my new summer uniform, 4 colors)
10. Birkenstock Knock Off – $14 (beach staple! 3 colors)
11. Slip-on Wedges – $34.99 (3 colors)
Happy shopping! If you enjoyed these items and the try-on session on my Instagram Stories, let me know. Next up, you've requested Amazon!