I've noticed lately that I've migrated more to a wardrobe of staples with the occasional fun and bright or unique piece. Usually, those pieces are from Target, Amazon, H&M, Zara, or a local boutique – so cheaper essentially. Otherwise, I live in my two pairs of Madewell jeans and a quality basic tee, plus my staple gold jewelry, and good sneakers or flats. Then I throw on some fun statement earrings or a sassy jacket.
After doing a pretty brutal closet cleanout, I noticed I didn't have a single pair of white jeans that were unstained or actually fit right. That's what spurred me to look into the Shopbop sale (up to 25% off). I think I may have found my white jeans, plus I added some other "staple" items below if you find your style migrating to more classic staples too!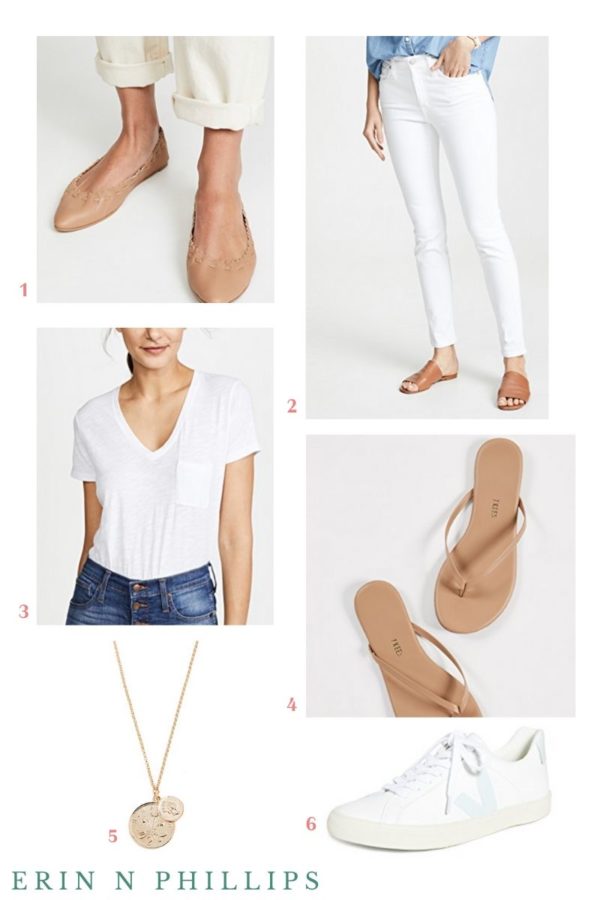 1. See by Chloe Point Toe Nude Flats
3. Basic White Tee (under $20 and also in black and grey)
4. Basic Leather Flip Flops (I LIVE in these in Charleston, so comfy)
PS: Please spread the word and send this to your friends! I earn a very small commission on every link click and purchase from the above. I put this towards our adoption or continuing to bring you great finds via this blog and my Instagram. Thank you SO MUCH for your support!
Cheers,
Erin