In our almost 10 years of marriage, I have never really designed our master bedroom. Sure, we got a bed off Craigslist about three years into marriage, updated some Ikea dressers as bedside tables, grabbed a duvet cover on sale at the Pottery Barn outlet at one point, but I'm still using Ryan's dresser from his childhood bedroom and we've never had curtains or really put time into designing the space.
While it will take a while to acquire all this, I found myself putting together how I would want our room to look. Moving our Moroccan rug to the nursery and having my dresser finally bite the dust, it was a good time to start dreaming.
Our bed is actually very nice, from Arhaus, but bought on Craigslist. So that won't change. It's a deep tobacco brown, so the problem I run into is our floor is the same color and it makes the room feel dark when I'm drawn toward white and airy. So I'll be going for all things bright and light here to bring that feel to the room even with the dark pieces already in place!
First up, some inspiration for our master room. I have to note this is what I'm terming "realistic" inspiration. It either has elements I could do in our room, that would fit in our room, or I could purchase and copy. There's a million insane images on Pinterest, but these are the ones that feel more attainable to me.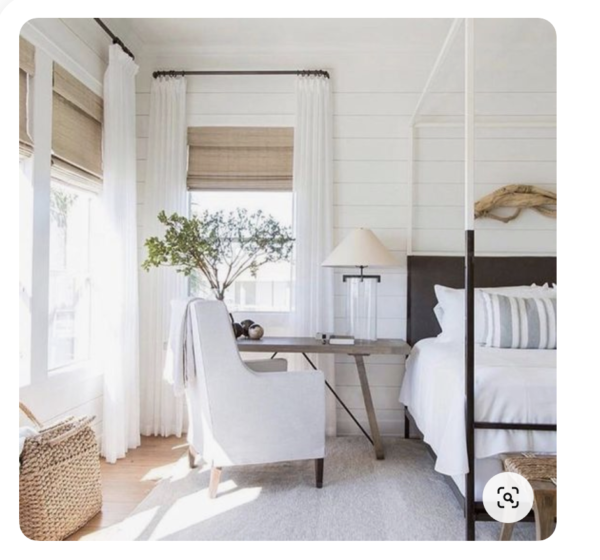 Are we over shiplap or in a coastal place like Charleston is it a classic? I liked this one from Tara Shaw because it has a dark piece of furniture.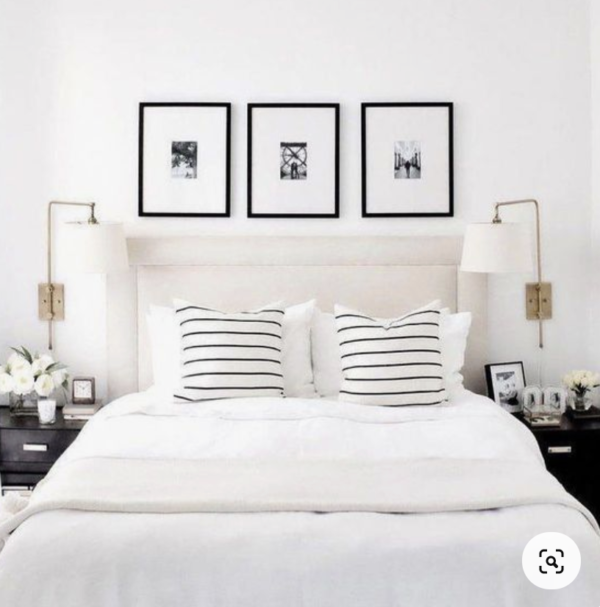 I'm really liking the side wall-mounted lamps like pictured in this Lulu and Georgia picture.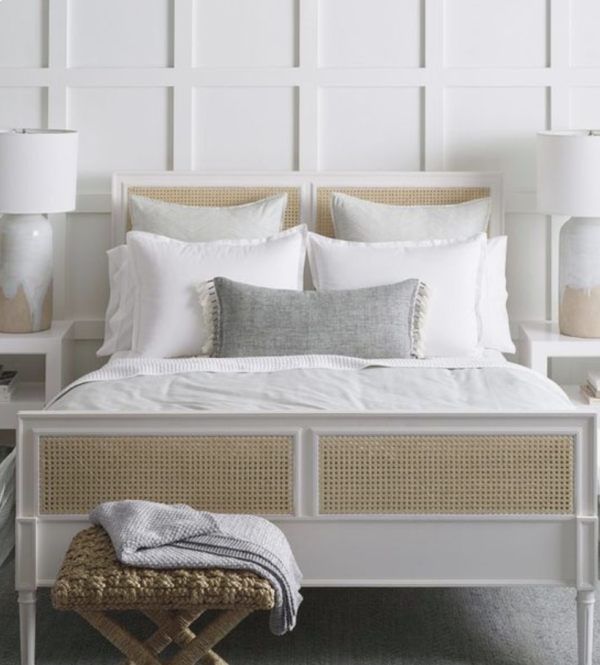 Give me everything Serena & Lily! Saved this one because I really like that textured background, thinking about doing something like this to add character.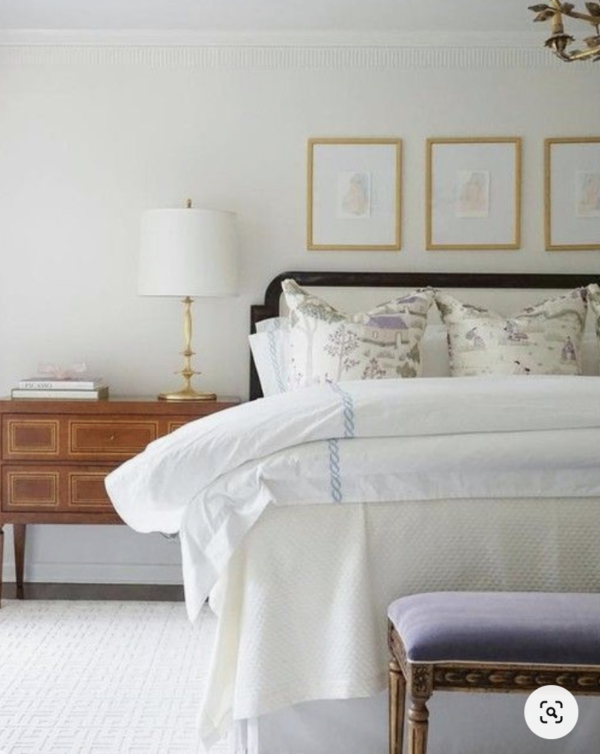 I love how light and classic this room is from Circa Lighting.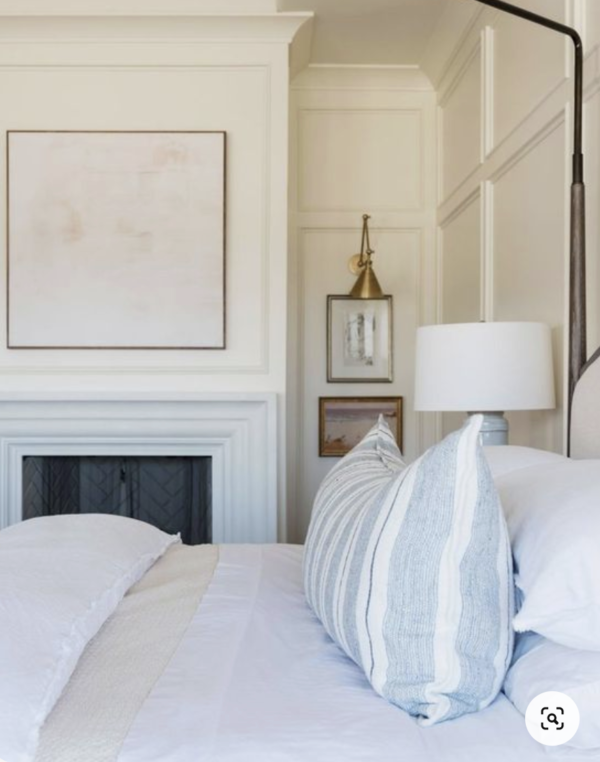 See, I'm really liking adding some wood to the walls for texture. This is from McGee and Co.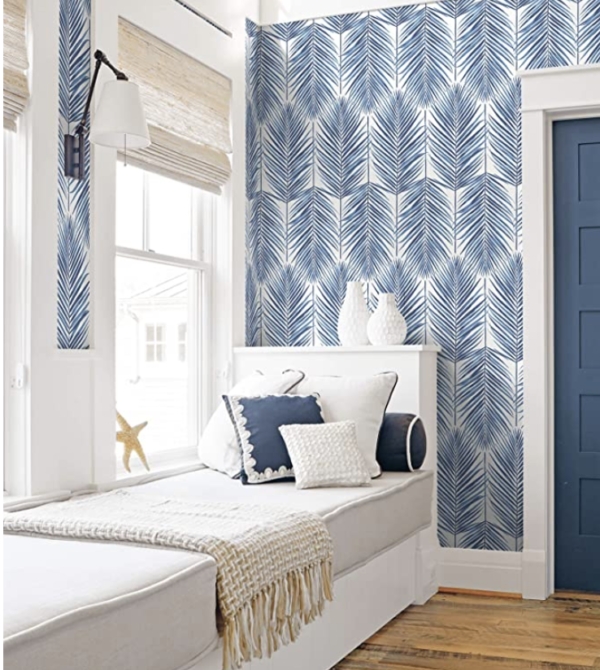 This is from Amazon actually!
Alright, now for the exact products I'll be looking to slowly order over time to create this serene, coastal room! Let's go shopping…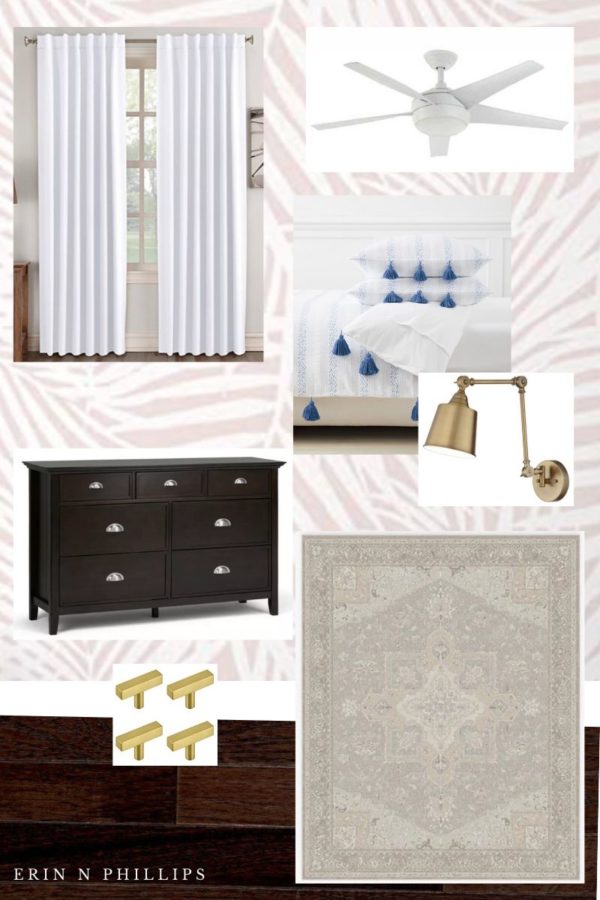 Wallpaper // I'm considering wallpaper and I actually love this palm wallpaper off Amazon (close to the Serena & Lily wallpaper but almost half the price). Maybe I'll do this in the bathroom attached to our master bedroom if it's too much in the whole bedroom.
Curtains // Same basics from the nursery. Maybe add a little trim the same color as the blue in the duvet to make them feel customized.
Fan // I'm more of a fun light kind of gal, but Ryan needs a fan and I like this updated one.
Duvet Cover // I love this blue/white coastal tassel duvet cover, but it's way out of my price range. I'll continue to look around or just go with a clean, classic white duvet then add blue pillows. These are our favorite sheets (only $66 for King) which we have in white I'll pair with it.
Gold Wall Lamps // These are a good basic at a good price point and I like how they move around for when I'm reading in bed.
Dresser // This one is a pretty close match to the color of our bed and I liked the price point and quality. I'll probably order these gold pulls again too, I love them on the baby's dresser.
Rug // Considering our stinky pups often sleep off their dog beds or lounge in our room, I love the idea of the rugs from Ruggable where you peel off the top layer and throw them in the washing machine. This is the one we are eyeing.
Here are the things not pictured that I already have in the room…
A rattan chair and our Arhaus bed bought from Craigslist.
These $40 Ikea dressers we upfitted years ago by painting and adding gold brackets and pulls.
A floor mirror, but if I was to buy a new one, I would go for this one.
Plus, art I already have in the house from my travels and given to us as gifts. Some artists I love are Chelsea Goer (oysters & surfers!), Teil Duncan (a new take on beach scenes), Danielle Cather Cohen (so many beautiful Charleston scenes), Whitney Stoddard (made from tea bags), Harrison Blackford (love her doors), Meg Carn (we have her animals), Haley Mitchell (I have an original lady face of hers), and Gina Julian (dying for some of her colorful stripes). I also love scrolling Minted's selection of prints and for this coastal room would choose – this insanely calming ocean print, love this diving print, or this surfer painting,
That's a wrap! I'll keep you all posted over on Instagram as this project moves slowly along.
PS: Pin this for later!