My most favorite time of the year is here –
Carolina Cup
!! This will be the first time in seven years that I haven't attended the iconic horse race in my husband's home town of Camden, SC. It's even where I met Ryan six years ago, right there on that muddy field.
Fast forward and I guess the reason we're not going this year is a pretty darn good one considering our little girl could be here any moment! So in the meantime I'm just going to dream about Cup from afar, including which Lilly dress I would choose this year. You can click here to see picks from year's past, including last year's winner! For 2015, here are my top contenders, along with some other must have accessories…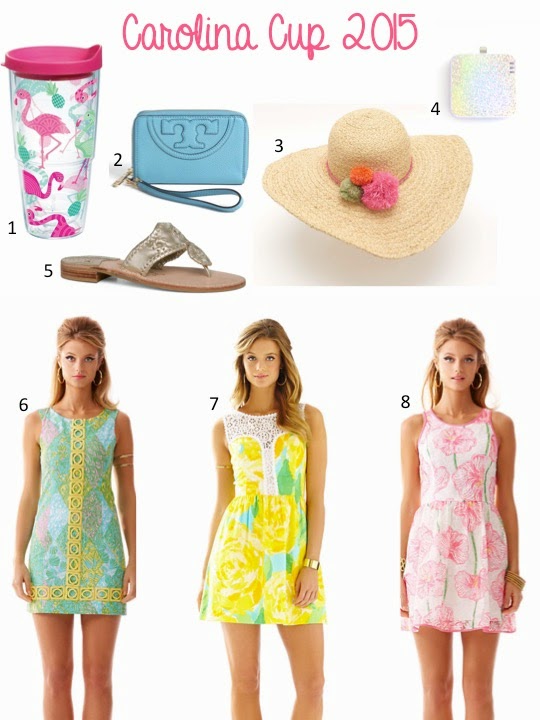 1.
Flamingo & Pineapple Tervis Tumbler
– Ya gotta have somethin' to sip ya mint juleps out of all day at the Cup and this pretty little tumbler is the perfect vessel! Pop a straw in there and you're golden, not to mention how cute is this new pattern?!
2.
Tory Burch Leather Phone Wallet
– I'm in LOVE with the Juniper Berry blue on this wallet which is perfect for Cup with the wrist strap and room for your iPhone.
3.
Vineyard Vines Straw Pom Hat
– Now y'all know no horse race would be complete without a big 'ol hat and I am just a lovin' this pom pom straw number from Vineyard Vines. I think it will be perfect for beach and pool trips this summer too!
4.
Ban.do Glitter Backup Charger
– Guaranteed, your phone IS going to die at the Cup because everyone is trying to use theirs as well, so a backup charger is a must and I'm loving this glitter pattern!
5.
Classic Jack Rogers Sandal in Platinum
– The go-to shoe of the Carolina Cup, I love the Platinum version because its a mix of gold and silver and matches everything. Although, I will say you should not wear a new pair, its rather muddy out in the field.
Now, here's the hard part, what Lilly would you choose?
Here are my top three favorites for Cup this year. I always like to go for a punchy, brightly colored dress for this event and make sure its a good one for Easter as well.
6.
Mila Lace Detail Shift
– I feel like the detail doesn't come through as well via computer, but zoom in and you'll see how gorgeous it really is up close!
Tell me in the comments which you would choose, maybe one of these will be my post-baby summer gift to myself :).
I couldn't help but go down memory lane for a minute too… and from the first time I met Ryan, to the most recent Cup, I sure am going to miss it! But oh how we have something big to look forward to this year!!