When we started the FASTer Way to Fat Loss program (here's my round one results), we realized that having snacks and meals that were healthy and that we could reach quickly was absolutely key. Enter this crockpot buffalo ranch chicken that is only 4 ingredients, low carb, gluten free, and if you switch out the regular mayo, also dairy free.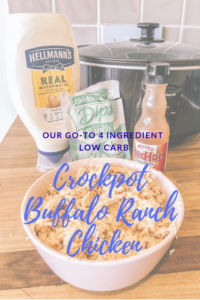 I've posted this a few times on my Instagram Stories and each time I get lots of requests for the recipe – here it is so I don't have to keep typing it out on Instagram! 🙂
First, you want to take 4 chicken breasts (I only had 3 this time) and put them in your crockpot. Sprinkle 1/4 pack of ranch dressing packets on top. That's it! No liquid or anything else needed at this point. We buy the value frozen chicken breasts in the huge bag and do a few batches.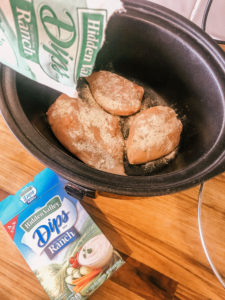 Set your crockpot to low and your timer to 3 hours and go about your day. Note – if you put them in frozen, know it will take an hour or so longer, but it is doable.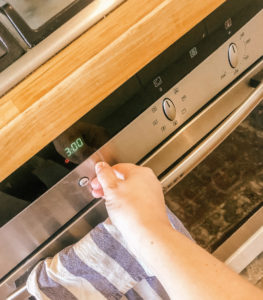 Once it's done, take the chicken out and shred it using two forks to pull it apart.
Then ya add in a HEFTY squirt or dollop of mayonnaise. I mean, really hefty, if you can't tell :). I like it to be (ok, watch out yes I'm going to use this word) moist, but I don't want it creamy if that makes sense. This is where you can use avocado oil mayo or a vegan mayo instead and make it dairy free. I can't find that in London right now, so we went with the good 'ol regular kind.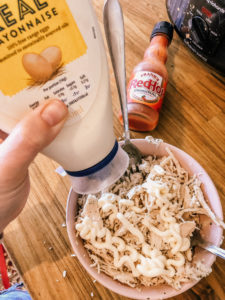 Then it's time for hot sauce. Louisiana is my fav, but again, I could only find Franks so that's what I'm going with this time. This is really to taste. I start with what you see below and then add more as I go. I also sprinkle in more ranch packet here to taste.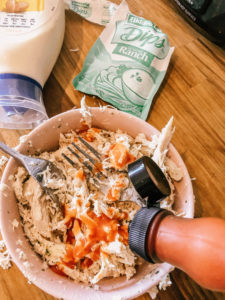 That's it! Put it in a tupperware and store it in the fridge. Then you have buffalo ranch chicken to eat with peppers, celery, or in a lettuce wrap for lunch.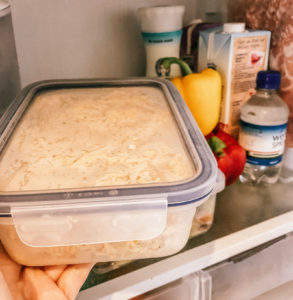 I also totally just eat mine right out of the dish with a fork or with peppers. Paired with this Greek salad, it's a super yummy meal or snack.
Here's a handy dandy recipe card to summarize: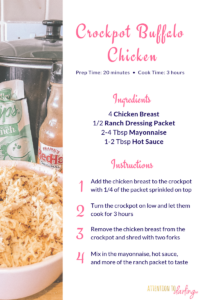 Tag me on Instagram (@attentiontodarlingblog) if you use this recipe! Make sure to pin it for later too! Following me on Pinterest is also a great way to see what recipes I'm making and testing. Enjoy!