A month or so ago, I looked at Ryan and said, for my birthday this year I'd love to take a solo trip for a weekend. Paris was the ideal location (duh!) since it's only a 2-hour train ride away, but I also was happy with the little pub a town away. Just some time to think all my own thoughts, eat whenever I pleased, and sleep in. You stay at home Mamas know what I mean. 🙂
Then we started to put pen to paper and I decided that if I was really going to go to Paris, I wanted it to overlap with a Christmas market. I started getting lots of vague answers from Ryan and frankly, was getting quite frustrated. Little did I know, he and my bestie were planning a surprise trip where she would fly to London and then we would jet to Paris for the weekend. So that was a specific weekend as you can imagine, and not one in December.
Well, guys I almost messed it all up to the point where my friend Facetime'd me with Ryan here and they told me. Ha!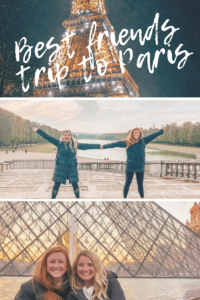 Fast forward to the weekend before last and my girl Samantha jumped off the Tube and we cried all the excited, happy tears. The next day we boarded the early Eurostar to Paris!
I want to say that I had no plan going into this weekend away, but if you know me you know that's just not possible. So I did my normal spreadsheet of ideas based on what the two of us mentioned wanting to do and y'all it was just the best weekend ever! The absolute perfect blend of sitting in cafes and drinking champagne with sightseeing, shopping, eating, and good convos.
Here's the general plan, pin this!
I got so many questions throughout the weekend because a lot of y'all are planning Paris trips, so here's a rundown of what we did, ate, and shopped!
WHAT WE DID
Drank champagne.
No but really ?. The weather ended up being great, so instead of taking any means of transportation except an Uber at night for dinner, we walked everywhere. Hour and a half walk… why not?! And along the way we would stop for a refuel on champagne and a Parisian bite.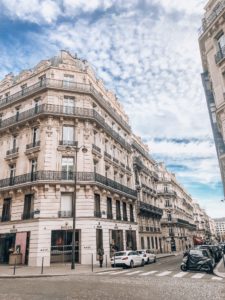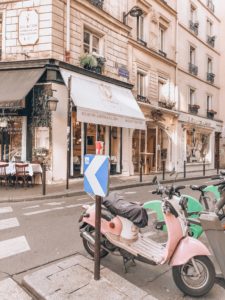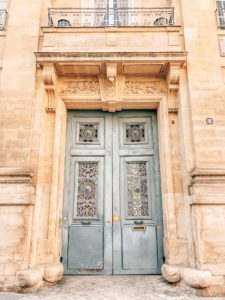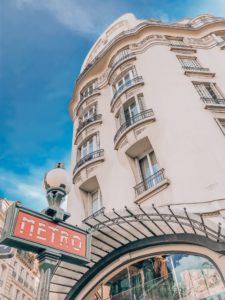 The one touristy thing Sam really wanted to do was Sacre Couer and the one touristy thing I really wanted to do was Versailles. One thing neither of us had on our radar that was fantastic, was the YSL museum and studio. Outside of that, we slipped in a walk around the outside of the Louvre, peeked at the Arc de Triomphe and Notre Dame, and of course the Eiffel Tower. Our flat was one block from Jardin du Luxembourg so that was a no-brainer as well. I'll highlight a few of my favs below! Warining – LOTS of photos coming your way…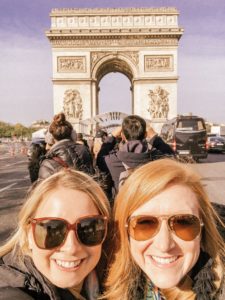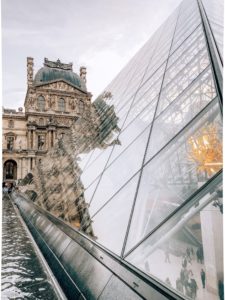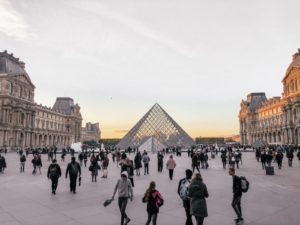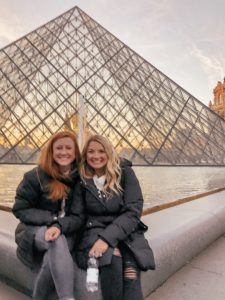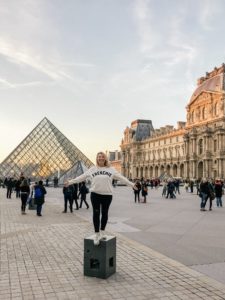 Frenchie Sweatshirt (under $25!) // Jeans // Tennies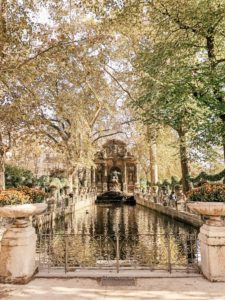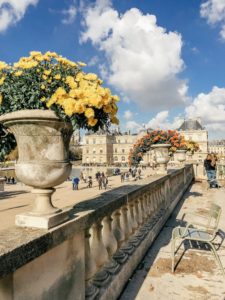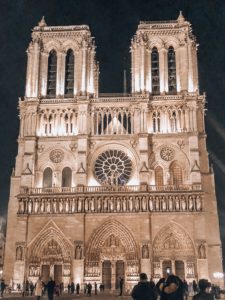 Eiffel Tower Picnic. I mean, is there any other way to celebrate our first night in Paris?! We ventured into a shop called Petrossian for some chilled champagne and popped in a boulangerie for a baguette. Then we realized everything was closed, so we went to the grocer for cheese and meat. Voilá, the absolute perfect meal. We then parked ourselves on a bench and chatted the night away long enough to see the Eiffel Tower glitter 3 times (it does it once at the top of each hour for 5 minutes). We did sprint to the Trocadéro for the last of those views and it was magnificent!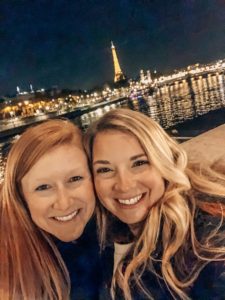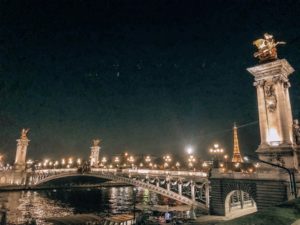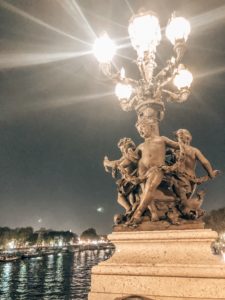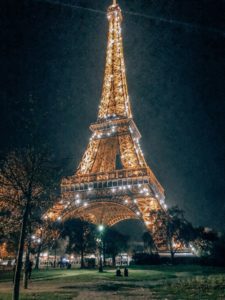 YSL Museum & Studio. This part of the trip was not planned at all which made it even better. Sam noticed a bunch of ladies with YSL Museum bags and we did a quick Google search to find that we were so close to Yves Sainte Laurant's studio which is now a museum. I was elated because back in June we went to the YSL Museum in Marrakech. It was a really weird full circle experience. He's just such a genius, you guys. I'm constantly inspired and blown away by his work. Oh, and it was only €10 and we walked in, so great!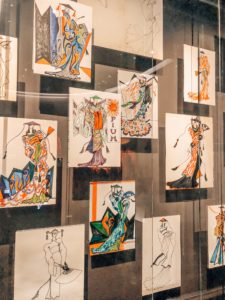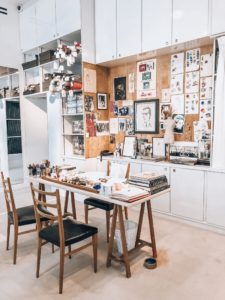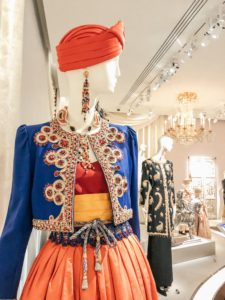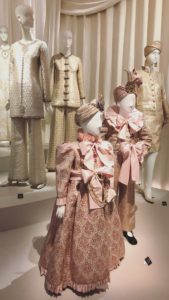 Montemarte. We rolled Sacre Couer into a big Montemarte afternoon. We even hit it right at sunset, which was MAGIC! It's my second favorite neighborhood in Paris behind Saint Germaine and I was excited to see more of it. I had never been by the most Instagramable little restaurant ever, La Maison Rose, so that was a must while there. Sam also took us to the La Terrass rooftop from a friend's recommendation. Seeing the Eifel Tower glitter from up there was so great, the drinks were delicious on top of that! Finally, we stumbled upon THE cutest shop ever with a mix of vintage and modern finds called L'Éléve de Montmartre. Please, please, please promise me you'll go there if you're in Paris! I'm still dreaming of 90% of the finds inside.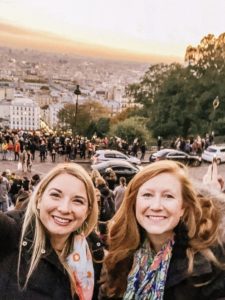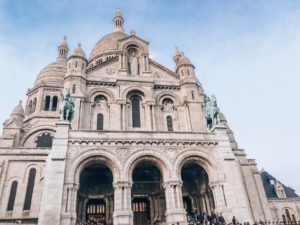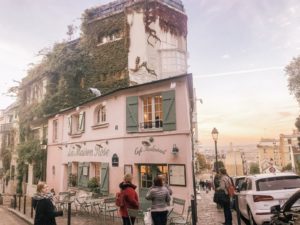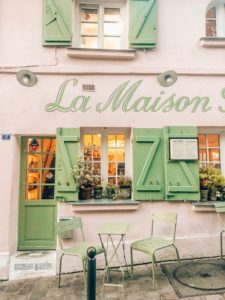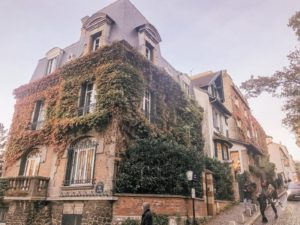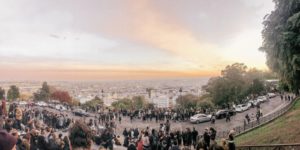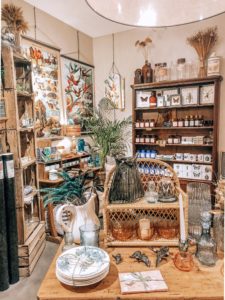 Versailles. Our good friends recently did a Versailles bike tour and raved about it. That was enough for us, so we booked the same tour with Fat Tire Tours and were so excited. They did not disappoint. If you can, book on a Sunday because the Versailles farmers market is happening. You pick up a picnic there before heading to the gardens for a tour and lunch. Then it's into the grounds where you see the Petit Trianon where Louis XV's 300(!) mistresses lived. We also got to see the most bizarre thing ever which was Marie Antoinette's Austrian village randomly on the grounds. Louis XVI built this for her when she was homesick. Finally, we saw the Palace, including the incredible Hall of Mirrors. I totally cried. 100% recommend this tour y'all!!!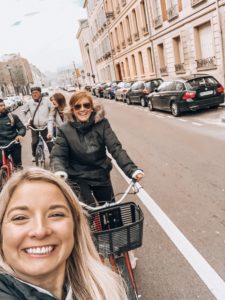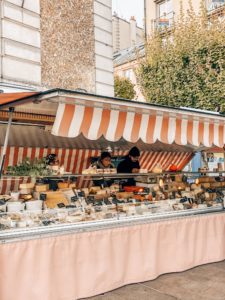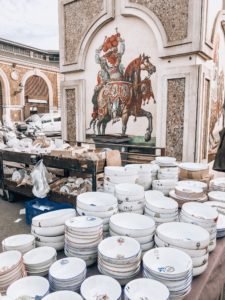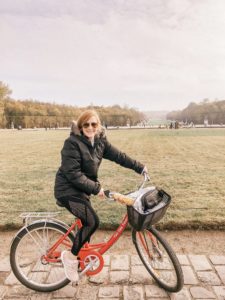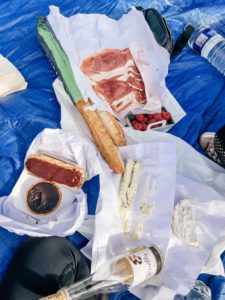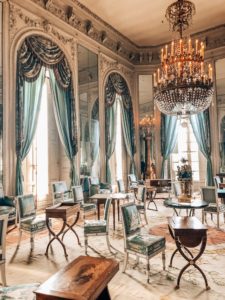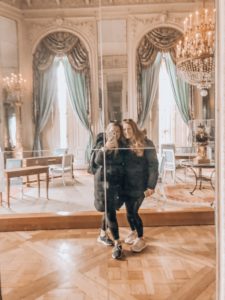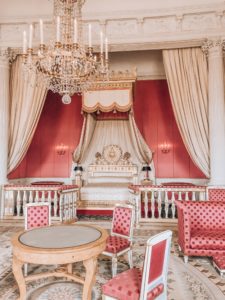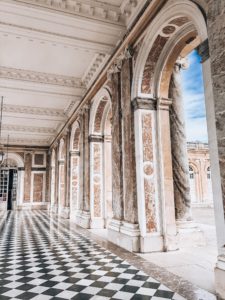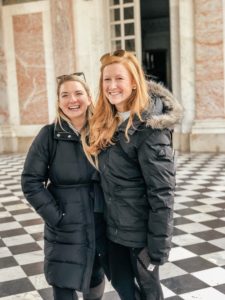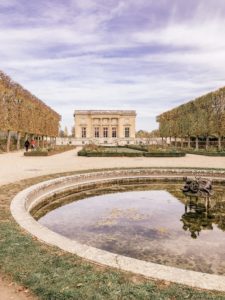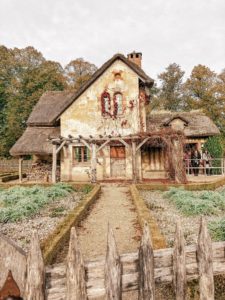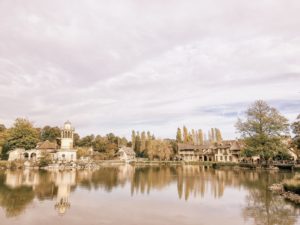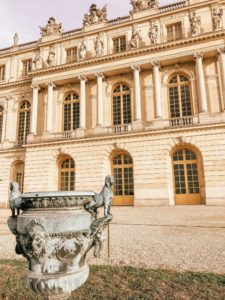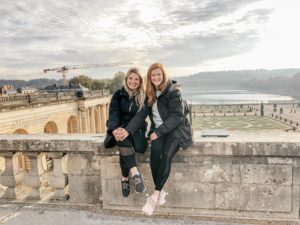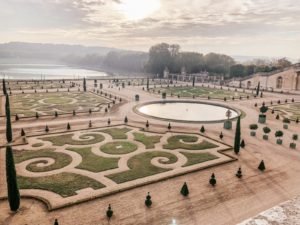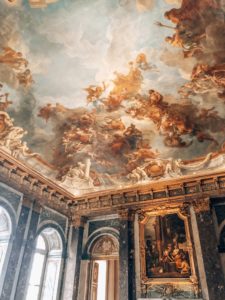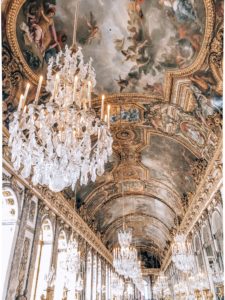 WHAT WE ATE
Actually, maybe I should have named this, what we didn't eat. Pain au chocolat (aka chocolate croissants) every morning, SO much cheese, thinly sliced meats, chewy baguettes, champagne, frites, croque monsieurs, eclairs, and more!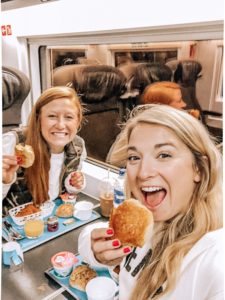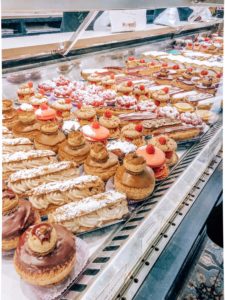 The food highlight for I think both of us was La Relais de L'entrecote. It's a prix fixe menu. For €26 you get a salad and steak frites with their special sauce. Then on top of this, you can order your own wine and desserts. That's it. No other options. It is SO dang good, you guys!!! Best steak ever (sorry Ry). I'm a dessert gal, and they had the best one in Paris. It was a meringue and sorbet stack with raspberry sauce. Please y'all, don't leave without ordering this!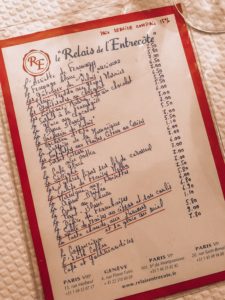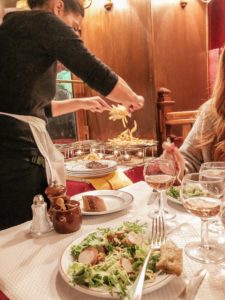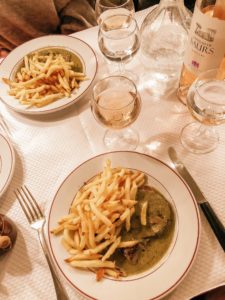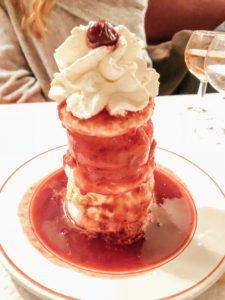 My Absolute Favorite Leopard Booties 
As far as cafés go, we really enjoyed Le Deux Magot, which is a block away from the famous Café de Fleur. I've eaten at both and Le Deux Magot was definitely better! Plus, the history here is pretty epic. We also ate at Café de du Moulins by the Moulin Rouge. I've never seen it, but Amélie was filmed here? The drinks were good and everyone seemed to be ordering crepes which we passed on to hold out for one in Montemarte.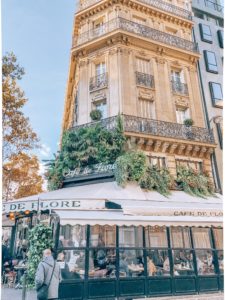 Our final night we had Le Comptoir for dinner which has a lot of hype. If I'm being honest, I wasn't that impressed. Granted, I think their big thing is the foie gras which we did not order. We opted for some smoked haddock and caviar and then some bone marrow with our (what else…) champagne.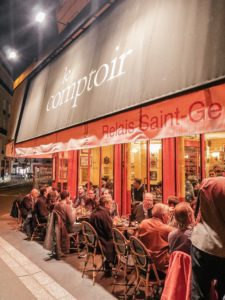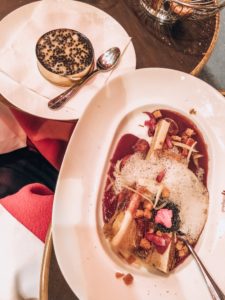 I talked about our Versailles trip above, and just have to say if you go, please do yourself a favor and get a wedge of the truffle brie from Fromagerie Le Gall in the Versailles market. Not exaggerating, best cheese I've ever had! Also on Versailles, get the hot mulled wine! There's a little stand outside the Petite Trianon and it was absolutely delicious.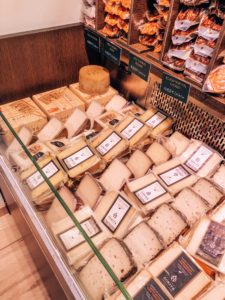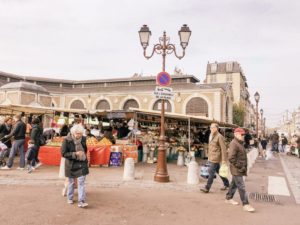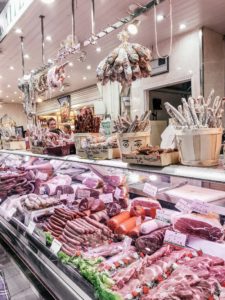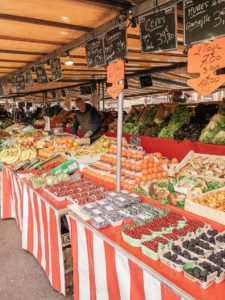 Our crepes we snagged in Montmartre were also a highlight – I got brown butter and sugar and Sam got lemon and sugar. I can't find the name though! It was out of a window with the word Creperie on the awning.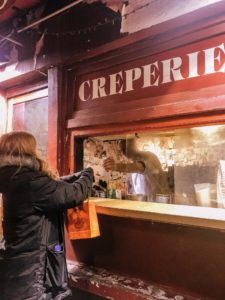 Oh! Grab an oyster off the street. Seriously, especially in Saine Germaine. They were incredibly salty and delicious!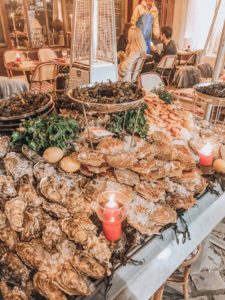 WHAT WE SHOPPED
My sweet Nana gave me birthday and Christmas money to spend on this trip and for quite some time I've been entertaining the idea of a vintage Hermés scarf. I decided I'd keep an eye out in Paris, but unless it was the perfect one in the right price point, it wasn't going to happen. Well guys, I found "the one" at a random vintage store we popped in called Lili Rose Luxury. In my mind, I wanted the classic gold with a horse bit design but went total opposite with every bold color and full-on polo horses. It's so much more me and I'll do a whole post soon on how I plan to wear it!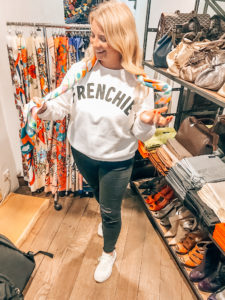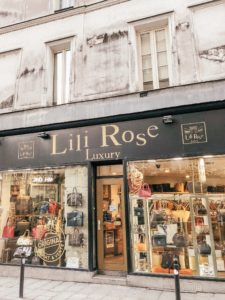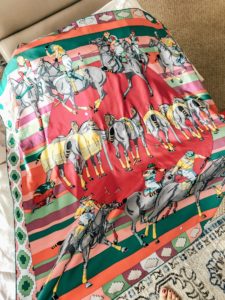 For Ryan, I picked up a really cool kitchen staple. It was love at first sight in the adorable cutlery shop Sabre. I found a vintage cheese knife with a tortoise handle. It will pair perfectly with the vintage cutting board we picked out in the antique market in Provence. I can't wait to get back and entertain with all these fun things!
Art is a big one for us when traveling too and while I wasn't looking for a piece in Paris, I found this little 15 euro beauty in Montmartre to add to our collection.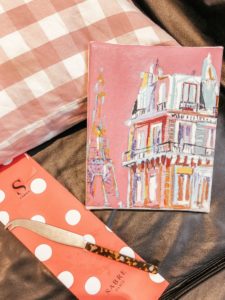 For Sully, I got her a smocked dress for Christmas that was on a rack outside of a market while we were wandering through Saint Germaine. She had asked for a dragon (who knows?!), so we braved the madness of the Disney store on the Champs-Élysées and grabbed a little toy for her there too.
Phew, okay, that's a wrap! It was such an EPIC trip. You guys, how lucky am I to have a friend that literally will fly across the world to have fun with me in Paris for my 31st (which isn't actually until Christmas Eve, ha)?! She was really only in Europe for pretty much five days all the way from Portland, Oregon. Still now, I just get these bursts of #allthefeels including watery eyes when I think about how blessed I am to have this gal in my life and for her friendship and for this TRIP. Y'all didn't really think I was going to end this post without some sappy words now, did ya?! 🙂 I could go on and on, but just for the record, I'm the most blessed lady in the land. Ok, the end!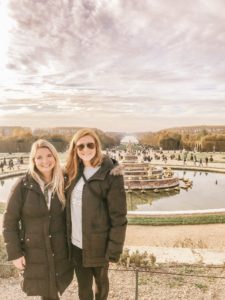 Feel free to add any questions in the comments below, DM me on Instagram, or email me at [email protected].