Provence has my heart y'all. Have you ever been to a place and just felt like, "this is it, I was meant to be here"!? May sound dramatic, but I'm not kidding. The southern Luberon region of France completely captured me from day one. Ryan and I are already plotting retirement plans ;).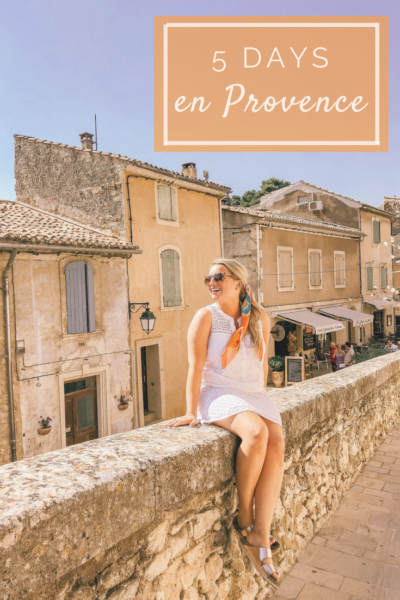 After so many requests, here is our 5-day itinerary. I kept it as we originally planned, but will share below what we edited out due to a carsick little one and just too much fun in some locations – not to mention the fun surprises I could never have planned in advance. This is a TON of info, but these were the types of blog posts I wanted when we were planning our trip. Oh and of course, there are a million and five photos too! Comment here or DM me any questions at @attentiontodarlingblog on Instagram.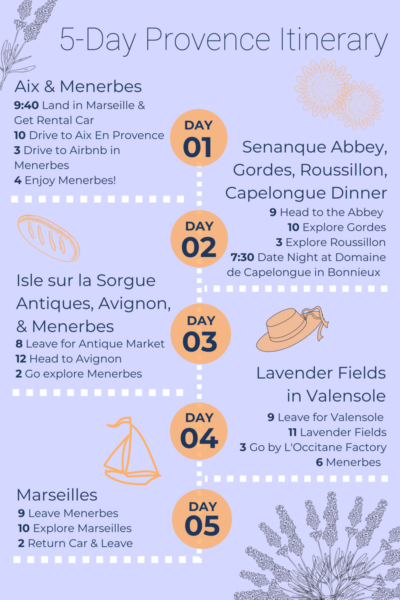 DAY ONE – Travel & Ménerbes
We flew from London's Stansted airport which is an hour from our flat, so we spent the night in a hotel (yay for hotel points!) the night before to catch our 6AM flight the next day with no worries.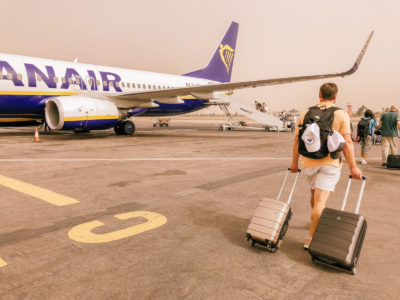 We landed in Marseilles at 9:40AM and headed to get our rental car from Sixt because there is no public transportation in Provence, you need a car for sure. Pro tip: Buy the insurance online when you book the car, it was an extra $200 on the spot we weren't expecting and not how we wished to start our trip.
It all worked out in the end though! Also, don't forget to get an automatic drive even though it's extra, it is very hilly in Provence! You can also get a carseat through Sixt, pay for this too when you book for a lower price. The smaller car you can get the better… even in our 1 series BMW we thought we were going to get stuck in some of the narrow streets.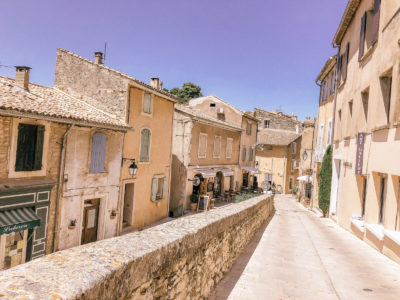 Off we went to Aix en Provence which is the second largest city in France behind Paris. It's the city of fountains, and also the namesake for one of my favorite rosés. I wish I could tell you how it is, but Sully got crazy carsick, we even left her clothes on the side of the road, so we just went straight to our Airbnb in Ménerbes  (here's a link for $25 off if you've never used Airbnb before).
Oh Ménerbes, how I love you. Where do I even begin? Our Airbnb admittedly played a big part in that, it was INSANE! The location was perfection, slightly up a hill, but steps away from a tiny little city center area. It had parking, a patio with a table/chairs, and a ROOFTOP POOL! Yes, you read that right, the views were spectacular. The reviews on the place were correct, it is dusty and has some cobwebs, but we knew that in advance and were perfectly fine. Not to mention, the sweet hosts brought us a carafe of local rosé and a traditional cake of the area upon arrival. I highly recommend this spot!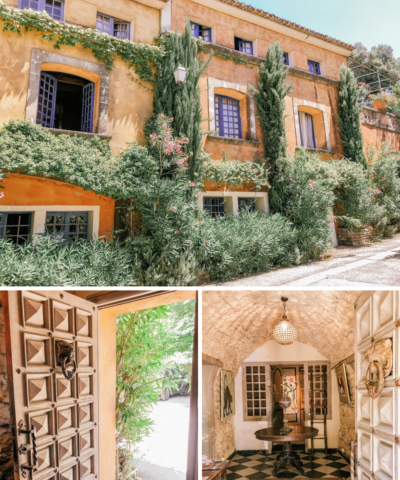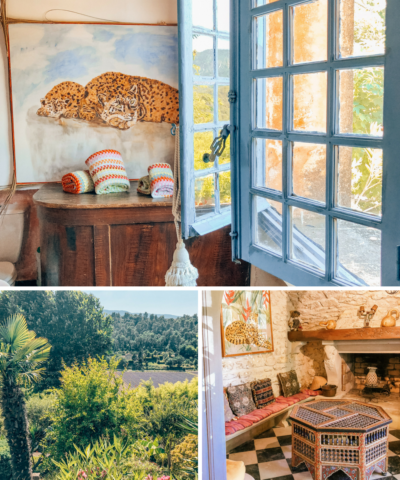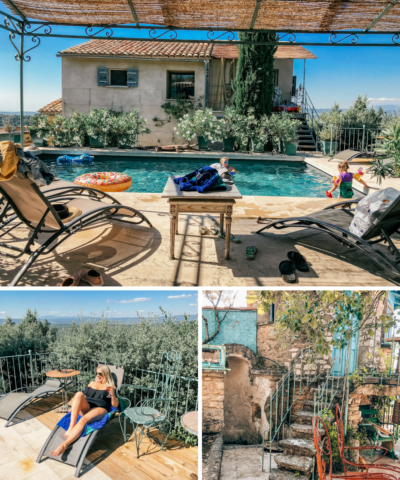 100% we made the best decision ever staying in Ménerbes, I mean even Picasso had a home there. It is a tiny little town and not full of tourists at all, you truly feel like a local. It was easy to get everywhere we wanted and it had plenty of restaurants and sights in and of itself.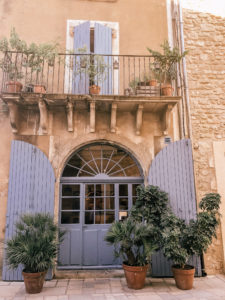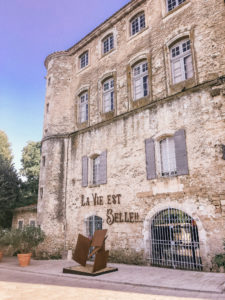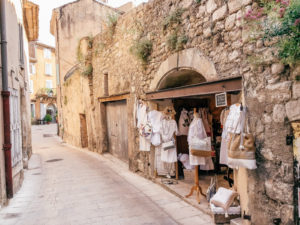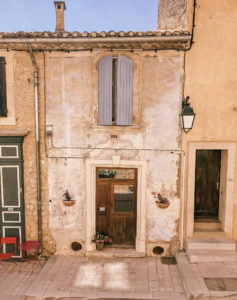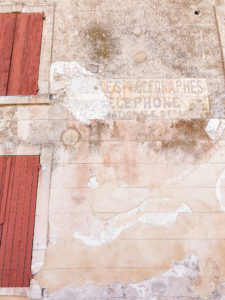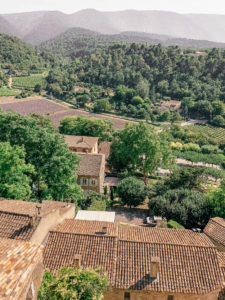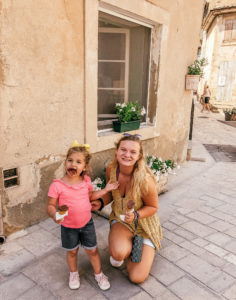 Even if you don't stay there, get a reservation ASAP to Bistrot le 5 in Ménerbes. I can't speak to the food because it was booked weeks in advance and we didn't know about it, but we did go in for leisurely drinks to soak in the spectacular view.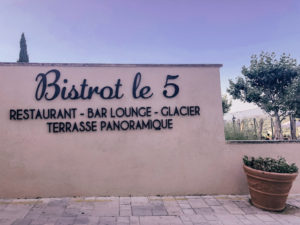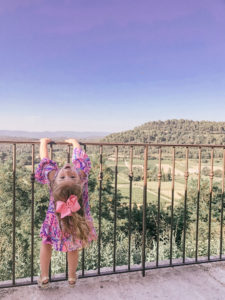 Sully's Dress (old, similar) // Sully's Shoes // Sully's Bows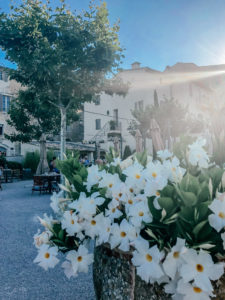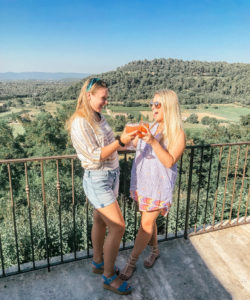 My Shoes // My Dress // My Sunnies (old, similar)
Don't miss walking all the way up to the top of Ménerbes, you can see the Abbey and the ever popular corkscrew museum (not even kidding, ha!). We also really enjoyed popping into the House of Truffle and Wine to learn more about truffles, which Provence is famous for, it was fascinating (see how huge they are in that last photo?!). Try to get there on a night you want to cook at home to grab a little truffle and make it with scrambled eggs!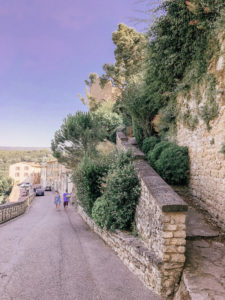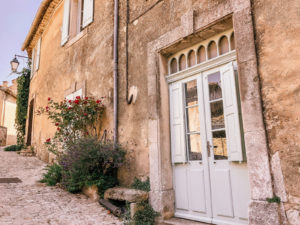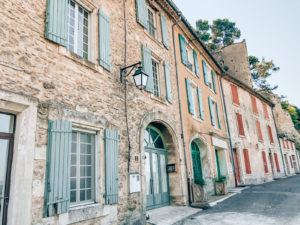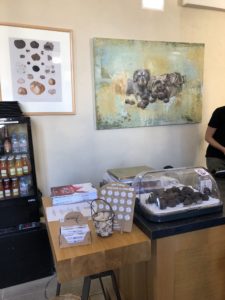 Only regret here – we didn't get to any of the local vineyards!
DAY TWO – Gordes, Roussillon & Dinner in Bonnieux
We decided most days to hit the road early since Sully is up and moving around 6 or 7 anyway. I was super pumped to head to Gordes (dubbed the prettiest little village in France) to see the Senanque Abbey and the town itself.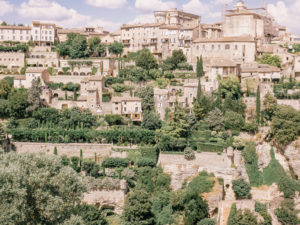 The Abbey was beautiful! Definitely worth the trip, but know that it is a working Abbey and there is a dress code if you want to tour it and that you also can't stand in their lavender fields, you can just view them. We had a grumpy little girl who was funny enough not dressed appropriately (you need sleeves and pants), so we did all our sightseeing on the outside. We did pop in the gift shop where I bought so much of their lavender essential oil that they distill there!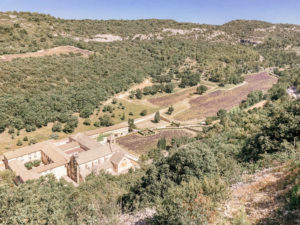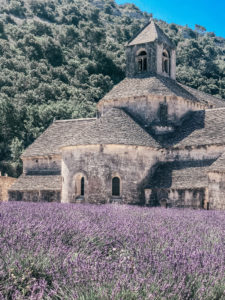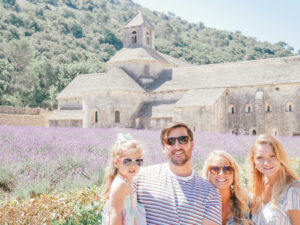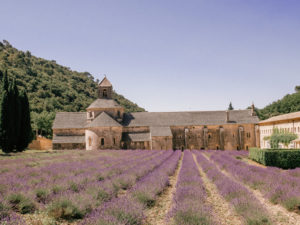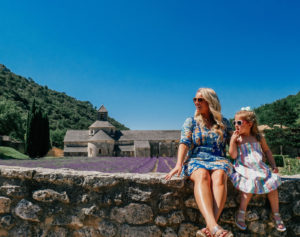 My Dress (old, similar) // My Sunnies (old, similar) // My Shoes // Sully's Dress (old, similar) // Sully's Shoes // Sully's Sunnies (a gift, love these) // Sully's Bows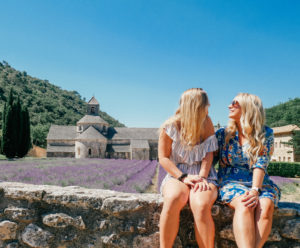 We all agreed that Gordes was our favorite town. It was larger and much more crowded than Ménerbes (which is why we're glad we stayed there), but its buildings and sights are just so pretty. We happened upon the best little restaurant called Le Renaissance (no website) and I definitely recommend it! We sat outside and noshed on prosciutto wrapped melon and THE BEST bruschetta I've ever had in my life.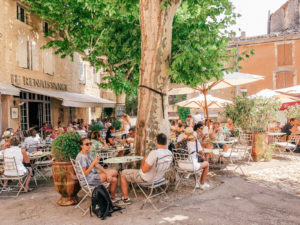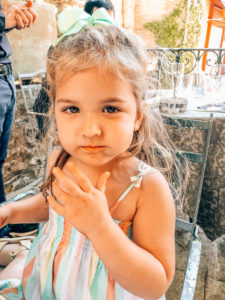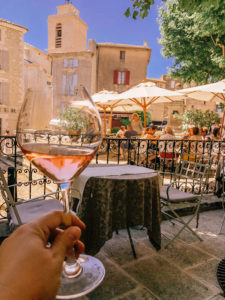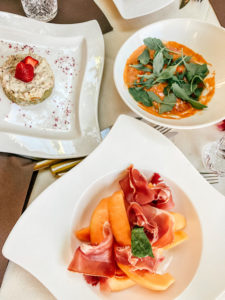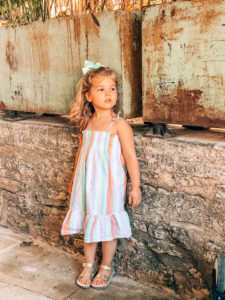 That said, I had it marked to eat at La Trinquette, but they literally laughed when we tried to walk up and get a table. Booking reservations in advance is a big deal in Provence y'all, you need to do it at the really good places.
Otherwise, we just wandered Gordes and were as happy as could be. The Church of St. Fermin is neat and make sure you head down the alleys to see the view from the town. Mamas – we had our stroller with us here and it worked out fine, there are some alleys you'll have to hold off on, but Sully took a nap in ours so I was very happy to have it with us.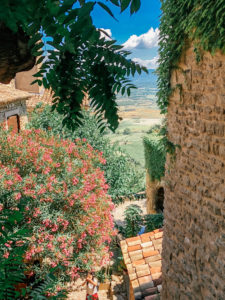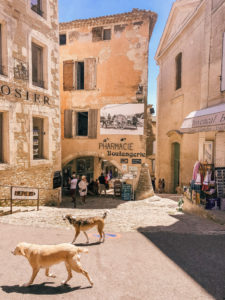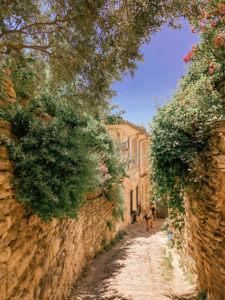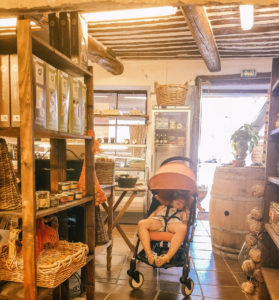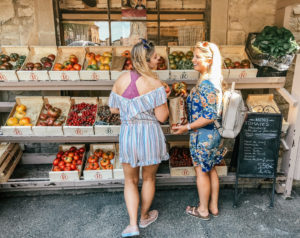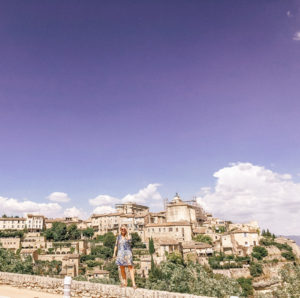 Next, we headed to Rousillon which is the orange village. It's unlike any others in Provence because it sits on an ochre mine and therefore all the houses are made of this beautiful pigment. If you're into painting, you 100% have to go here, they make so many beautiful pigments you can purchase. I wish we had more time here to explore, but we were so exhausted. We took a stroll through the town and up to the trail start and went back to Ménerbes. This is where I bought Sully's precious lavender dress she wore to the fields in Valensole.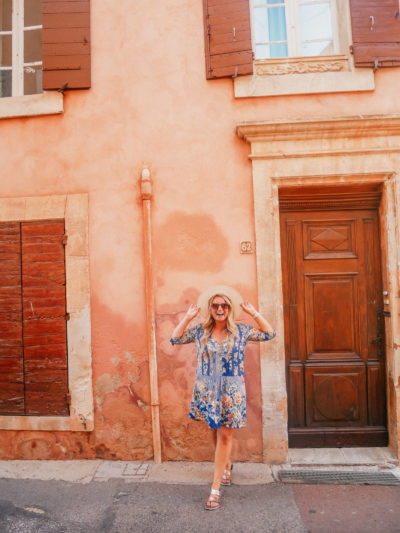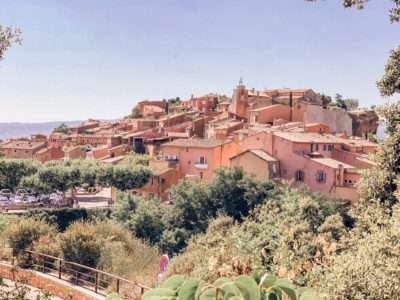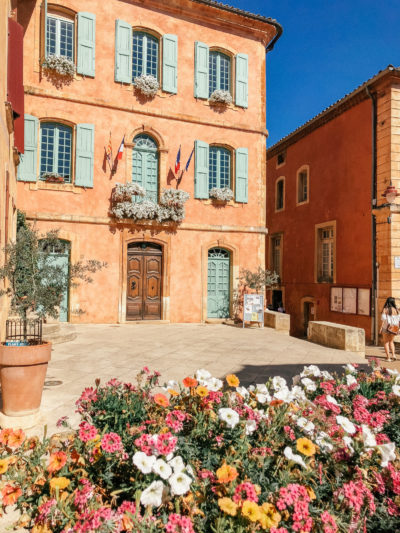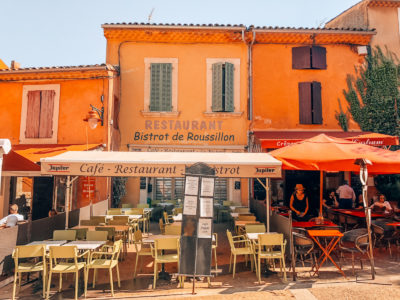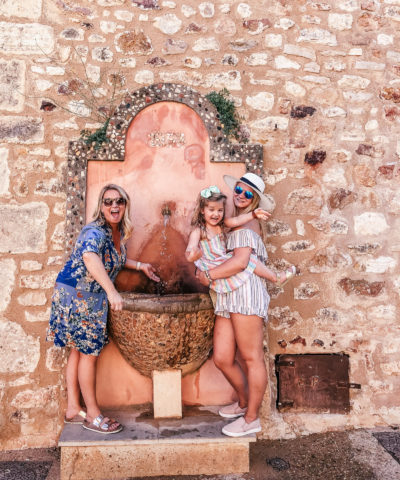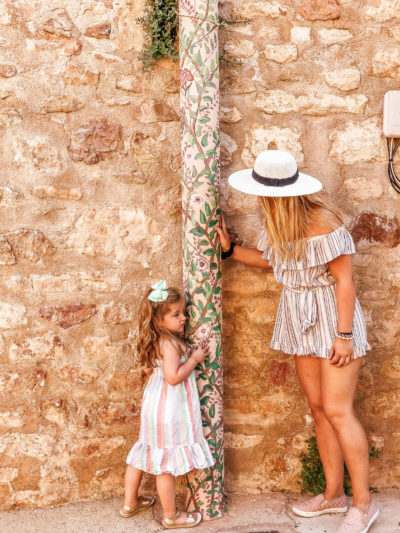 Finally, Ryan and I ended the day with a date night while my sister and Sully swam and played at the Airbnb at one of the most gorgeous properties I've ever been in my life. We went to eat at the two Michelin star restaurant at Domaine de Capelongue. One of the top meals of my life and a fraction of the price of some of the Michelin star restaurants we've eaten at in Paris and even in the States. Do not miss going here!!!! It was in Bonnieux which was adorable and fun to see too, very close to Ménerbes.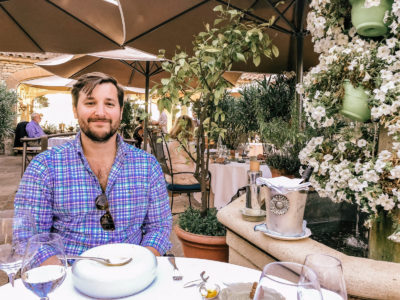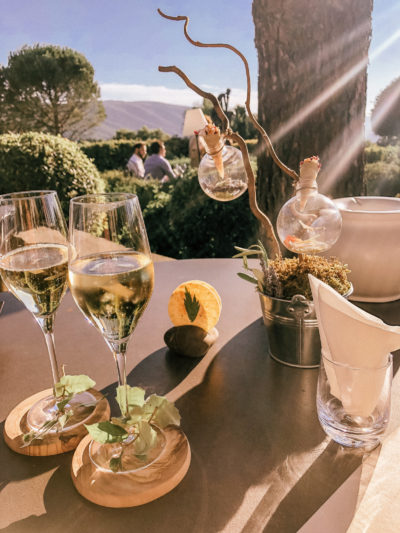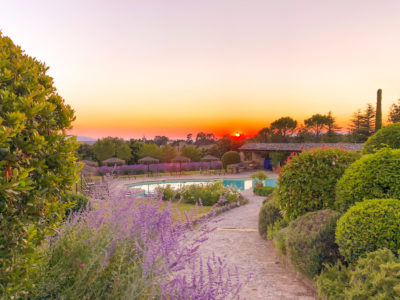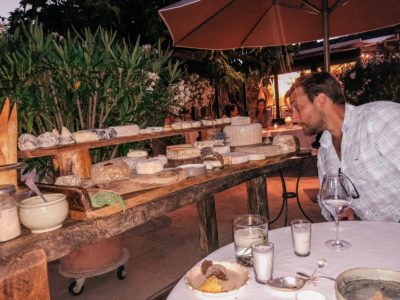 It was just one of the very best days you guys! PS: They put truffle oil in the champagne above, it was mindblowing!
DAY THREE – Antique Market in L'Isle sur la Sorgue 
Our day three was on a Sunday and I had only one thing in mind – the antique markets in L'Isle sur la Sorgue. Again, a super easy trip to this Provencial town that has the most beautiful mills and rivers. Put it on your list if you're going, even if antiques aren't your thing. There were so many good food vendors, antique stores, and the market was great. It's here that we bought our traditional beige and grey stripe tablecloth made in Provence, plus an antique cheeseboard. I'll cherish them forever!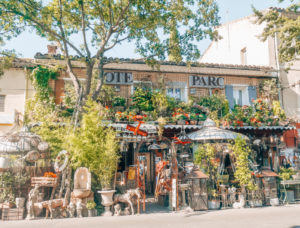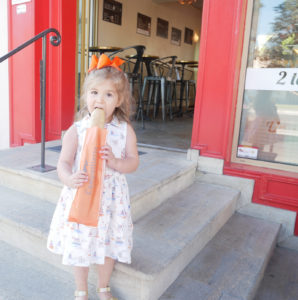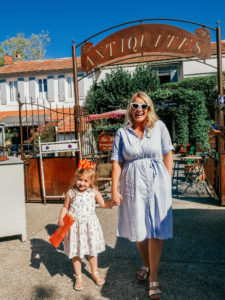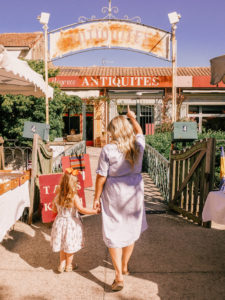 Sully's Dress (old, similar) // Sully's Shoes // Sully's Bows // My Dress (old, similar for $32) // My Sunnies // My Shoes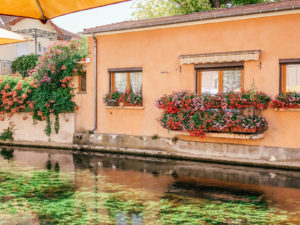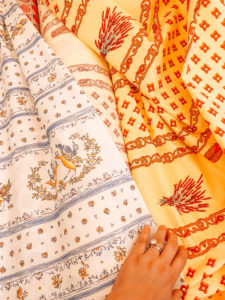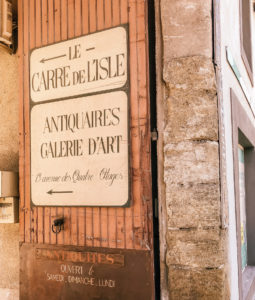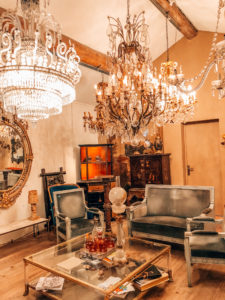 Next, we were going to head on to Avignon where you can view the Pope's Palace, but the consensus from the group was that everyone was shopped and touristed out after the day before and this town. Plus, we knew we had a really big day ahead with the trip to Valensole to see the lavender fields the next day. Oh well, just another reason to come back!
Instead, we spent the rest of the day at the pool at our Airbnb and it was pure bliss!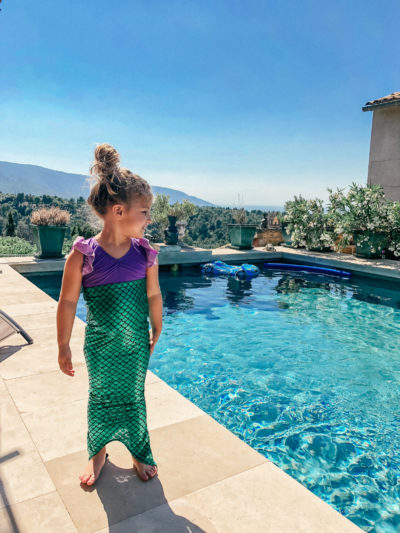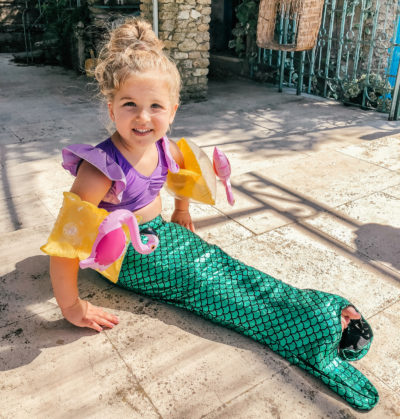 Sully's mermaid outfit is from Amazon!
DAY FOUR – Lavender Fields in Valensole & the L'Occitane Factory
The day I was looking forward to the most! A two-hour road trip to Valensole to see the most epic lavender fields of all time (put Lavande Angelvin in your GPS and go!). No seriously, they really were. Funny enough, we had a built-in screensaver on our TV from the lavender field we went to, it's that picturesque.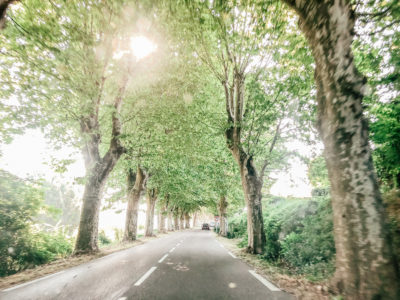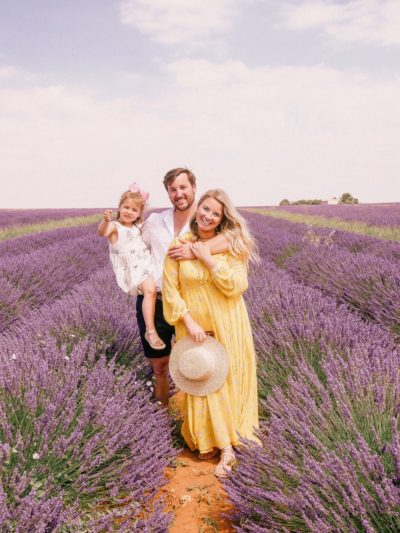 My Dress (old, very similar, similar) // My Hat // My Sandals // Sully's dress from our visit to Roussillon // Sully's Sandals // Sully's Bows
Yes, you can see lavender fields all over Provence, but you guys I am not kidding, make the drive and go to Valensole. They go rolling over hills as far as the eye can see and they're so well maintained.
I have an entire post coming on just this experience, so stay tuned!
On the way home, we swung by the L'Occitane factory which is 5 minutes off the path in Monosque outside of Valensole. If you're a fan of the brand and going through the area anyway, definitely go. Otherwise, it's not worth a trip in and of itself I would say. I didn't particularly love Monosque, but we didn't explore a ton to be honest.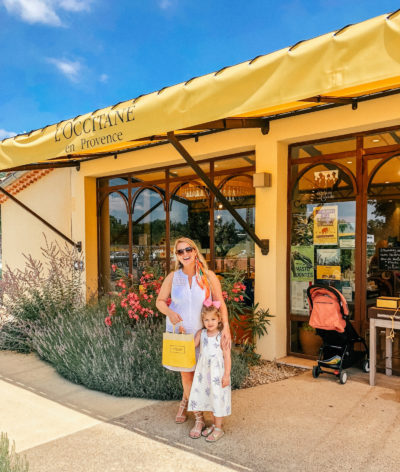 My Scarf (from the L'Isle Sur la Sorgue market, similar) // My Sunnies (old, similar) // My Dress (old, similar) // My Sandals // Sully's Bows //Sully's dress from our visit to Roussillon // Sully's Sandals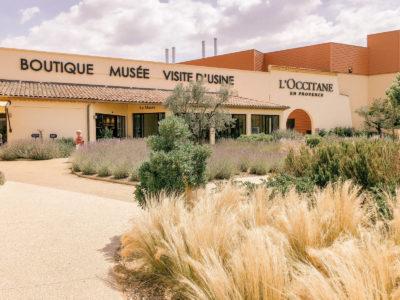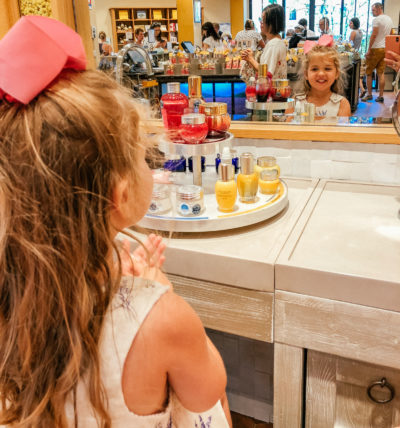 I ended up buying this moisturizer and this eye balm. I love them both! There's no special discounts or lower pricing here, they just have unique products and you can say you bought them at the factory in France where they were made :).
DAY FIVE – Marseilles & Travel
Sadly, our trip was coming to an end! We knew that we wanted to explore Marseilles a little bit before we flew out, so we bid adieu to our lovely property in Ménerbes and hit the road again.
We did grab probably our most favorite breakfast of the whole trip in the random town of Robion. Please promise me you'll go to the boulangerie (they bake everything in a wood oven!) and market there for nectarines and chocolate croissants!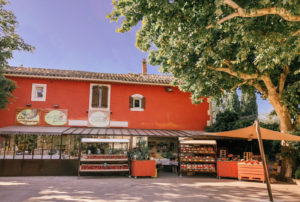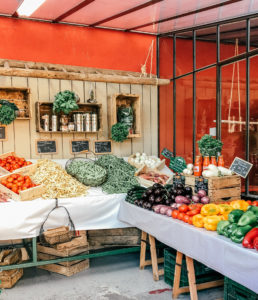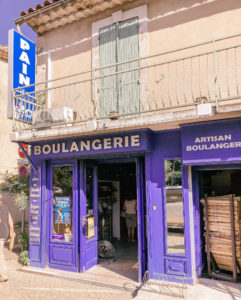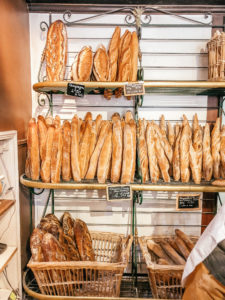 Marseilles was so different. It was neat to see a coastal town, but I found myself really missing those small towns in Provence. The airport in Marseilles is super small and easy, we got there WAY too early, but Ryan is only comfortable if we arrive for international flights like three hours early, haha.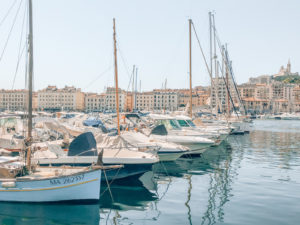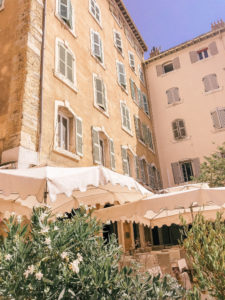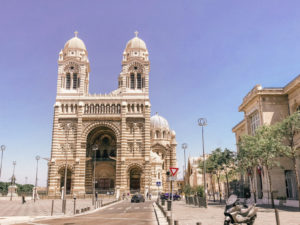 Oh and PS – we returned the car with not a scratch so we're good to go there! Also, Sully's carsickness was cured when we had her sitting in the middle and kept her entertained with Kidsongs music and looking for shapes and animals on our trips. NO iPads or activities + the AC blasting on her.
Just writing this has me searching for a flight back, no seriously. I think I could totally get away with living there for a month with Sully while Ryan works in the UK right???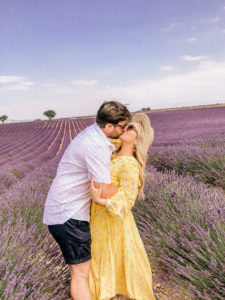 Final things to know that people asked – you're fine just knowing English, most people speak it, but out of courtesy you should learn:
Bonjour (hello in the day)
Bonsoir (hello in the evening)
Merci Beaucoup (thank you very much)
Toilette (toilets, duh)
Parlez Vou Anglais (do you speak English)
Pardon (sorry, you say it to get someone's attention or if you bump into them)
S'il vou Plait (please)
Then other things I said a lot were:
Ce Parfait (it's perfect)
Eau (water)
Serviette (napkin, #ToddlerMom)
Bring euros to the antique market and smaller towns. Also – WATCH FOR PICKPOCKETERS! My sister's entire wallet was stolen which was definitely a low. Luckily she had spent most of her cash. Just stay aware of where your things are!
Also, know there's no wi-fi or service really. So take screenshots of your directions, don't depend on GPS always working and download alllll the Kidsongs in advance if you have a carsick toddler to entertain ;).
Finally, just pack tennis shoes (I can't live without these classic white for dresses or these uber comfy ones for workout wear) or your best sandals (these are what I wear 24/7). Boots for the winter obviously. If you pack a heel, even a wedge, you're wasting suitcase space. The streets are cobblestone or dirt and are slippery and uneven!
Send me a direct message on Instagram if you have any other questions! Or email me at [email protected].
PS: I would LOVE you forever it if you would subscribe to my newsletter  (see the sign-up bar at the very top of the page!) so you get these posts straight to your inbox! Coming soon – the VIDEO on this epic Provence trip + an in-depth post on the lavendar fields!
PIN THIS FOR LATER!