Christmas is only 31 days away y'all! It's always so fun to dream up an ultimate Christmas list, especially when I've already lived out all my Christmas and birthday presents this year with our travel and travel purchases (+ another big decision we'll be sharing soon). Something I wouldn't change for the world!
I kind of thought about writing this post and then just pasting in a picture of a plane ticket. Travel is the absolute best gift you could give anyone or to yourself most of all! It's something we'll prioritize for years to come – I recommend Provence, France or Paris with your best friend ;).
Ok so if I was sending Santa a list this year, here is what would be on it! Including some of my top gifts I like to give others and things that Santa has already gifted me in year's past or for Black Friday. Speaking of that – SO much of this is STILL ON SALE!
Also, I've got some affiliate links in here. Which means, if you click on them or make a purchase, I could get literally like 50 cents or a couple bucks thrown my way. It helps pay for things like hosting, design fees, and more for this little blog – so thank you for clicking away and purchasing from these links!!! Means the world!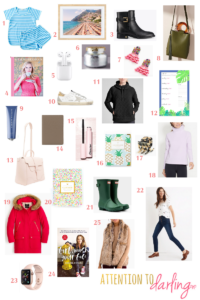 1. The Absolute Best Pajamas – I have two pairs of these LAKE pajamas, one long set and one short set with the long sleeves. I literally wear them every night. They're so soft and breathable, worth every penny. There's something about being in your 30s and loving a quality matching PJ set. 🙂 PS: They're on sale for Black "Friday" and they NEVER go on sale, stock up now.
2. Gray Malin Art – I think this has been on my Christmas list for 3 years, no joke. Ever since we went to Positano 3 years ago and I saw this Gray Malin print come out, I've always wished after it. Currently 30% off (their biggest sale of the year).
3. Tory Burch Black Booties – Flat booties are a London staple and I've been on the hunt for a good pair. These Tory Burch boots are super high on my wishlist (30% off right now with code THANKS). I also am eyeing these short Hunter boots too (not on sale in the US, but the kids are only $44 in the US right now).
4. Whiskey in a Teacup by Reese Witherspoon – To know me is to know my obsession with Reese Witherspoon :). I devoured this book cover to cover the minute it came in the mail and I've flipped back through it about 5 times since. As a passionate southerner, this is my jam. It would make an awesome gift for any lady in your life!
5. Apple AirPods – I use these all day when I'm traveling around London to listen to Podcasts and when I'm working from coffee shops and also when I run, they surprisingly stay in really well (I've at least never had one fall out). If you have someone on your list who you want to buy a pricier gift for, these are a winner.
6. Capri Blue Candle – We always stock up on our favorite smelling candle during the sales this time of year (right now 30% off). We also probably give this as a gift the most.
7. Fiesta Pink Earrings – This is just pure love on these, aren't they so fun?! I'd wear them to spice up everything from jeans and a white tee to a LBD.
8. Tortoise Handle Bucket Bag – I own this bag in the hunter green and it is just fab. I love that it can be crossbody or held at the handle and it holds so much (Mamas, perfect if you don't want to lug a backpack or diaper bag around). For the price, it's extremely good quality too – $68 and 30% off right now.
9. Summer Fridays Mask – I can't live without this jet lag mask. It's more like a really thick lotion though because you can leave it on overnight and wash it when you wake up. That's my favorite part because usually by the time I'm done with a mask I don't want to wash it off :). Also dying to try the new overtime mask by this brand too.
10. Golden Goose Sneakers – Why do I love these? I swear every stylish lady in London and beyond is wearing these right now and considering I wear tennis shoes 90% of the time, they're at the top of my list. I found them on major sale, but the sizes are very limited right now (except for this glitter pair, can I pull them off?). Hopefully they have your size!
11. Cozy Pullover Sweatshirt – This and the jeans I've linked are the only 2 things I bought on Black Friday. The fit of this sweatshirt was just absolutely perfect, it sits right at the hip and doesn't fold under so it looks more tailored. The hood looks funnel neck or is the perfect hood when you pull it up. It's also incredibly warm. I haven't taken it off since!
12. Social Media Planning Tool – This is actually a product collaboration that I did with Renee over at Island Haus Paperie! It's the best weekly social planning tool if you need help staying strategic and on track for your business or blog. At only $20 it makes the perfect gift for your business owning friend too! PS: You can also get a social media consultation for your business or blog for Christmas by emailing me here!
13. Senreve Bag – So this is a major "if we won the lottery" wish list item :). I've always admired this beautiful, convertible bag. I love that it can be held with a handle, shoulder, or backpack. #goals
14. Leather Passport Case – I have a laptop sleeve from this brand and love, love, love it. I've been in need of a travel wallet for a while and this one with embossed gold initials would be my top choice! I've also been eyeing their travel cases for awhile too.
15. Glossier Mascara – Has anyone tried Glossier's mascara? Apparently, it's great, I think it would make a great stocking stuffer! I just don't know that anything can beat my favorite mascara of all time.
16. Simplified Planner – This planner goes hand-in-hand with my Powersheets (more on that below) each month. There's something for me about writing things out and having a paper planner set out at all times so we can check in on each other's schedules for the week. This one is by far my favorite! It's only $40 right now too.
17. Tortoise Hair Clip – I have one of these and LOVE it for everything from pinning my hair up to wash my face, to throwing it up as I run Sully out the door to school. It's the perfect stocking stuffer since it is expensive for a hair clip and not something I'd normally buy.
18. Dudley Stevens Fleece – I'm a big fan of Lemon Stripes and she wears these fleeces all the time and even did a sold-out collab with the brand. I've been dying for one of these pullovers ever since!
19. My red parka jacket from JCrew – I've had this coat for literally 3 years and it is THE warmest jacket I own. I get compliments on it every time I wear it and you guys always ask me about it in Stories. If you hurry, it's 50% off right now with code TGIF which is great because it is more of an investment piece.
20. Powersheets – For 3 years running, I've been loving yearly goal setting with my Powersheets. Last year, even Ryan joined in and we felt so awesome going into our year on the same page and knowing what goals we wanted to encourage in each other. You also check in and break down your goals each month. I absolutely love it! They're having a mega sale when you buy them in a bundle too!
22. High-Rise Button-Front Jeans – This is the other thing I did order on Black Friday. I've been wanting these jeans from Madewell for forever and I'm so excited to say that I don't fit into my 2 favorite pairs of jeans after going through FASTer Way to Fatloss so I scooped these up! They're 25% off right now.
23. Apple Watch Series 4 – I love my Apple Watch, but I'm pretty sure it was swiped in Morocco. Womp, womp. I've been missing it so much and this is the top of my wish list this year!
24. Girl, Wash Your Face by Rachel Hollis (under $12 right now) – This book is life-changing. Sounds dramatic, but it really is. I've sent it to two friends recently and one called me and said she read 100 pages within first opening it. Every woman needs to read this ASAP!
25. Faux Fur Vest – Ok yes I'm like 20 years behind on this trend, but I have been wearings vests all the time here in London. Layers are key!!! This one caught my eye and is minimum 20% off today.
Finally, I'll just say that the FASTer Way to Fatloss program with Stacy has been SO good for me and our family. It would be a phenomenal gift for you if you're looking for a way to change your mentality to food, exercise, join a community of supporters that you check in with every day, and ultimately lose weight.
Ok, that's a wrap! What do you think? Which of these items is at the top of your list? 
I worked with Sully on her Christmas list earlier today, so I'm going to link those items up next so you know what to get the kiddo in your life! Spoiler alert, it's not a lot of wooden toys and learning games – lots of Barbies and toys the kids actually want. 🙂