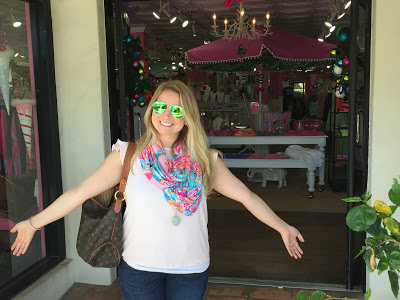 Me in front of one of the Lilly stores in Palm Beach!
Things always sell out right away, here are some tips and my favorite items (including how they fit). One change since the last sale – this year the sale is one day only. Hang on y'all, this is a pretty detailed post, but so full of good info!
This will be what I go for first. I wear a M and would suggest staying true to size. When they first came out with Elsa's they were very large, so if you're between sizes, size down.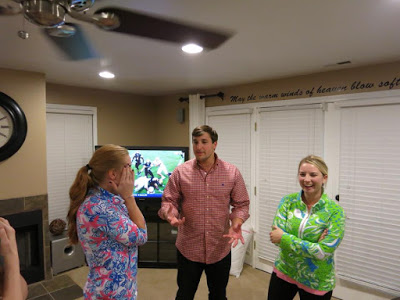 I love this pic of us telling my bestie we were preggers, of course in our Lilly Popovers!
These are my favorite work tops and favorite tops to wear with shorts or skinnies in the summer. I go L here too because the M gets a little tight across my chest. So, if you're larger chested, go up a size, otherwise stay true to size.
The scallop detail on these is so cute! I size up because I like my shorts larger. I'm going to rely on TrueFit to help me pick a size this year.
Tunic/Swing Dresses
I live in these in the summer. I go up a size to a L because they shrink if you dry them.
Now with Sully in my life, anything I buy for myself, I'll look for something in the same print for her. She may look just like her Daddy, but at least she can dress like Mommy :).
YAY! There you have it folks, all my tips and favorites! So, what are you looking to buy on Monday?