Here's what toddlers really want y'all. This isn't the toddler Christmas list full of educational toys and wooden baubles that will look pretty on your shelf. This list was curated by Sullivan Louise, my little 3-year-old leading lady. Straight from the source!
Just like my Ultimate Gal Christmas List, I've included a few things she has and loves just in case you're looking for more ideas. Also, most of this is girly in the photo below, but in the descriptions I included some alternate gender-neutral ideas.
Also, I've got some affiliate links in here. Which means, if you click on them or make a purchase, I could get literally like 50 cents or a couple bucks thrown my way. It helps pay for things like hosting, design fees, and more for this little blog – so thank you for clicking away and purchasing from these links!!! Means the world!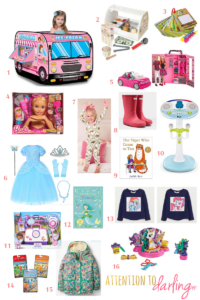 1. Ice Cream Truck Tent – This is Sully's #1 wish for Christmas. Good for us, it's only $27! Here's one in more gender-neutral tones for a little bit more.
2. Ice Cream Set – Sully luckily already got this from Nana and Papa last year, but if she didn't have it, we'd be purchasing it to go with her "truck".
3. ABCs Water Reveal Cards – Sully has to write her name before she can get down to play at school every day, so she's really interested in writing letters right now. I think these will be a winner!
4. Barbie Hair & Makeup Doll – Second only to the ice cream truck, Sully went crazy when she saw this gal. You can do her hair and with cold or hot water depending on the area it makes makeup show up or disappear. If this is too girlie for you boy moms, what about this chainsaw/tools kit, pretty sweet!
5. Barbie & Ken Car & Wardrobe – We're on a Barbie kick, can you tell? I feel like it all started when I got her this mermaid barbie for our trip to Provence because there was a pool and then Lala got her this Barbie with a dog who literally births puppies haha. She's also digging this Barbie kitchen/playdoh set. For boys, we were given these paw patrol toys and Sully loves them!
6. Cinderella Dress Up – Ok, well, the Amazon knock-off version! This is what Sully asked Lala for for Christmas this year. Don't forget to add on the glass slippers! I also love this astronaut dress-up outfit for boys or girls.
7. Sully's Favorite Jammies – !!!Our fav kids shop has 40% off right now!!! We take our jammies seriously, and these are the softest, cutest, and best quality PJs we own. She loves them! They also have Christmas ones this year! Here's the boy's version of the regular PJs, and the adorable Christmas ones.
8. Pink Hunter Boots – Sully literally lives in her "wellies" as she now says. She gets herself dressed and I feel terrible and goodness knows how long she's outgrown them, but her teacher let me know at school that her toes are scrunched and she can't run well in them, whoops. So she's getting a new pair for Christmas, now 20% off. For your little man, here are the same ones in navy!
9. The Tiger Who Came to Tea Book – This is one of the most classic British children's books and Sully LOVES it. I think every kiddo needs it in their library – especially those who are fans of (Clemson) Tigers ;).
10. Kids Karaoke Machine – This is one of those toys I know Sully would love, because she went nuts watching this video. But gosh y'all, do I really want to do this to myself? I just don't know how much singing I could take. It is on sale right now for $50.
11. Doc McStuffins Doctor Bag – This one is a win/win parents because I have Sully go "fix" her toys and spend some time with her imagination and without Mama. 🙂 Here's a great gender-neutral doctors bag too.
12. Little Sticker Book – These are my saving grace y'all. She does them at restaurants, on the bus, on planes, and at home when I need some time to get things done. I'll be stocking up on them and wrapping them as presents even though I'd buy them anyway :). Especially this snow princess one!
13. My Little Pony Sequin Reverse Shirt – Sully loved this shirt last time we were in H&M, Rainbow Dash is on one side and (the pink pony?) on the other side. I've linked it up in the US, it's only $15. Here's the boy's dinosaur version – and can someone PLEASE buy their little man this reindeer cardigan and send me the photo, it's so cute!
14. Water Wow Books – Just like the sticker books, we carry these guys everywhere. You paint with water and they re-dry so you can literally use them forever!
15. Sherpa Lined Jacket – Sully 100% lives in this jacket, I had to include it for y'all. It's her absolute favorite and is so perfect for rain and chilly weather. We get compliments every time she wears it, it's so cute. Here's the boy version!
16. My Little Pony Playdoh – She also loves My Little Pony right now, particularly Rainbow Dash, so this playdoh set is one that really caught her eye. I also love playdoh because it keeps her occupied while I clean or work during the day! Are you noticing a trend with the toys we choose? 🙂 If your little boy doesn't love My Little Pony, I bet any kid would love this concrete Playdoh truck.
There it is folks, Sully's Christmas list! I love how the little things make her happy right now, no $100+ items on her list yet. We also are doing a lot of experiences around London as you've seen in my Stories if you follow along on Instagram. These are a big part of her Christmas this year and it's so much fun!
PS: Make sure you check out my Ultimate Christmas list that might still have some Black Friday deals running strong too!