Touring the Veuve Clicquot Champagne House was total bucket list goals! I'm so excited to share all about this House founded in 1772 and run by a total #girlboss, the widow Madame Clicquot!
We made a decision to try to go to a different country every month we were living abroad, or at least go to 12 countries overall. They didn't have to be countries we'd never been to before, but at least we wanted this goal to push us to travel outside of London and take advantage of this crazy experience. Here's our travel bucket list – would love your thoughts!
So back in Charleston, we decided to book our first trip while living abroad to Paris. We had been before so it was a bit familiar, it was an easy train ride from London, and a relatively cheap trip with all things considered – especially since Sully can ride the train for free (see our Mommy/Daughter Paris shoot here).
I had to spice things up a little bit from last time though, so we booked a two day, one night trip to Reims (aka Champagne) to visit the Veuve house. See our Reims guide here, I highly recommend staying a night in this cute town.
I've been a fan of Veuve for as long as I can remember, we've celebrated anniversaries, milestones, babies, homes, big moves, and so much more with this brand. One of the advertising agencies that I managed at Capital One even used to send me a bottle every year for Christmas. So to say I was excited about this is an understatement.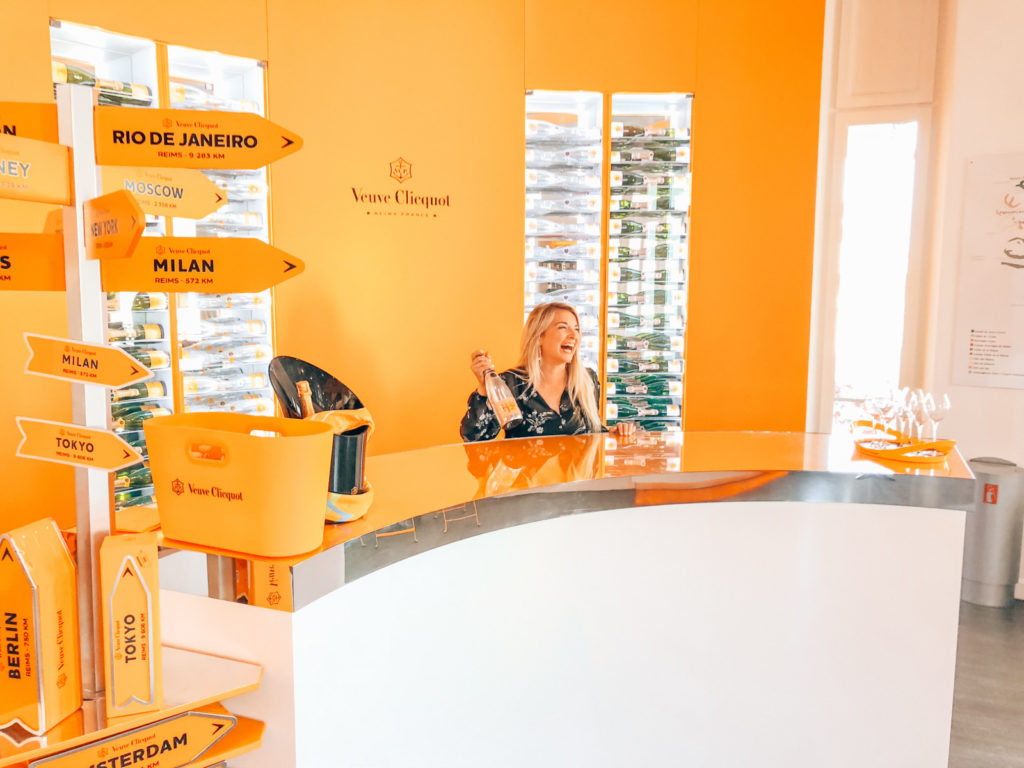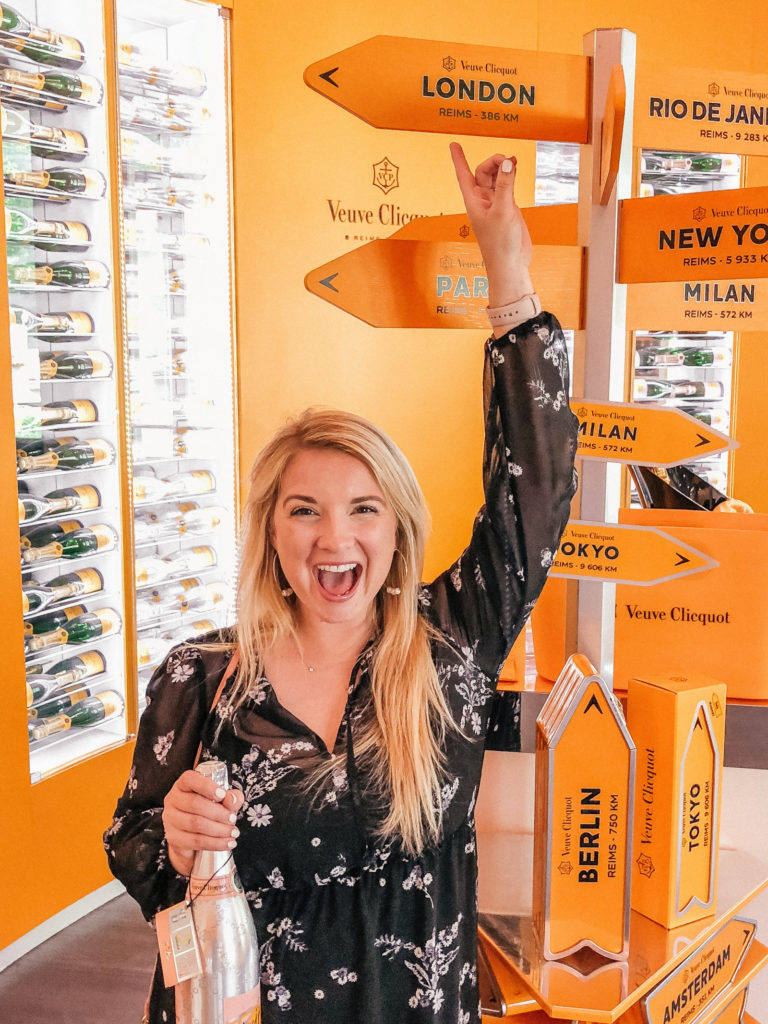 There are TONS of champagne houses in Reims and the Champagne region overall. We have a toddler though and much like we did when we visited distilleries in Louisville for our one year anniversary, we decided to choose one place and go big instead of killing ourselves trying to get to a million places and getting lost in the craziness.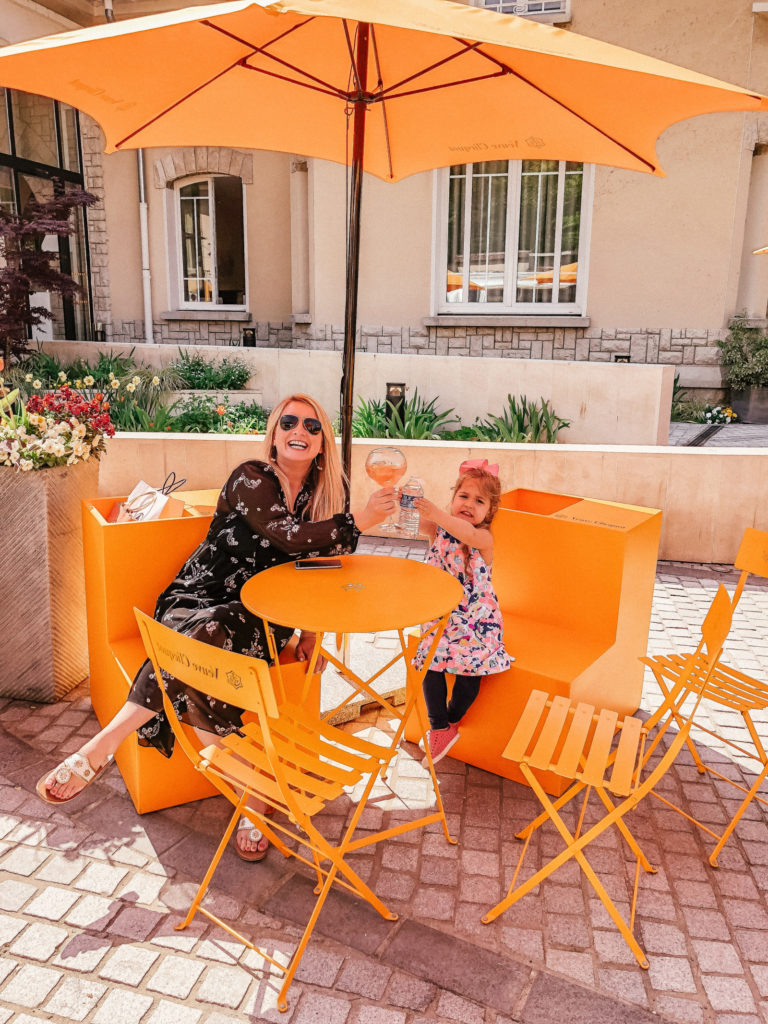 We booked the "On the Footsteps of Madame Clicquot" tour in advance when we booked our travel. It's a 1 hour and 45-minute tour down through the chalk caves where Veuve Clicquot is stored and shares the incredible story of Madame Clicquot on screens controlled and voiced over by the wonderful guide. It's kid friendly and could not believe how amazing Sully was the whole time. I did tell her we were going into Puff the Magic Dragon's caves though, so I think that scared her through it helped. Don't worry, there's a delicious tasting at the end too!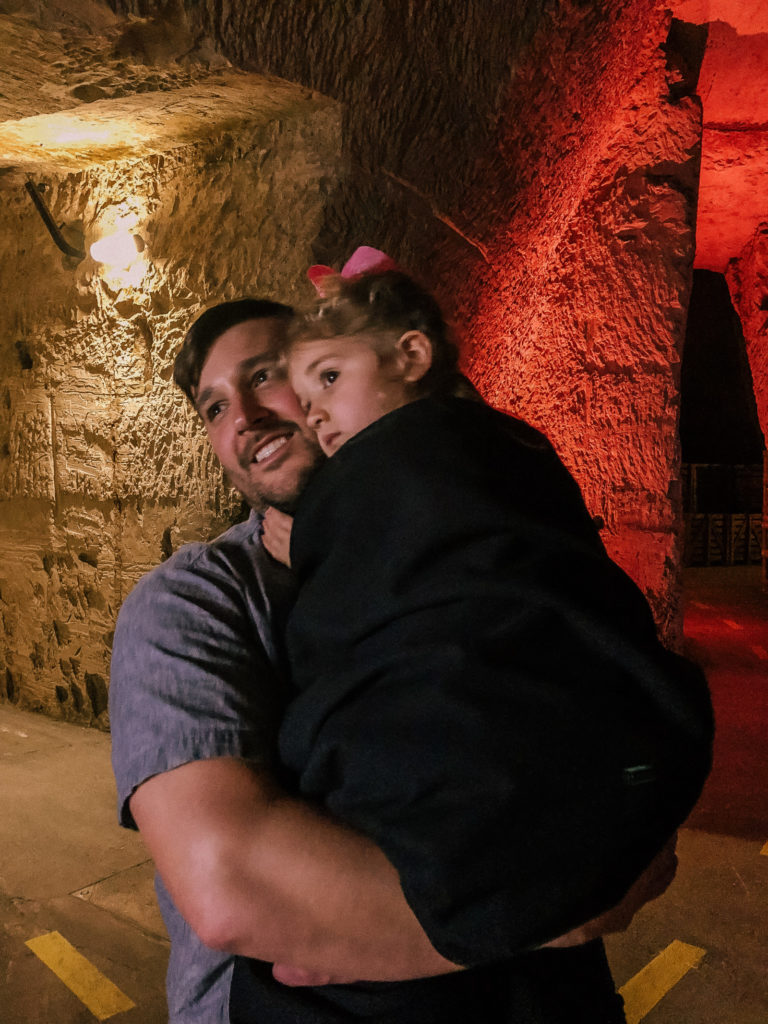 Once your train lands in Reims, it's a super easy taxi ride to Veuve Clicquot. They have a room for you to keep your luggage in and will even arrange a taxi to take you to the town square for some fun or a meal if you're too early for your tour. You can always just hang out there too, they have an adorable little trailer and precious seating. We knew baby girl would need a carousel ride and some food though if she was going to last.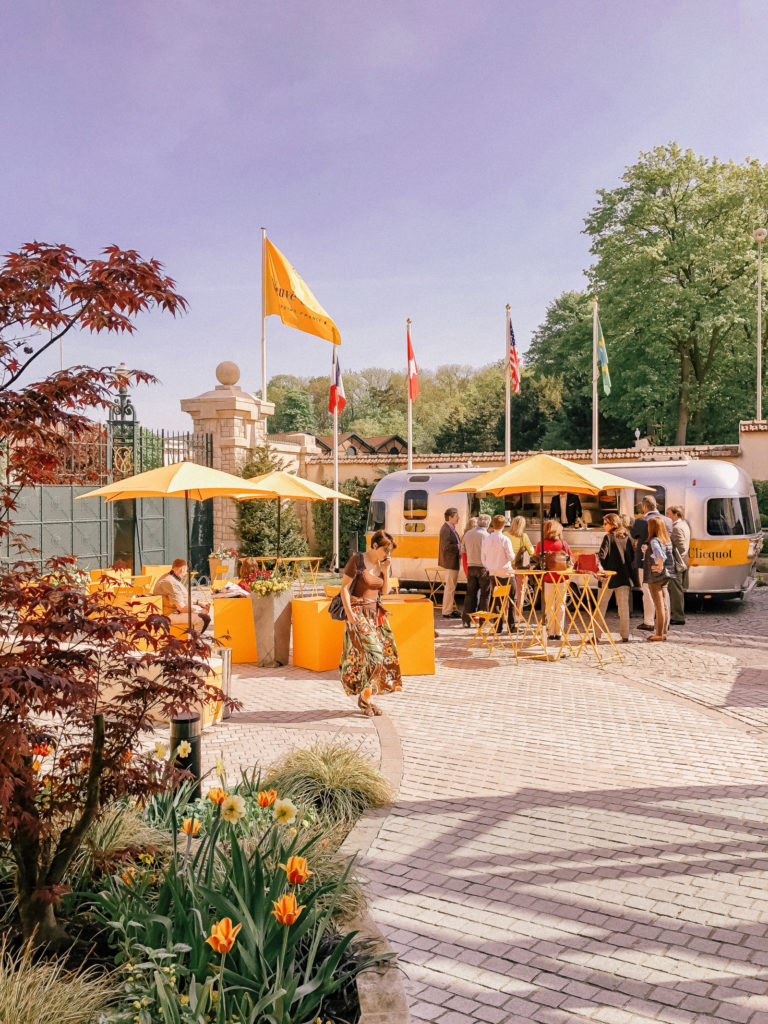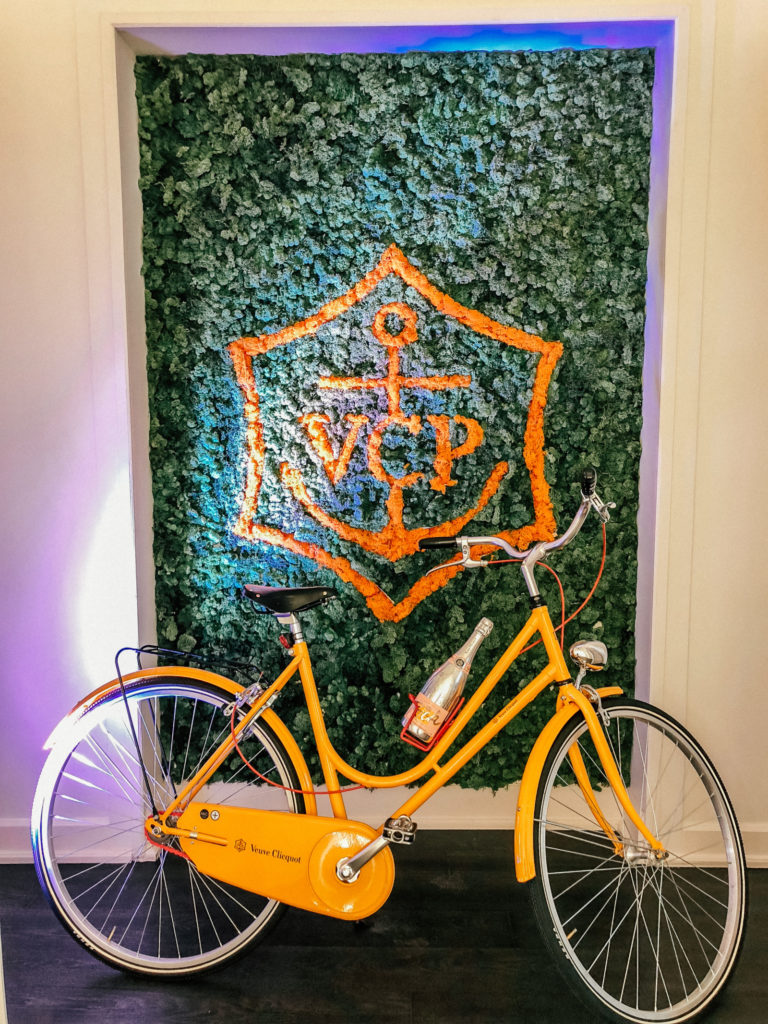 When your tour begins, you'll start in a room with your guide and the others on your tour. Here's where you can finish off any champagne you might have from before. You'll then get a blanket if you need one. It's very cold down there, so bring a cardigan or jacket.
You begin by descending all the way down into the caves, I was dizzy with excitement walking down these stairs you guys. And no, I hadn't even had any champagne yet :).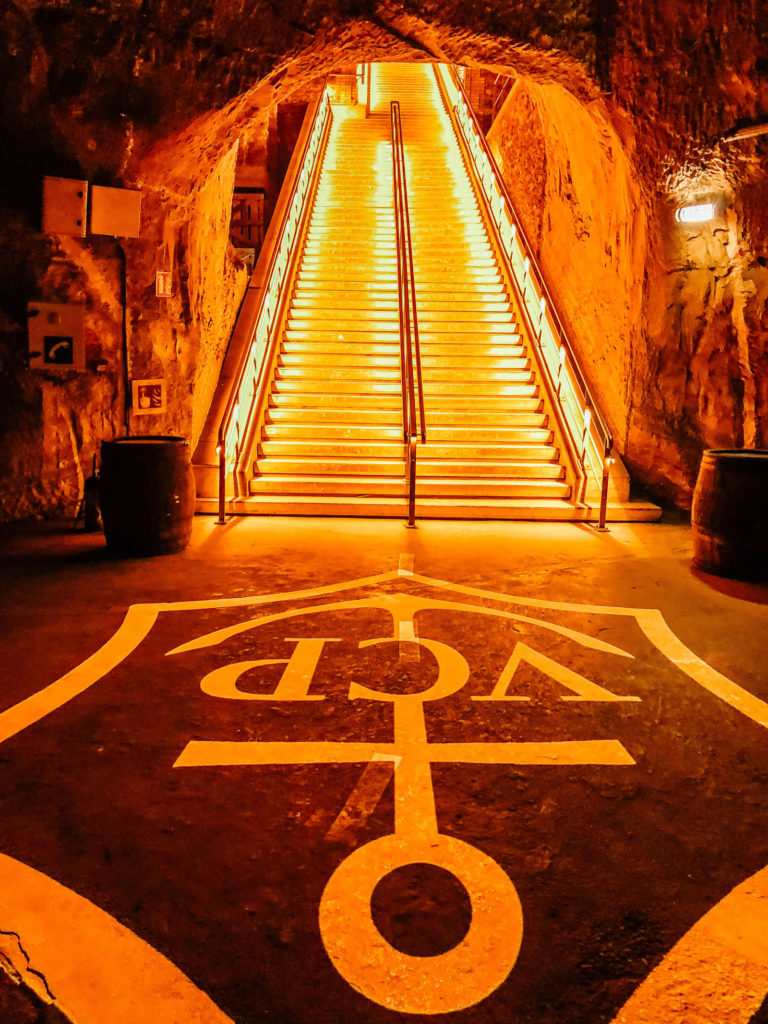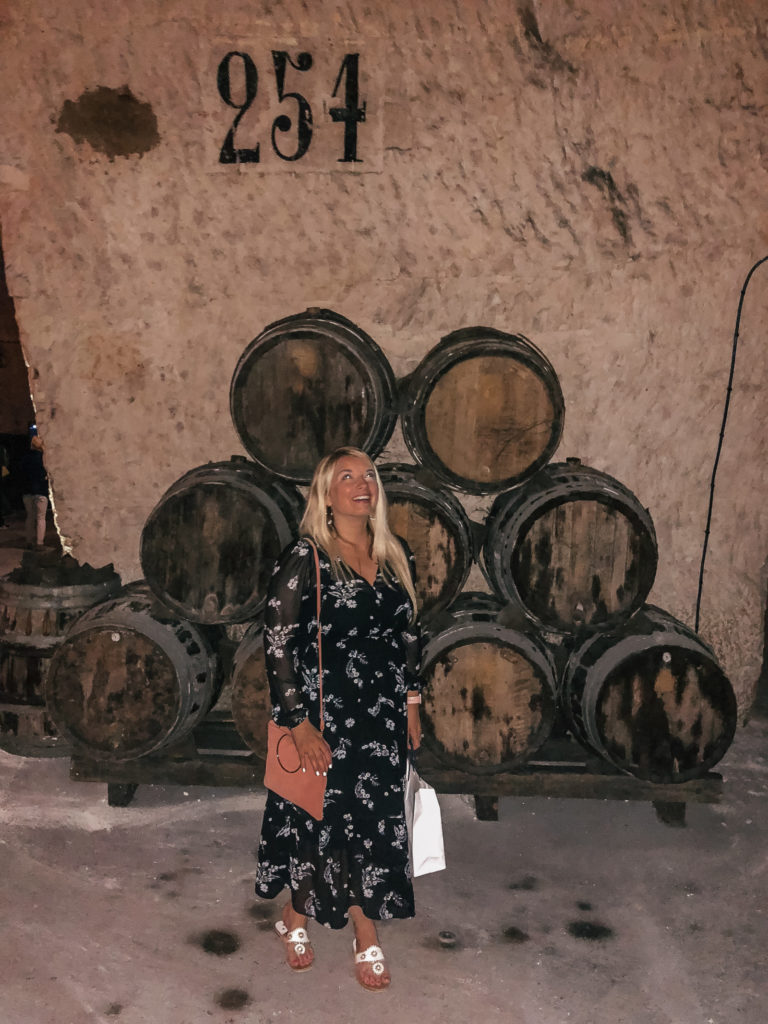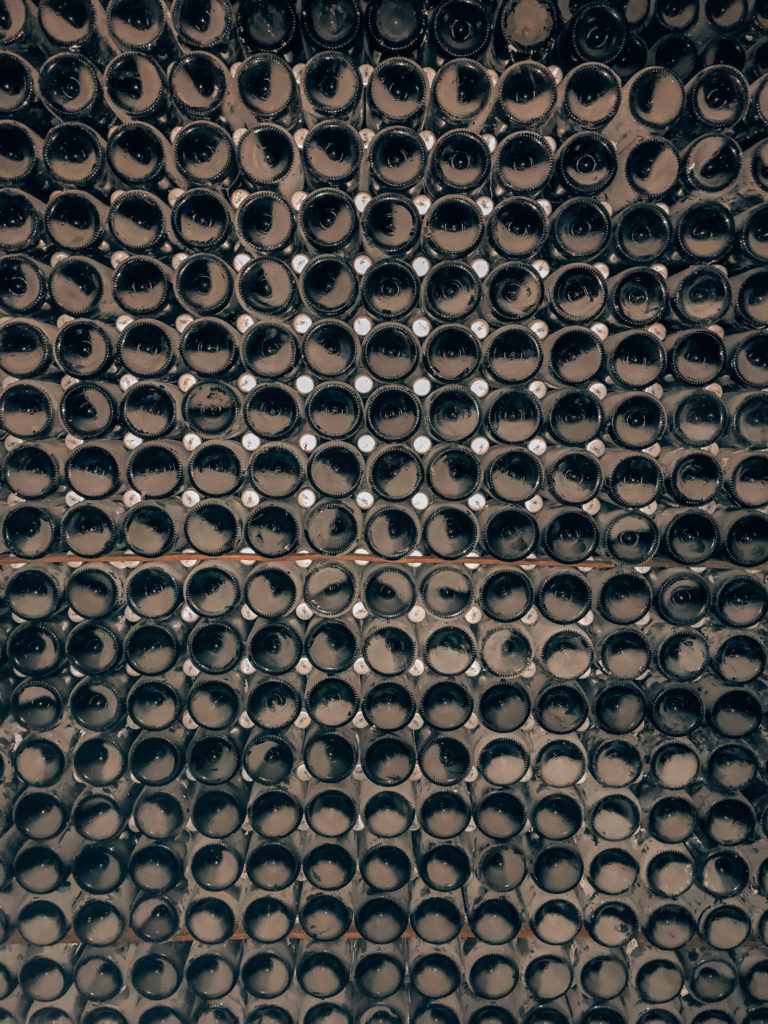 As a brief history that won't even scrape the surface at doing the House's legacy justice…
Established in 1772 by Philippe Clicquot-Muiron, the House that would eventually be known as Veuve Clicquot emerged quickly as the champagne for the upper crust of Europe. They're actually the first House to add red wine to their champagne and create rosé!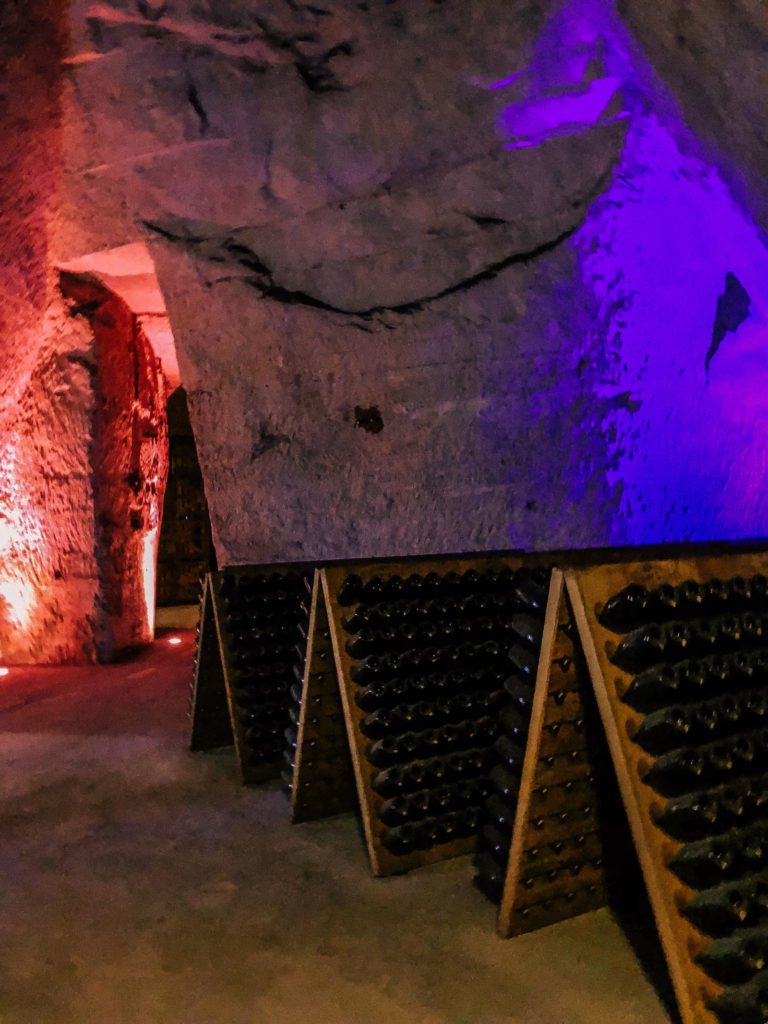 Phillipe's son Francois Clicquot, quite the businessman himself, married Barbe-Nicole Ponsardin in 1789. Sadly, Francois died in 1805, leaving Barbe a widow and in ownership of the Champagne House at only 27 years old. Widow in French is Veuve. Barbe became the first woman to own and run a Champagne House. And she did it like a boss (see her portrait in the room below).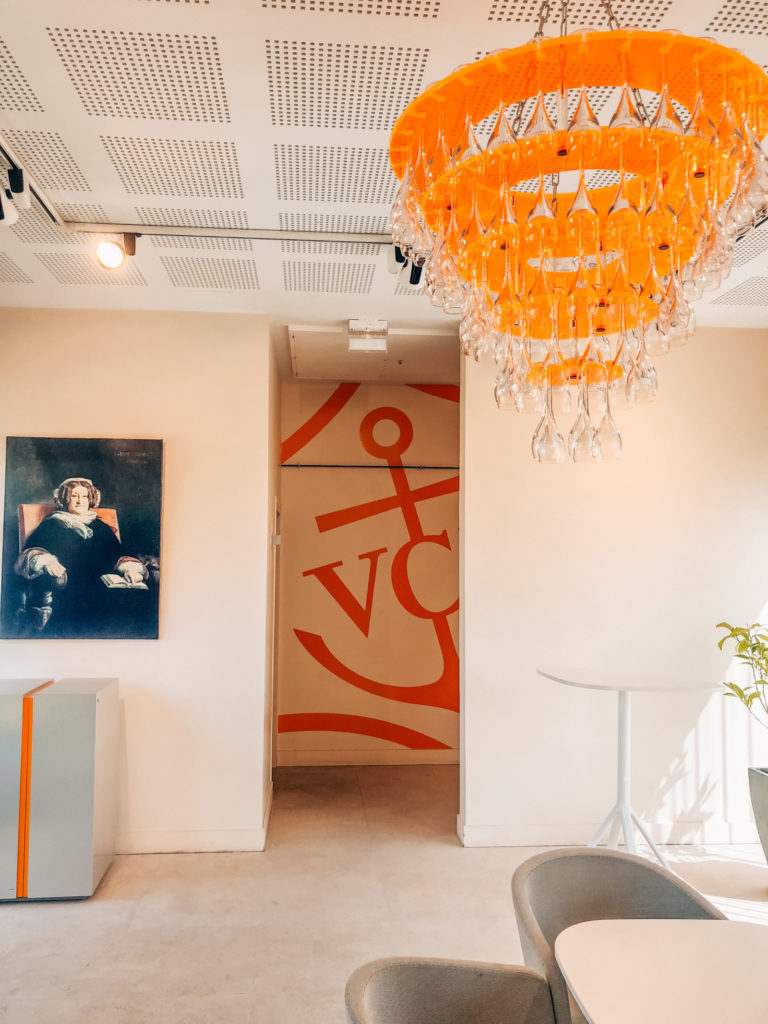 She revolutionized champagne by inventing, along with her cellar master, the riddling board. Essentially the table with holes to help keep the wine flipped down and so it could be easily rotated. This kept the yeast at the bottom in the crown cap, able to be extracted. Prior, everyone drank champagne with yeast debris in it (yuck!).
Madame Clicquot was the first to bring champagne to Russia and provide it to Prussian troops who opened it with their sabers. Thus began the tradition of opening champagne with a sword. She bought the most fertile land for champagne grapes in and around Reims and essentially escalated the brand with the recognizable yellow label to a whole new brand relevance that has grown from her death in 1866 until now. The fact that a woman back then ran a business, let alone spread it to all the corners of the world is insane you guys.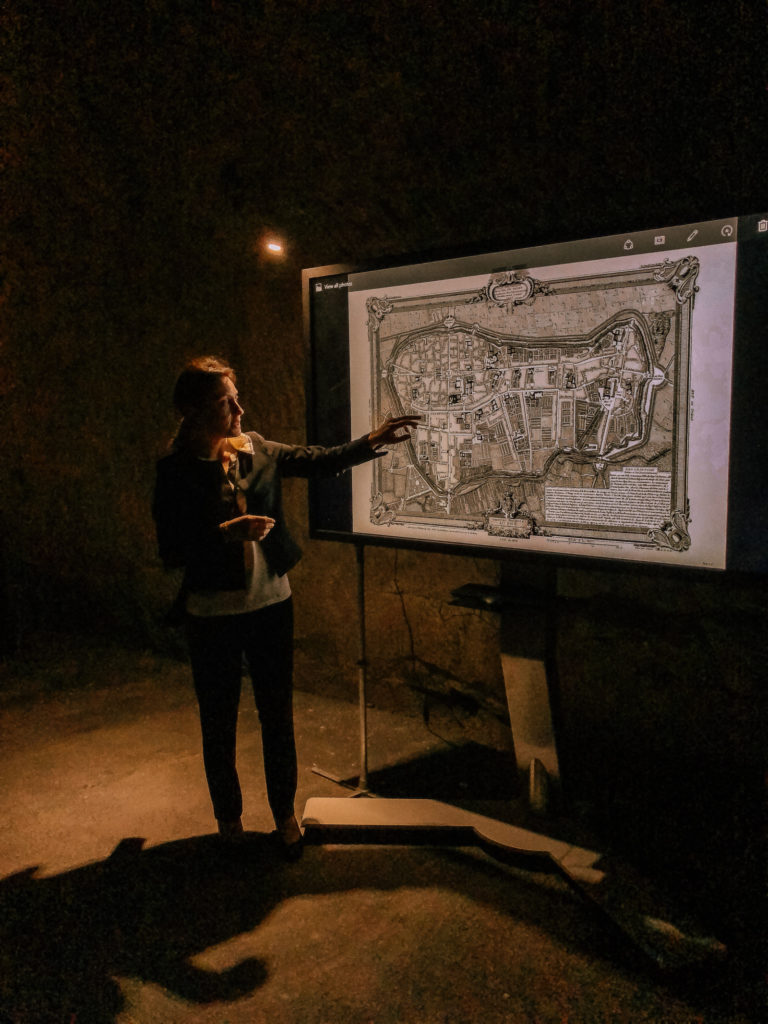 The famous logo is so interesting to me too, but maybe that's just the brand nerd in me. The VCP stands for Veuve Clicquot Ponsardin, of which is her married and maiden name with "widow" (Veuve) before. The anchor was established by her father-in-law when he founded the original Champagne House and is the Christian symbol for hope. The shape seen today (not below) is to symbolize the comet from 1811 that shot across the sky and created a particularly fertile harvest. You'll also find Madame Clicquot's signature on the iconic yellow label that was yellow vs. white becuase their champagne was dry compared to the sweeter ones on the market.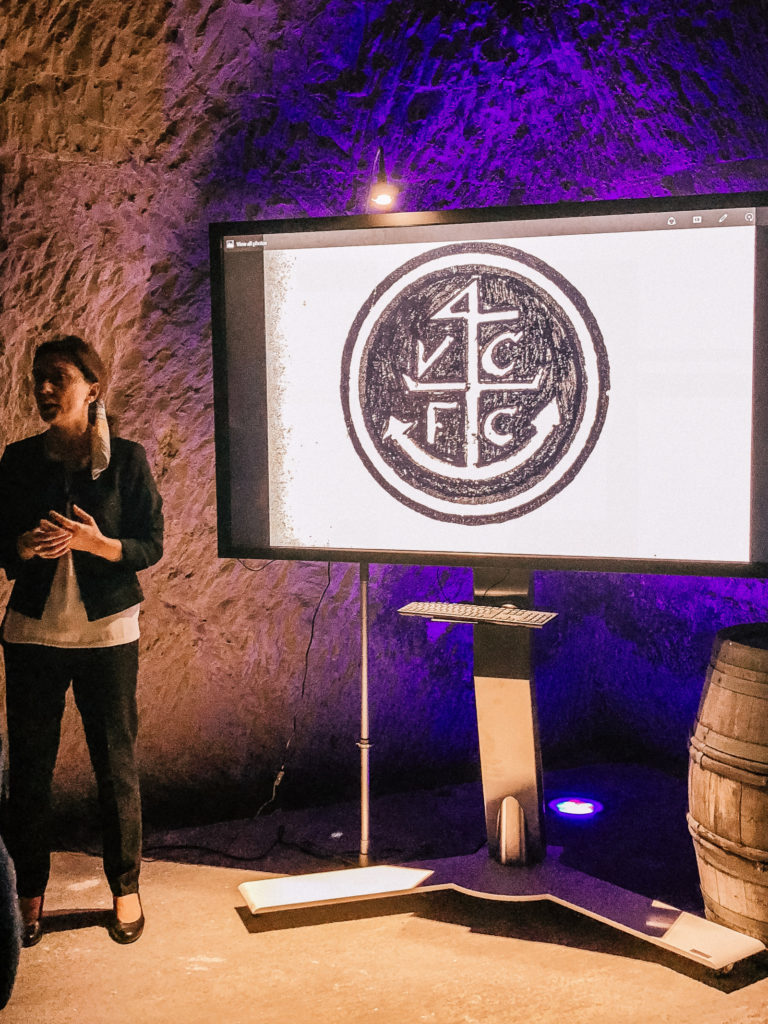 Once the tour ends you head out into the aromatic garden to smell pears and other very finely picked vegetation that awakens your senses so you're fully ready to enjoy all aspects of the champagne.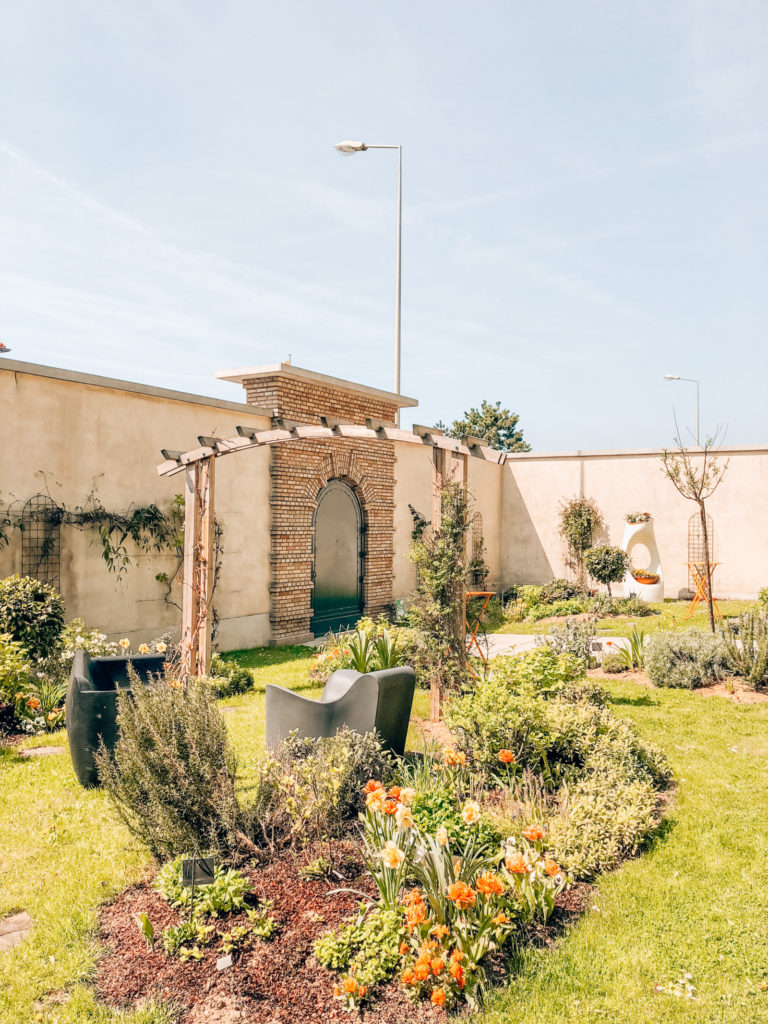 Then on to the tasting room where you try the traditional Brut Yellow Label cuveé and THE best champagne, in my opinion, the 2006 cuveé La Grande Dame. You can tell a champagne has been aged longer when the bubbles are smaller. It was fun getting to compare the two!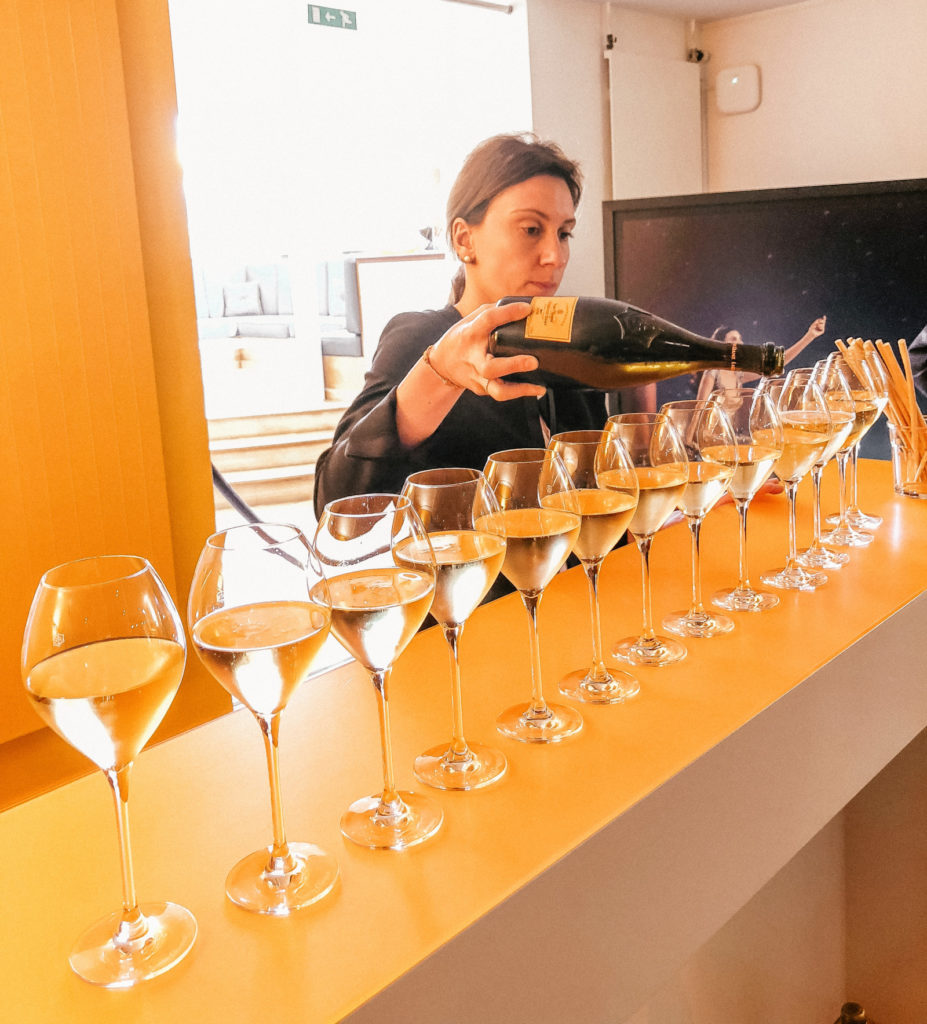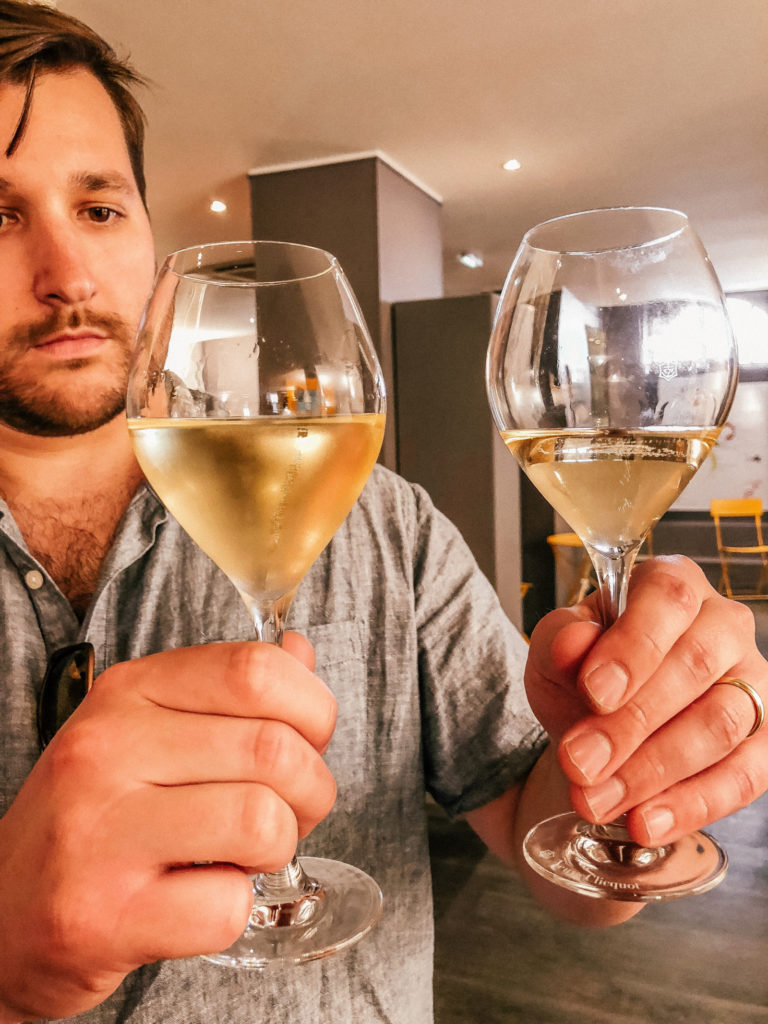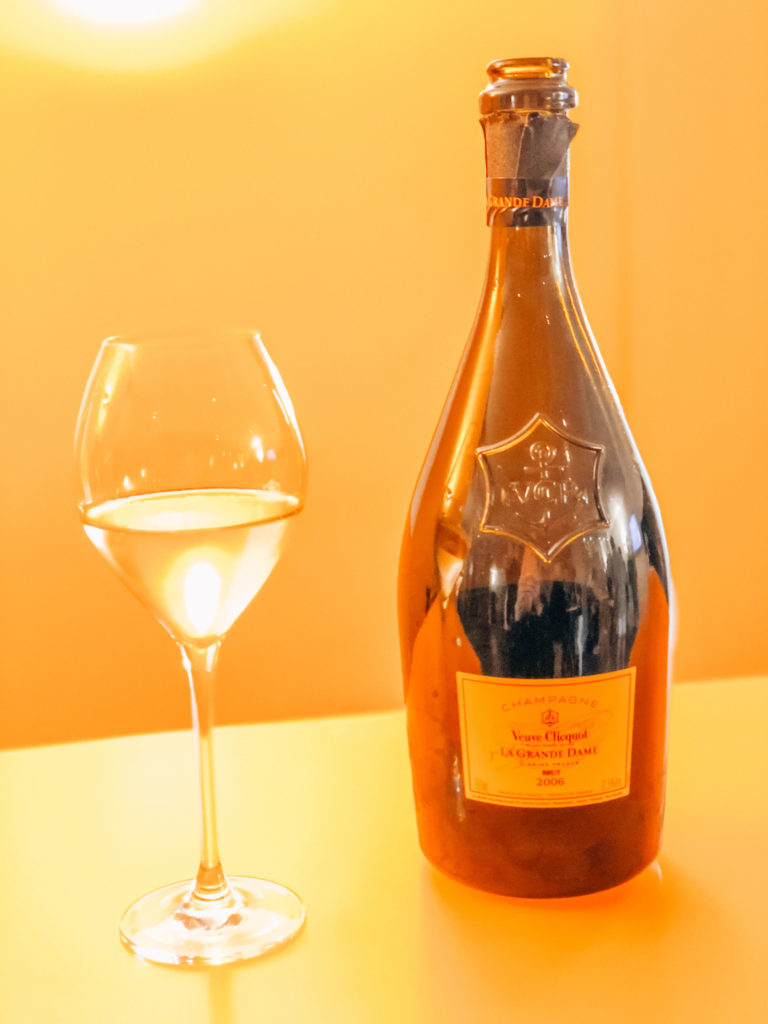 We even let Sully have a sip of the 2006 and needless to say, she was also in love! I can't wait to give her a bottle of Veuve one day for a special occasion (when she's over 21!) and show her the photos from this experience.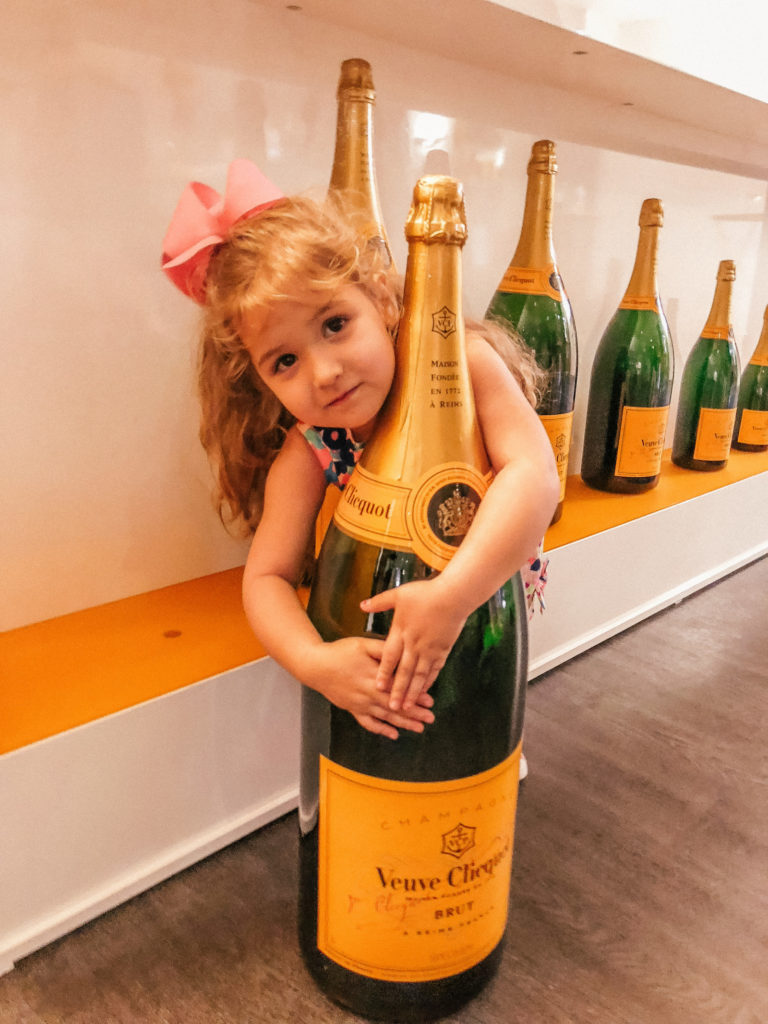 From there, we shopped in the store where we bought some champagne of course, a champagne stopper, and I snagged a gorgeous scarf! Then we went out and enjoyed the sunshine on the patio. I discovered my new favorite summer drink of choice too! A large glass of ice cubes with Veuve Clicquot Rich Rosé with 3-5 slices of fresh ginger. So good!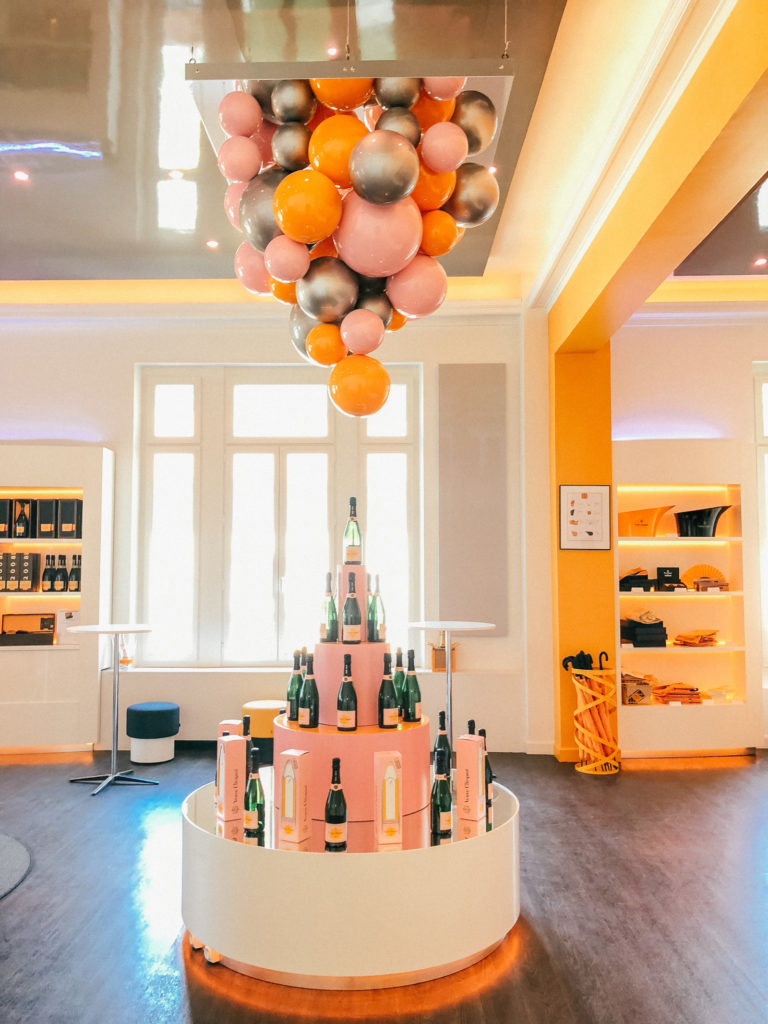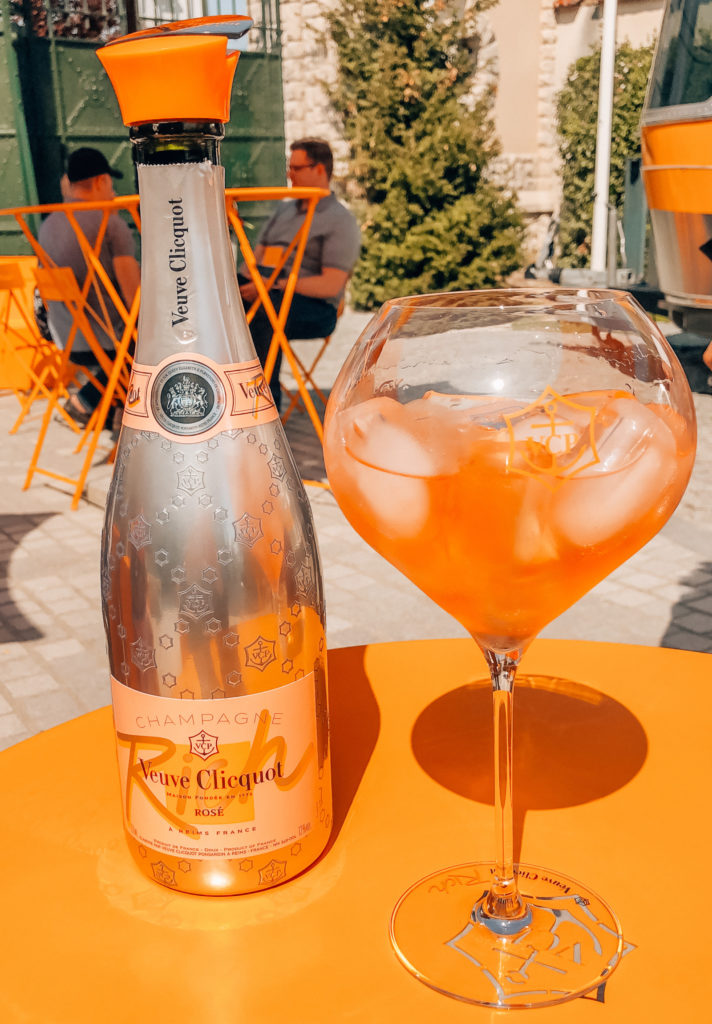 It was the most fabulous day that the whole family really did enjoy! What questions do you have for me on this fantastic experience?! I'm already dying to get back!