So often I get the best recommendations from you guys on Instagram and most times they're questions you have too. Enter a new blog post series, "Reader Recommends".
Today, we're talking about comfortable summer shoes. Specifically, ones you can walk in forever and ever. Averaging about 11,000 steps a day just living life, I need some warmer walking around shoes. My tennis shoes don't cut it with my Lilly (you better believe I'm wearing it over here!) and my flats and Jacks I did bring have brought on blisters in places on my tootsies I never knew I could get them.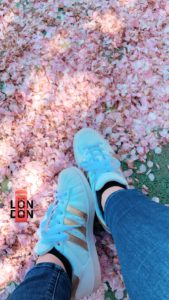 Y'all had SO many recommendations here – THANK YOU! Here's what they all were and then, later on, the ones I'm trying to decide between. Let me know what you would choose!
I think I got everyone's suggestions in above! Comment below if I accidentally missed you.
Now – here are the ones I'm trying to choose between. These aren't cheap, so getting them from places that have easy returns is important as well as making sure I can get them in the UK. These factors also helped narrow down my list.
Have y'all tried Soludos at all? They weren't directly recommended, but they're so cute. Could they stand up to all the walking though?
What about Loeffler Randall? I've had my eyes on these for a loooonggg time…
Comment here or DM me on Instagram and let me knwo which you would choose!