Christmas Eve marked my 30th birthday! Wowza, THIRTY! To my younger self that number sounds old, but in reality, I've been looking forward to joining the thirty club.
We're big fans of always celebrating birthdays anyway, no matter the age. The fact that God has blessed us with another year on earth with the people we love is certainly worth celebrating.
While sometimes sparse :), this little blog was created to document and journal our life. So on the last day of my 29th year, I wrote this post and now am happy to share 30 things with you in the new year. Yep, "things", pretty vague, but I had a mix of things to share from things I've learned to things I've done to things I love.
Here ya are… 30 "Things" 🙂
4. Fun enough though, I came home in a really large velvet and silk stocking. I still pull out that stocking today and actually used it recently for client photoshoots!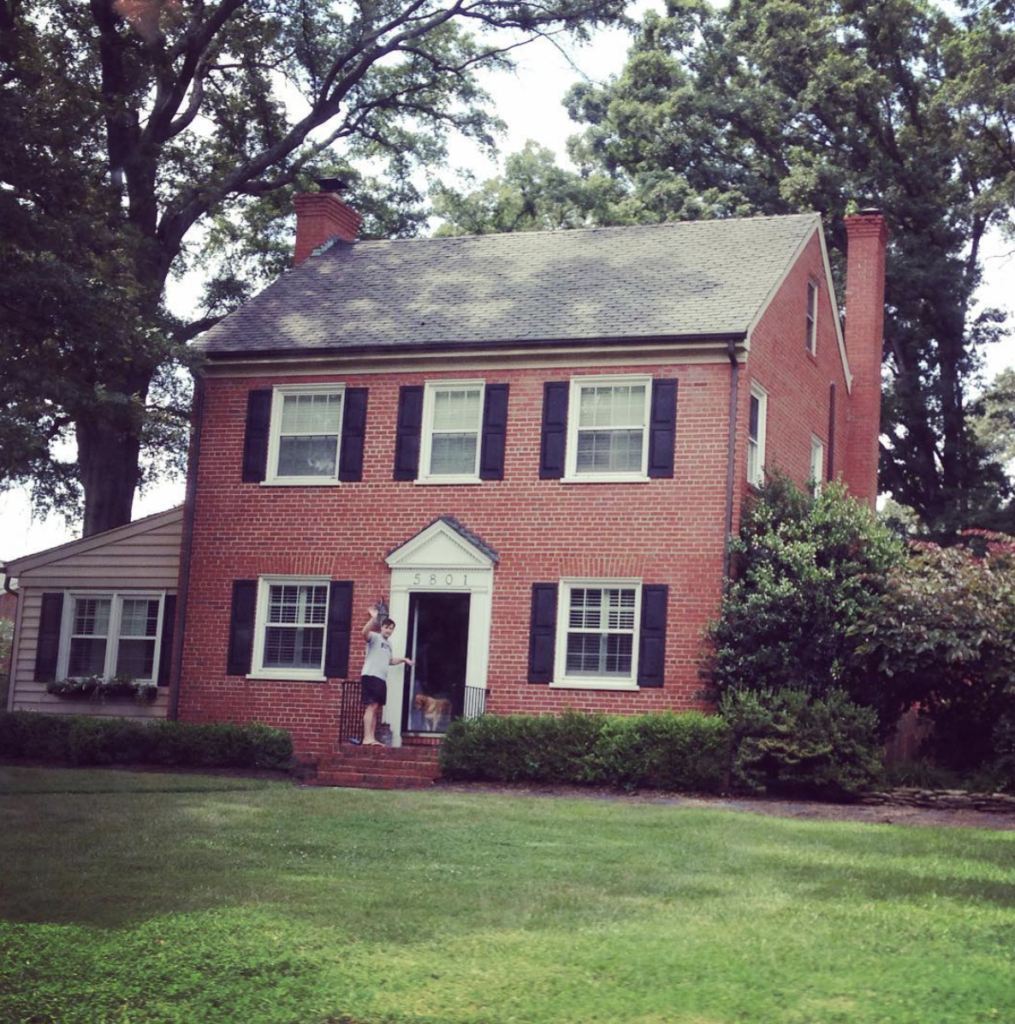 Our Richmond, VA home!
7. Our daughter's name is Sullivan Louise and at the time I didn't think we had a reason for the Sullivan (at least no family tie) until someone pointed out that "Sullivan"s has always been on my heart. We always knew we wanted to get back to Charleston and now we live 5 minutes from Sullivan's Island with our sweet Sully Lou. The Louise is family, it's my Nana's middle name.
8. Speaking of Nana, I lived with her and Papa until I was 6 when my Mom graduated from Clemson and married my (step)Dad. My room at Nana's house is still intact with my Little Mermaid sheets and Puff The Magic Dragon handpainted on the wall. Watching my daughter now play in that room gives me #allthefeels.
9. It's impossible for me to choose one favorite anything. Here are my tops though… Movies – Little Mermaid, Moulin Rouge, Breakfast at Tiffany's, Steel Magnolias and Sweet Home Alabama. Songs – Dance with Somebody by Whitney Houston, American Honey by Lady Antebellum, Good Day by Nappy Roots, Cabin by the Sea by Dirty Heads. Food – Raw tuna, raw salty oysters, donuts.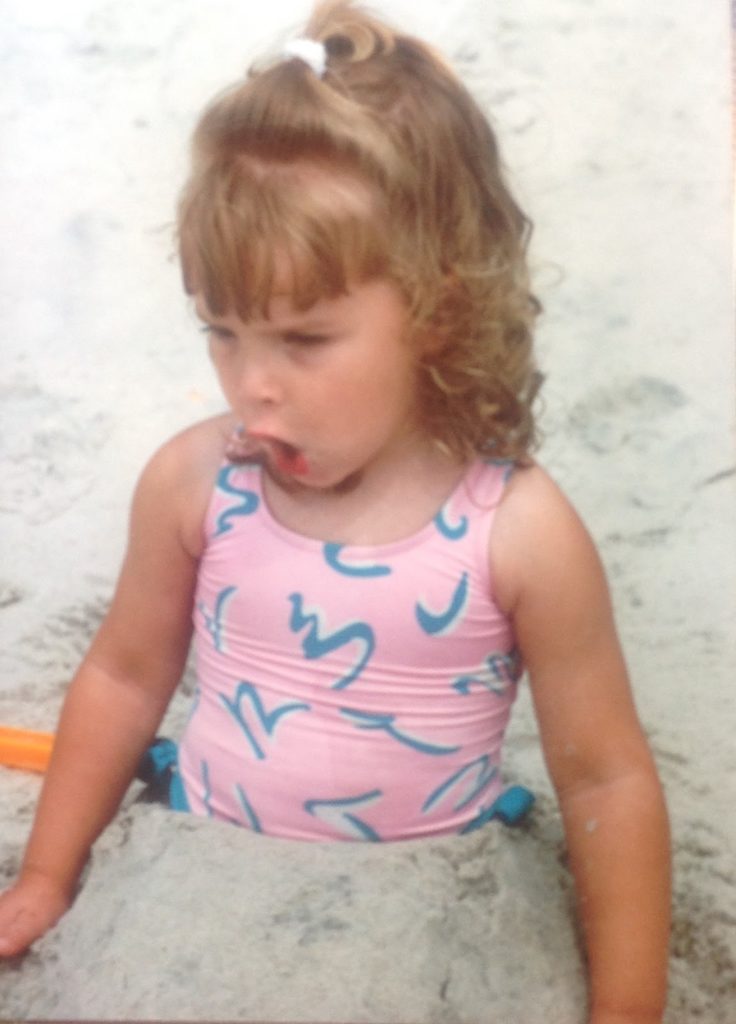 This is me belting out "Part of your wooooorrrllllddd" from the Little Mermaid on the beach with a sandy mermaid tail haha!
11. I rode a female horse named Ralph growing up. We mostly rode English, but good 'ol western trail riding is another happy place for me.
12. My husband and I met at the Carolina Cup horse race. I literally bumped into him (with my rear end haha) while he was bending down to get a beer out of a cooler. Ten months later we were engaged and the rest is history!
15. Back in my event planning days, I had the pleasure of orchestrating an event where Maya Angelou was the speaker. Spending time in her presence behind the scenes with a local choir was something I'll never forget. Grace and kindness filled every ounce of the room when she was present.
16. When I was in elementary school, we were invited to the White House for a special Christmas tour because my Mom's architecture firm had an ornament on the official tree.
17. After a particularly fun trip to Las Vegas, I awoke one morning to a phone full of messages. There was my photo at the top of the Daily Mail's e-newsletter and in an article online after being seen hanging out with Wilmer Valderrama. It was a fun night and he was a gentleman, despite what the article claimed. My one second of fame, ha!
18. I was Miss Cheerleader of South Carolina in 2005.
19. Some of my favorite childhood memories were spent in my grandparent's backyard riding in the wheelbarrow and searching for golf balls, picking fresh raspberries from their garden, digging for worms while Nana gardened and swimming in the pool. Sully got to experience the garden and a Papa walk while we were home last time!
20. Right before I got engaged, my Dad sent my Mom and me on a whirlwind trip to NYC before I was off and married to Ryan. Now I can't wait to take Sully on a Mommy/Daughter trip to NYC!
21. Pink is my favorite color. Shocker.
22. My daughter was born on the Lilly for Target sale day (her actual due date!) and we're pretty sure that's why I went into labor – we stayed up to shop it right at midnight and the site kept crashing. It was stressful y'all!
23. All my life I was told I was terrible at math and couldn't do anything remotely close to it as a career. While that may be partially true ;), I went on to work for the number eight bank in the US. Don't let anyone tell you who you are – you know your capabilities and worth.
24. Speaking of things I've learned in 30 years… Happiness is a choice. It's not based on circumstances. Period. Choose Happiness Y'all!
25. Luck is not a thing – being blessed by God, yes. But, hard work is hard work and it will pay off. So will kindness.
26. Everything happens for a reason. I strongly believe that. If I can't begin to grasp the reason for something (and there's been a lot this year that I can't seem to grasp) then I remind myself that I'm a mere human and God is SO much bigger.
27. Put it in God's hands. When you're stuck, sad, happy, overwhelmed. Put it in God's hands. He always, always, always provides. Always.
29. Pinckney Palm is actually the second business I launched. Back in Greenville, I ran a successful cake baking business called Gilded Pastry.
30. This blog was first called The Married Appetite and was written by me and Ryan back in 2011 to document all our culinary adventures and recipes. At the time, I had Le Creuset as a client, so blogging about the food world was a no-brainer.
Finally, I have to celebrate a big moment from each year in my 20s…
2008 – Age 20, I took a class at Clemson where I was required to start a blog and then an account on a little thing called Twitter. Fast forward 10 years and I operate my own social media agency!
2009 – Age 21, Met my husband and moved to Charleston, SC
2010 – Age 22, Got engaged on the Clemson football field and graduated from Clemson
2011 – Age 23, Got married in Greenville, SC
2012 – Age 24, Bought our first house in Greenville, SC
2013 – Age 25, Moved to Richmond, VA and bought our second home
2014 – Age 26, Pregnant with Sully Lou
2015 – Age 27, Sullivan Louise was born in April and we moved to Washington, DC
2016 – Age 28, Moved to Charleston, SC and bought our third home
2017- Age 29, Launched Pinckney Palm, hired our first employee and are moving into our own office space in downtown Charleston
That's a wrap you guys! Where are all my 30 friends? Tell me in the comments the best part of being 30!
Thank you for another year of readership and love! Every view and comment makes me feel like quite the special lady.