Every other weekend during my childhood I had to spend time in a place that I didn't quite love. It never felt like "home" and there was often so much taunting, imbalance and unfamiliarity. Whenever I could get away with it, I would tiptoe when no one was looking to the bookshelf and pluck a Nancy Drew novel off the shelf and escape. Away I would run through wooded trails and creaking buildings with each turn of the crisp, weathered page. That was my happy place.Fast forward 20 years and I had found myself turning to books again for a little escape in 2017. This time though, I loved the life I was "escaping" from, but still needed the brain break to read and get inspiration. It was so refreshing getting back into reading!
Now here I am in 2018 asking for your recommendations for this year. You had some great ones when I asked on Instagram! I also found some from other resources that I'd been eyeing for awhile. I also thought I would share a little about the books I loved and didn't love in 2017. Leave any other suggestions for me in the comments or message me on Instagram!
First off, here are some of the places I love finding new reads: Grace at The Stripe's Monthly Reading Lists, Reese Witherspoon's Book Club, House of Harper, A Beautiful Mess, Man Repeller Book Club, Pinterest and recommendations on Audible where I end up listening/reading to a lot of my books in the car. I was also recommended to Good Reads (by CambronElsey) and Book of the Month Club (by ImMristenM) which I plan to check out this year.
So without further adieu, here is my 2018 Reading Bucket List – IN NO PARTICULAR ORDER! I also have to mention that it's a funny mix of #bossbabe books, self-help (my word of the year is WELLNESS) and fiction for a fun break.
As always, these posts do contain affiliate links. Meaning, if you click on some of these links they could send some change my way at no cost to you. Thank you for supporting this little blog!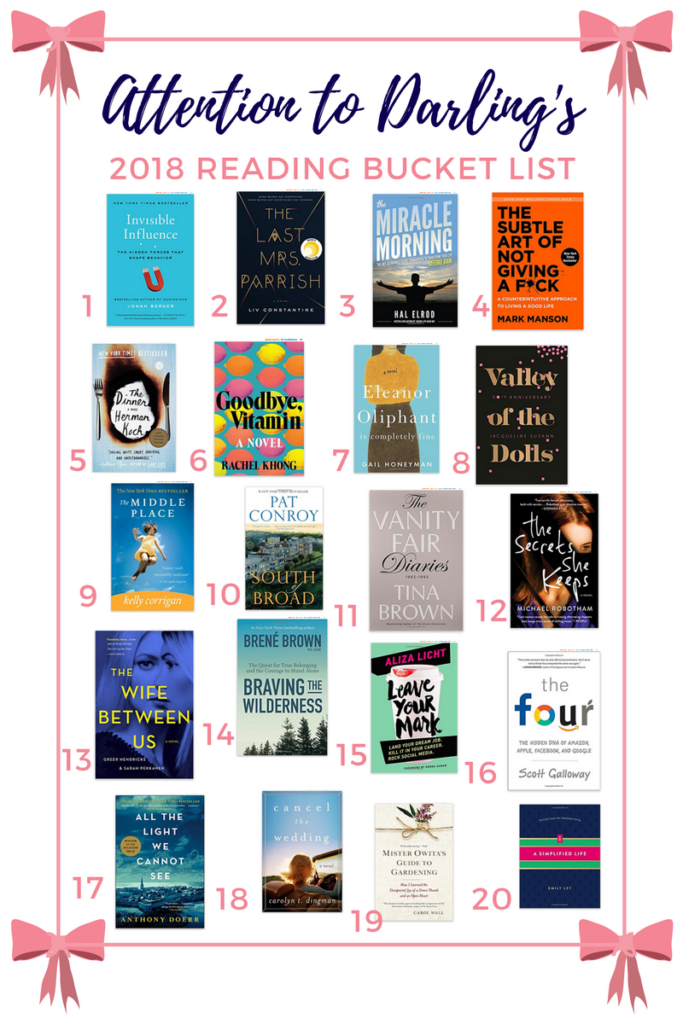 A few honorable mentions:
At this point y'all know I love a good, informative (and yes long) blog post 🙂 Here are…
My 2017 Favorites Reads
1. Cultivate by Lara Casey (#1 fav this year)
2. Before We Were Yours by Lisa Wingate (FAV! I love a good southern novel though…)
3. The Seven Husbands of Evelyn Hugo by Taylor Jenkins Reid (#3 fav this year)
4. The Dollhouse by Fiona Davis (LOVED, may just have a top 4)
And These in No Particular Order:
Luckiest Girl Alive by Jessica Knoll (crazy twist, but pretty gruesome and depressing)
Rich People Problems by Kevin Kwan (trilogy, just love them all – start with Crazy Rich Asians and then China Rich Girlfriend)
Woman in Cabin 10 by Ruth Ware (total mind eff)
Chasing Slow by Erin Loechner (read, don't audio)
2017 Reads I Actually Didn't Like:
The Paris Effect by K.S.R. Burns – The storyline was a little all over the place and I like the idea, but wanted happier and Paris 🙂
Little Fires Everywhere by Celeste Ng – Didn't love the story itself, but could be more because of my personal beliefs
Class Mom by Laurie Gelman – Funny-ish, but weird pace and not good humor
Ok y'all – what did I miss?! Have any favorites for me that aren't included on this list? Or are any in my 2018 list not worth the read? I know new ones are going to pop up and with 20 already, I've got an ambitious list!