Hi friends! Thank you for sticking with me while I took a
little blogging break to get adjusted to our "new normal!" So, what all exactly does this "new normal" encompass? Well, here's an update, which I guess is actually more like a series of mini blog posts (yes, its a long one folks).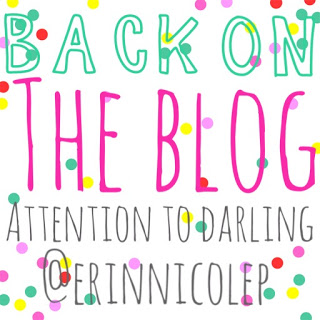 First off, let's talk
new location.
We announced
here
that we were moving to the DC
area. Well here we are! We ended up in Arlington and moved into our new rental home in July (can't believe that's already 3 months ago!). We're less than ten minutes from the heart of DC which is pretty sweet.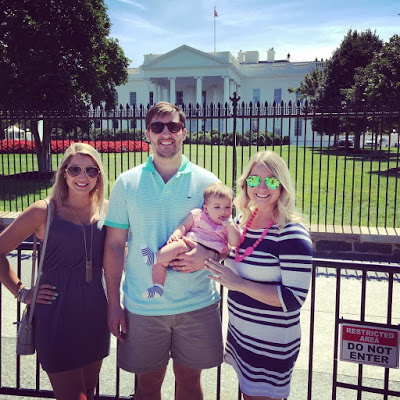 My bestie from Cali came to visit this summer!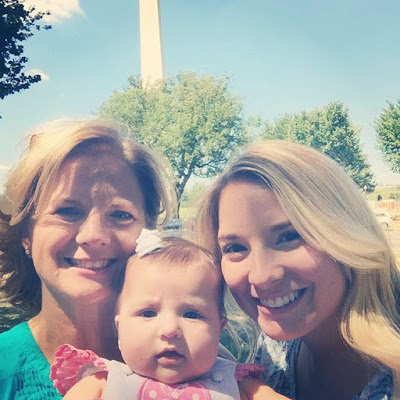 Nonna paid us a visit too! I see the Washington Monument every single day, pretty awesome.
There are so many options when it comes to places to live up
here, it was a little overwhelming at first. Our favorite area was Del Ray in
Alexandria, but we couldn't quite find the right place between the super high demand and the fact that people don't like to
rent to families with larger dogs (especially 2 of them!).
It certainly is a different pace up here, that's for sure. One neat
thing is that we get to see the Pentagon, Lincoln Memorial, Washington Monument, Jefferson Memorial, Potomac, and Arlington Cemetery on our drive in to work.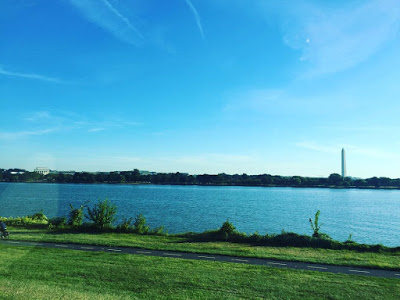 Now here's where you come in, we'd love to meet more people around here like us – younger parents with a love for college football, sweet tea, and a good BBQ. Know someone? We would love an introduction!
We also would love any
recommendations you have on restaurants, sites, events, etc. that we should put
on our DC bucket list.
Tell me, how are things going now that you're back at work?
I get this question a lot, along with the question of what job I'm doing now that we moved. To the later part of that, I am so fortunate to say that I kept my same exact job, I'm just working in our McLean location now.
As for my answer to the original question, how are things going… it's hard, but SO rewarding to be back at work. I totally thought I was SAHM material, but goodness gracious y'all, that's one of the most difficult jobs I've ever done! Luckily, we found an amazing nanny who we split with another family in a "nanny share."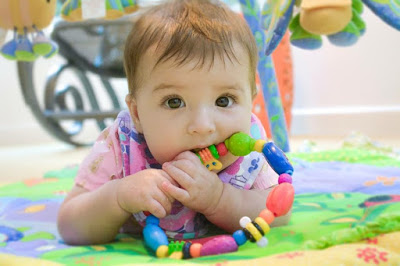 Not to mention, I've worked so hard to get where I am in my career between all the high school gigs, internships, and post-grad work. I've also found that my brain enjoys the challenges that work brings. And we all can't deny that it feels good to make money, plain and simple. At the end of the day I come home so happy to see my baby and so proud that she'll grow up with her Mama as her number one example of, "work hard, play hard."
Don't get me wrong, there are always those days that just get ya down though and all you want to do is stay home and love on your girl. Travel also has a whole new meaning. Previously, I couldn't wait to hop on a plane, but now that just means nights away from my baby and mornings without her snuggles.
Which by the way, when Sully wakes up, I go get her and feed her in bed while we both snooze a little longer. It's my most special time of day.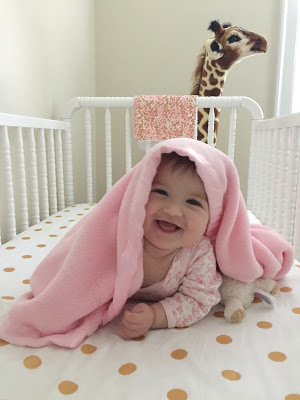 How could you deny this goofy little girl?
Finally, and I'm not even going to go there, but pumping at work and when traveling?! UGH!
Who's with me? Tips for maintaining balance? Pumping at work tips?
Now, for life overall with a
six month old…
Y'all, this is the coolest age ever. Ok, yes I know, I've got YEARS of coolest ages, but at six months I feel like we've finally hit somewhat of a stride. Sully is scootching around, she's sitting up, she's eating solids (kind of), she's been sleeping consistently for awhile, and she even said her first word ;)…
She's so curious about the world now and getting to view it
through her eyes for the first time is so much fun.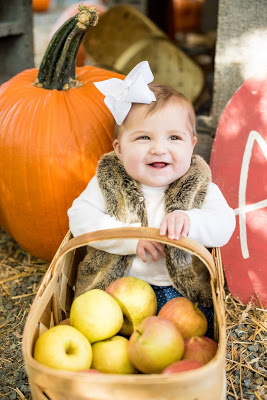 Here's my question
though, what are some toys/books/etc. that are good for babies at this age? How do you keep your little ones learning and entertained?
Coming Soon!
First, just have to say, I'm genuinely SO excited to get back to blogging!
Coming soon though, I can't wait to share
some amazing photos that never made it up on the blog from our maternity shoot and when Sully first came into the world. Plus, I've got some pretty gorgeous updates on how we're decorating our rental, what this postpartum Mama is feeling fab in these days, and more baby updates too!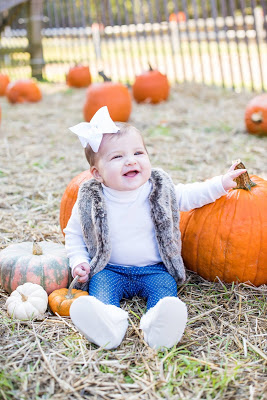 As always, stay in touch via Instagram, Facebook, Twiiter, Bloglovin, and Pinterest.
Thanks again for stopping back by, can't wait to continue the conversation! And I would love your thoughts on the above italicized questions, let me know in the comments.