We just got back to London after 21 days of travel around the US. As I was unpacking it was fun to look through the purchases I or others (thankful for Christmas/birthday gifts!) made for me while we were home.
Thought I would share with you as I've already worn or used all of these items and love them! Are recent purchases something you would like to see regularly?
PS – I've got some affiliate links in here. Which means, if you click on them or make a purchase, I could get literally like 50 cents or a couple bucks thrown my way. It helps pay for things like hosting, design fees, and more for this little blog – so thank you for clicking away and purchasing from these links!!! Means the world!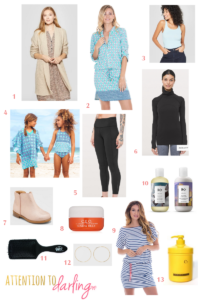 1. Long Sweater Cardigan – On sale for under $15! This is absolutely perfect for bopping around London and even in our chilly flat!
2/4/9. Cabana Life Clothes – I literally only should have packed Cabana Life outfits which are SPF 50+ for our trip to Hawaii. I wore this Classic Shirt Dress 2X on the trip which matches Sully's Swimsuit and Cover Up set. I also lived in this comfy striped Boat Neck Jersey Dress. Sully also wore this Rashguard Set about 4X while we were there. I even swam in the ocean while we were kayaking to whale watch in this Shift Dress and it dried super quick. This Embroidered One Piece is a dream too. Know they sent me these items for the trip, but I wasn't paid to say any of this! I'm in love with this brand. If you're going anywhere near a beach this year, grab up some key pieces from them!
3. Pale Blue Tank – I wear tanks under almost everything in the winter, and I love this super pale blue, it's almost white. It looks good with my sweaters that are a little sheer and is great under cardigans like the one above.
4. (see #2)
5. New Favorite Running Tights – I needed a smaller size in my running pants (thank you Faster Way to Fat Loss) and these have the high waist and side pockets that I love. Definitely a splurge, but very well worth it!
6. The BEST Running Top – I randomly grabbed this to try on in the store and I am now obsessed. It is light, but keeps the warmth in and it keeps my neck warm while I run.
7. Girls Metallic Boots – We actually got these last time we were in the US but I bought way too small of a size. So size up, but these are the best kids boots!
8. Vitamin C Moisturizer – I need to incorporate Vitamin C into my skincare routine, so I'm going to give this moisturizer a try!
9. (see #2)
10. Thickening Shampoo and Conditioner – I love this brand and even though it's definitely more pricey, I am making it top priority to get my hair healthy and thick again. Hope this works, I'll report back.
11. Large Wet Brush – New year, new $7 hairbrush! Just feels good to refresh some things like this.
12. Simple Gold Hoops – These are only $6, but in the store, they have some 14K gold ones for $20 too. I love how thin these are, I've been wearing gold hoops almost every day. They're just fun and classic!
13. Hair Mask – I feel like I have seriously lost 1/2 my hair between the hard water here, all the travel, the dry air, two back-to-back colorings last year, and diet changes. My hair gal (who is amazing if you're in Charleston) suggested I do this hair mask from Amazon 1-2 times a week. The tub is HUGE so I expect this to last awhile.
I of course also grabbed my favorite peanut butter and toothpaste to bring back too since we don't have those in the UK! 🙂 There was another sweater from Target I picked up but can't find online and little things here and there that if I find online or remember, I can post on my Facebook page.