I love when bloggers share their current wish lists and with some upcoming trips (hello lavender fields in Provence!) and a brand new lifestyle (hello walking everywhere!), I've been eyeing quite a few things lately! Here's what I'm looking at this June!
Please know this post contains affiliate links which means when you make a purchase from one of my links, the store sends me a small commission. Thank you for supporting my little blog!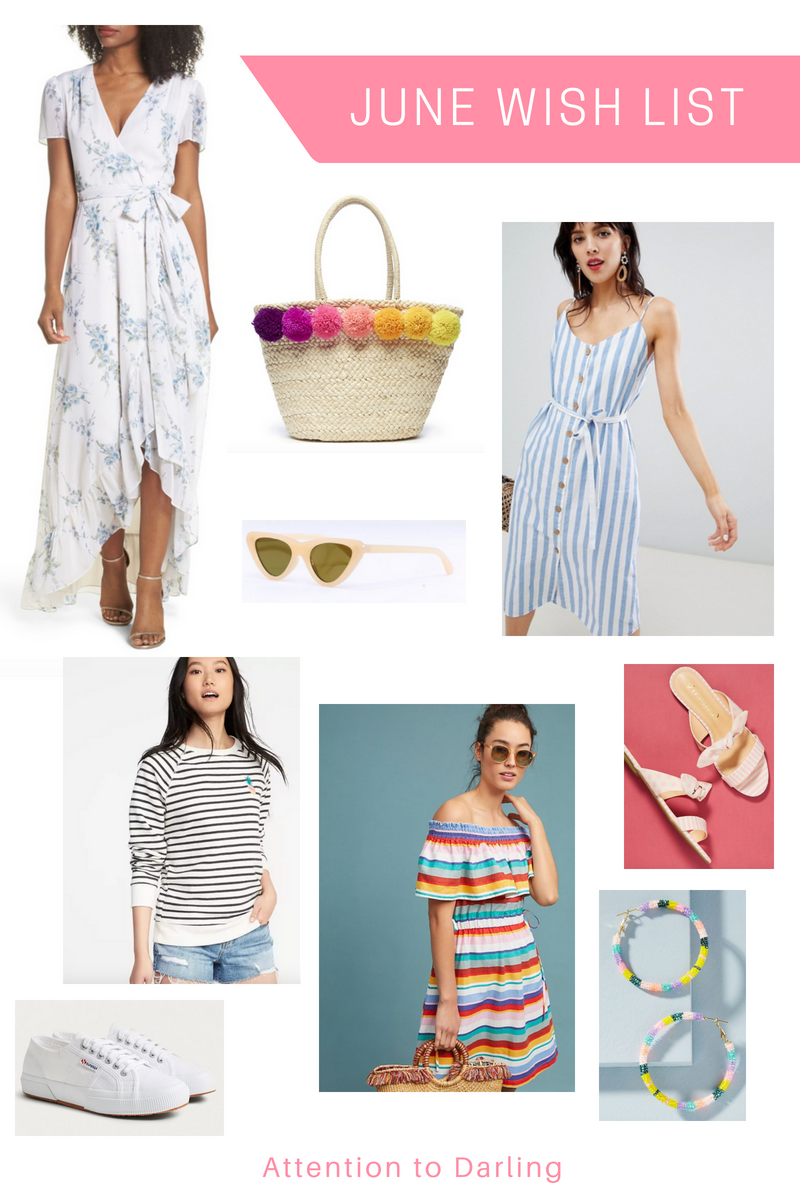 I've been on the hunt for a dress that will look gorgeous in the middle of a brimming purple lavender field and I love this white ruffled number with some floral elements. Tag me (@erinnicolep) in any Instagram posts that have a good dress option for this!  Also considering this one, let me know what you think…
We need a picnic bag, I could use a new beach bag, and how cute would this one be for our travels this summer? Did I also mention it's under $50?! Have to say, I am loving this insulated cooler bag with palms and the fun "Wish You Were Here" saying on it.
I've been wanting to try a slim pair of sunnies, but being a big sunglasses kind of gal has me a little worried they just won't work right on me. Enter these for only $15, super low cost of entry and if I love them then maybe I'll upgrade if I need to!
The weather in Provence and then in Morocco is going to be warm, so I'll be living in dresses and love this classic style and that it has a tie around the waist vs. just being a big tent. 🙂 Oh and again, very budget friendly, under $35. Might have to grab this black midi number in the same price range too.
The weather in England is wonky y'all and you can bet that even in June there's going to be a cold day or two each week. Being a southern girl, I don't have many cute sweaters and sweatshirts, but this one is right up my alley! How cute is the embroidered pineapple? This one is high on the list this month.
Confession, since creating the graphic above, I've since bought these sneakers. My gold stripe Adidas are still my go-to when traveling all around the city, but if I'm wearing a more feminine dress or a special meet up, then I wear my Supergas. You see them everywhere here in London and they're totally acceptable with their clean and slimmed down look for anything from a grocery run to drinks with a girlfriend. (PS: Kate Middleton is a fan!)
A rainbow striped dress has been at the top of my list to get for this summer and I LOVE this one! Off the shoulder and alllll the right colors. Just makes me want to cha cha!
I'm not going to know how to drive or how to walk in heels after this time abroad. Enter flat sandals which I live for these days and these hit all the right points for me – pink, stripes, polka dots, and bows!
My JCrew gold and pearl hoops have been on repeat, I'm feeling very Jenny from the Block these days you guys. I'd love to add these colorful ones to my growing hoops collection too.
Not pictured, but I'm on the waitlist for this mask, have you heard of it?
Also, do you have any recommendations for a good passport and card holder? I need something slim and simple that I can also carry as a wallet. I would love your suggestions!