How lucky is my husband that he got to turn 30 in Europe?! I knew I wanted to surprise him with an awesome trip because, besides some work clothes, there really wasn't anything he needed or wanted. And hello, #WhenInEurope!
Munich was his dream destination, but we're headed there for Octoberfest in September, so we struck it out for now. Ireland was another location high on the list and then Belgium was thrown out there because it's an incredibly easy train from London (only 2-3 hours!) and it seems manly enough with all the beer and medieval towns.
I decided to let Airbnb decide for us! Best place I could find won. That's when I came across this Airbnb in Brugge that was situated on the canal, had stunning views, and a good set up where Sully could be downstairs and we could chill upstairs when she went to bed at 8. Done!
READ ALL THE WAY THROUGH TO SEE THE VIDEO RECAP AT THE END!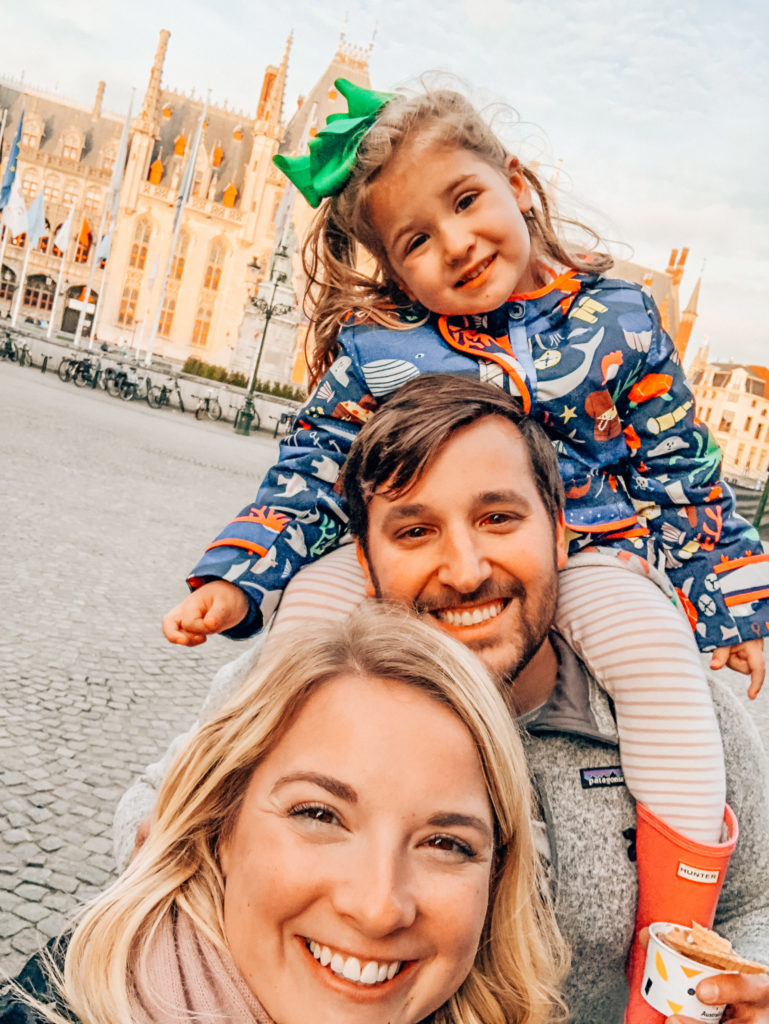 I was excited to travel again, but not particularly pumped about Brugge. Man, was I silly. It. Is. Fantastic y'all! It is the most well preserved medieval town in Europe, with a ton of the buildings being from the 13th century or even before. The canals weaving through it have given it the "Venice of the North" title too. If you're planning to go to Brussels, do not miss the 45-minute train ride out to Brugge, even just for the day.
Here's the other thing about Brugge, it's known for its beer, chocolate, fries, waffles, and delicate lace. Yep, I kind of love all those things. So here's our top 10 list for Brugge/Bruges… in no particular order!
1. Take a canal tour (we recommend the one down from Casa Patata)
They're only €8 and it's a really cool way to see the city and get a bit of history. We went on two while we were there because Sully loved the boat and one was definitely better than the other. The one we liked the best was just around the corner from Casa Patata which I mentioned below.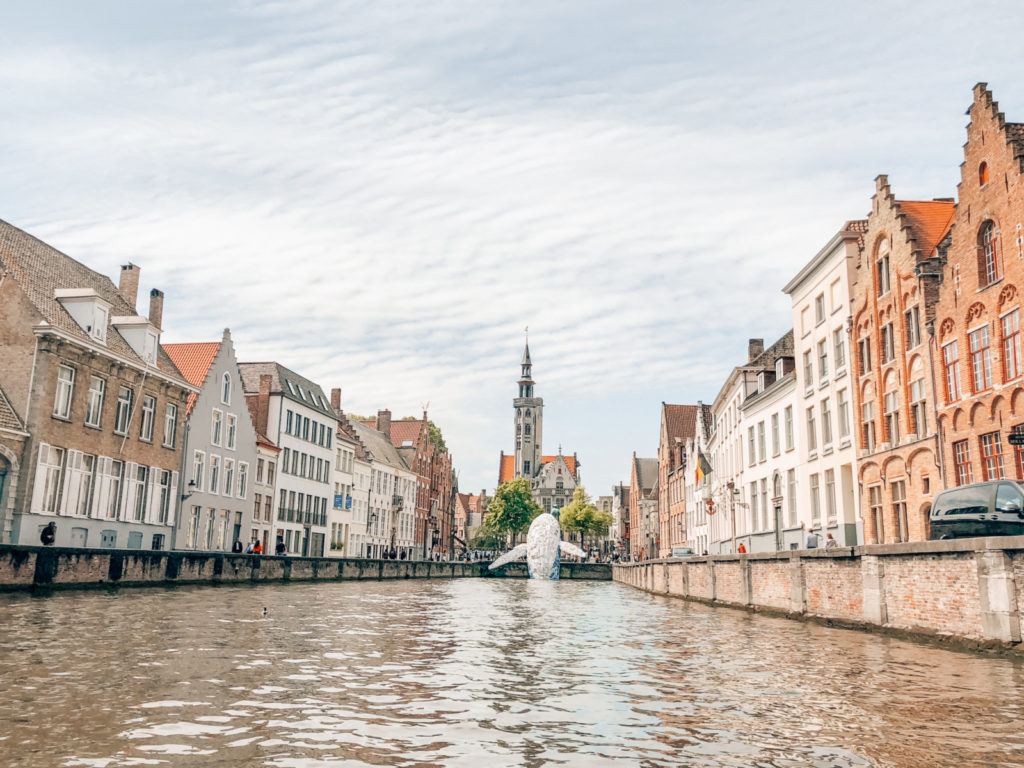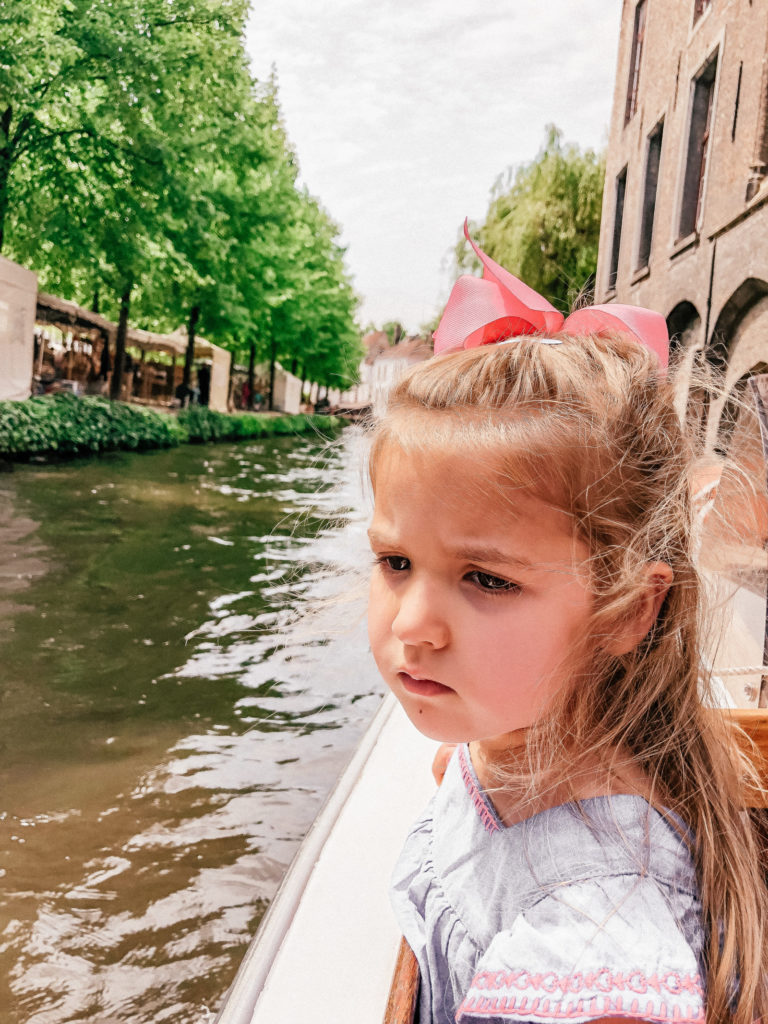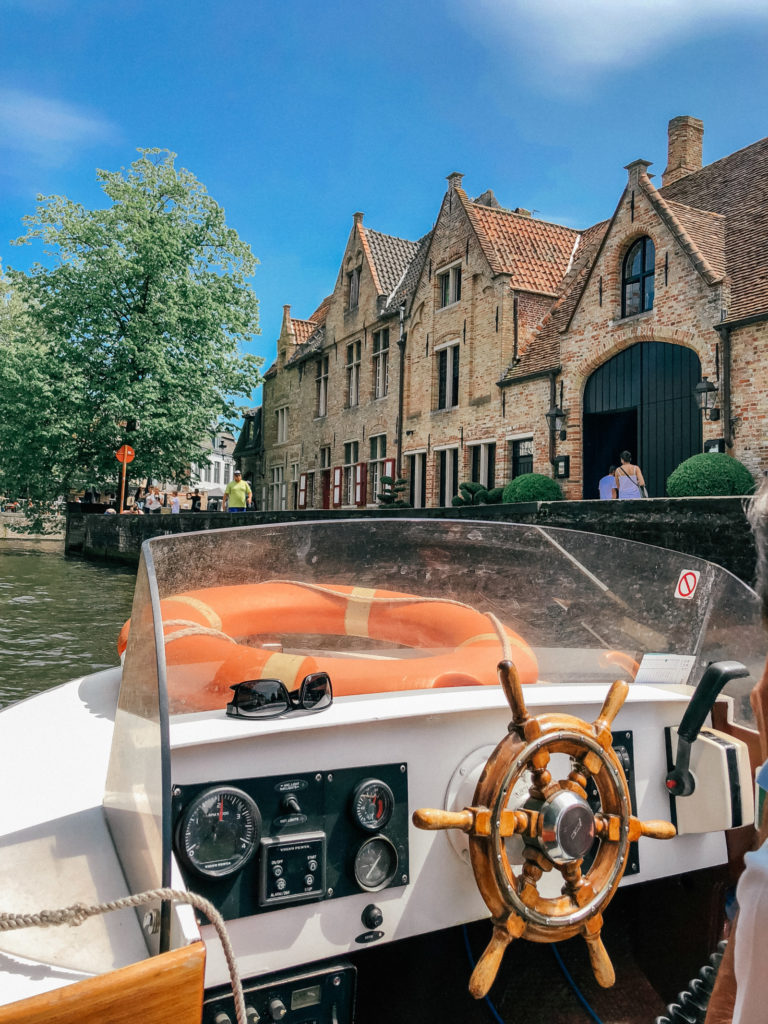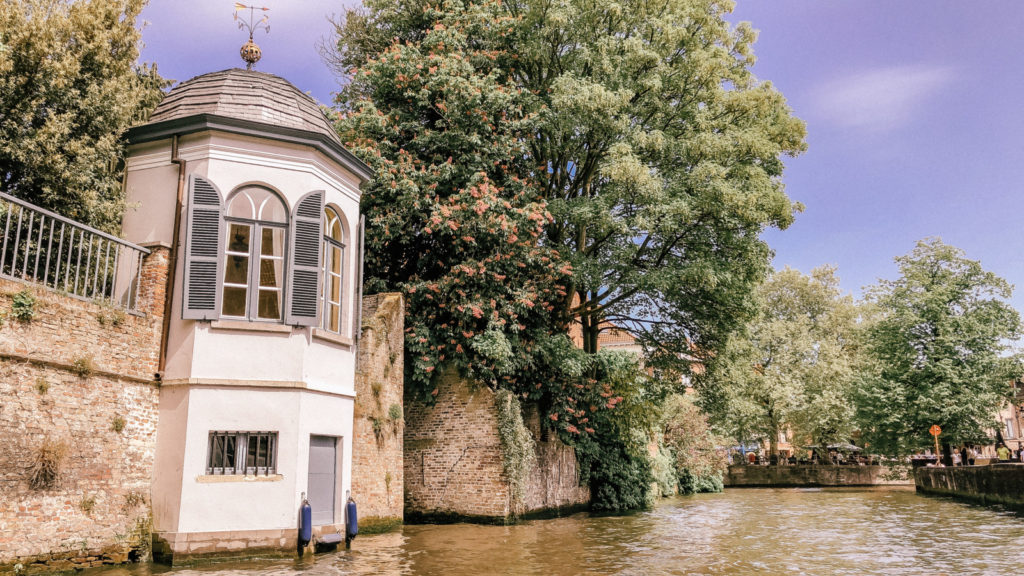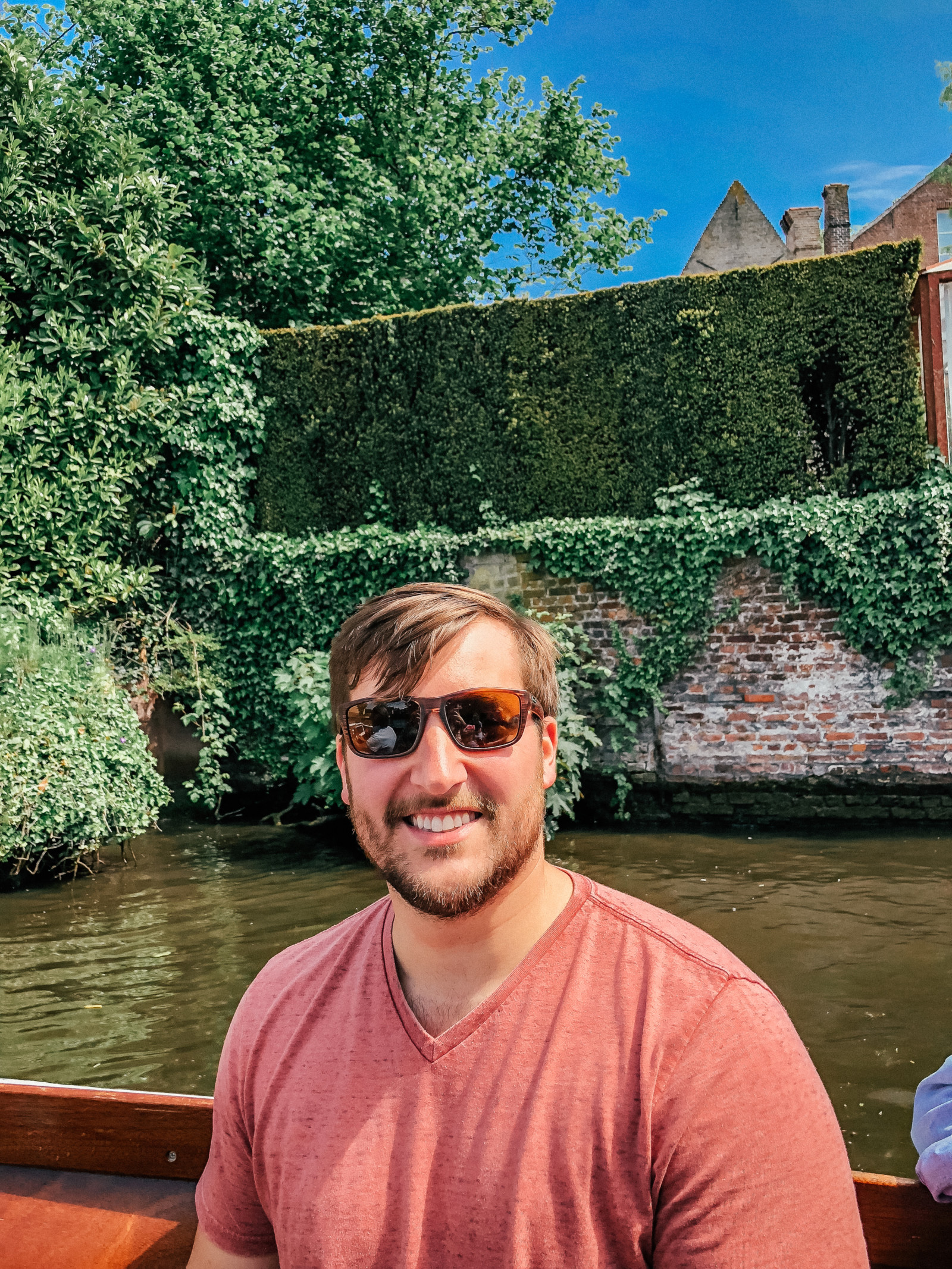 2. Eat a waffle (or 5!) from Chez Albert
How do I even begin to talk about these waffles? They put something in the dough or something that carmelizes the outside and then the strawberries are unbelievably fresh and oh my gosh the dark chocolate sauce. I'm drooling just thinking about them. Maybe top 5 best food I've ever eaten in my entire life y'all.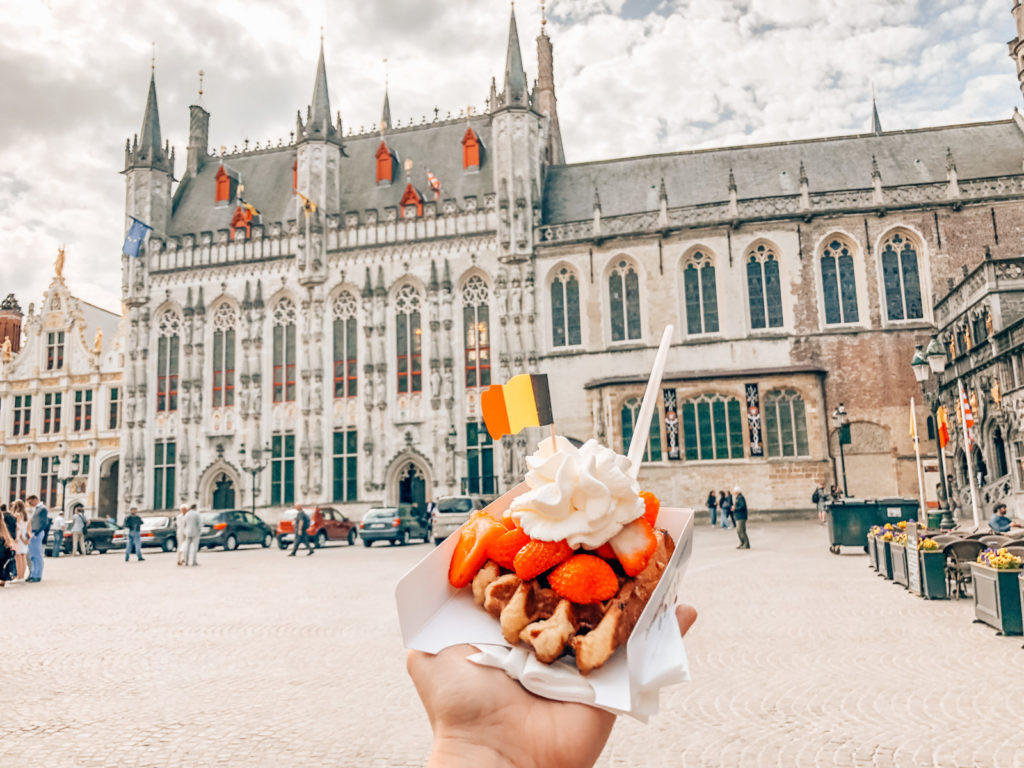 3. See the swans by the Lovers Lake
The whole time, Sully and I kept trying to guess which swan was the Princess Swan ;). They say if you kiss at the Lover's Lake your love is sealed for all eternity!
4. Eat fries from Casa Patata
We started seeing all these people with delicious looking baskets of fries and we followed the flow of people pouring out the door and came to Casa Patata. Which Ryan thought said Pasta so he almost didn't go in, ha! We got some original fries, that come with mayo on top – I don't know what they do different to their mayo, but it's amazing! Then a bacon cheese one. Unbelievable!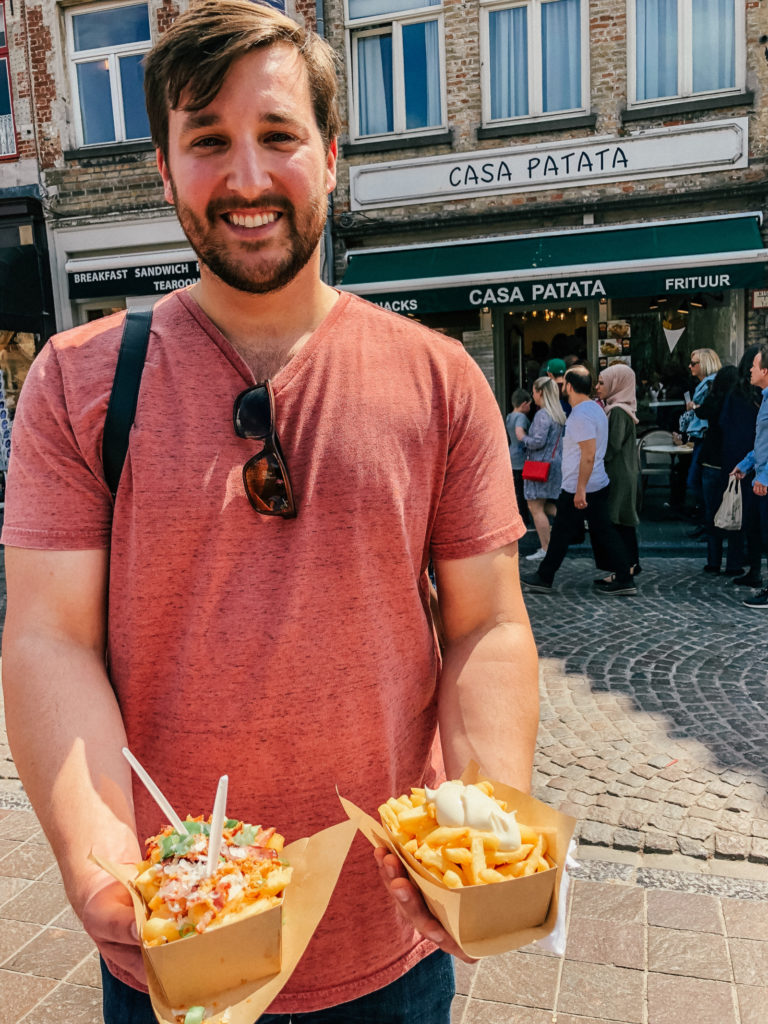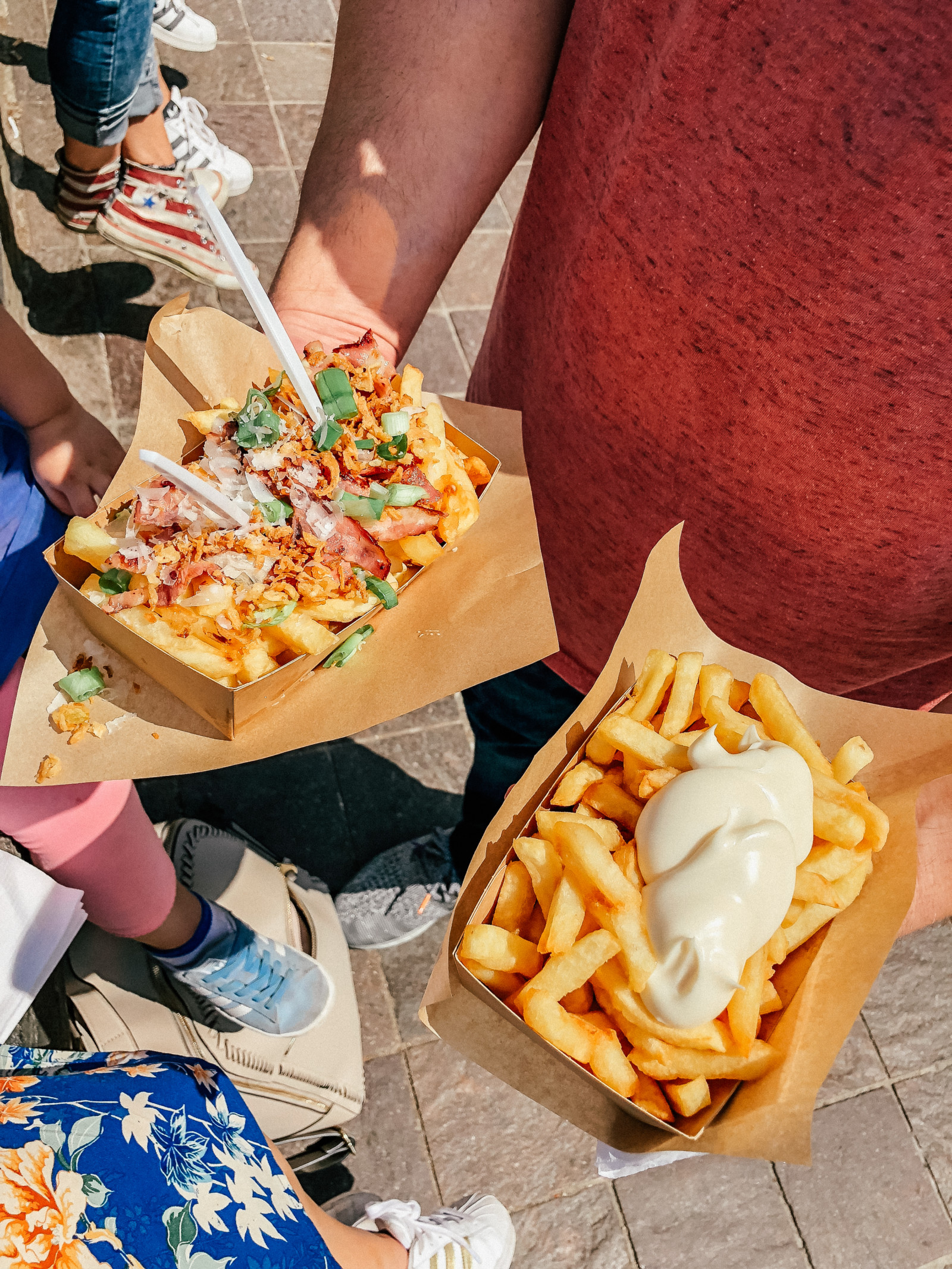 5. Buy lace from Maison Pickery (it's right by Chez Albert)
I knew in advance that I wanted to buy some of the handmade lace from Brugge that they're so famous for here. All the stores looked so tacky though, so when I saw Maison Pickery with only lace in the windows (no other embroidered or tchotchke things) next to Chez Albert, I ventured inside. It is still owned and run by a sixth generation lace maker. To this day, he makes a lot of the lace the same way his family has hand made it for years and years. See the bobbin tool below?!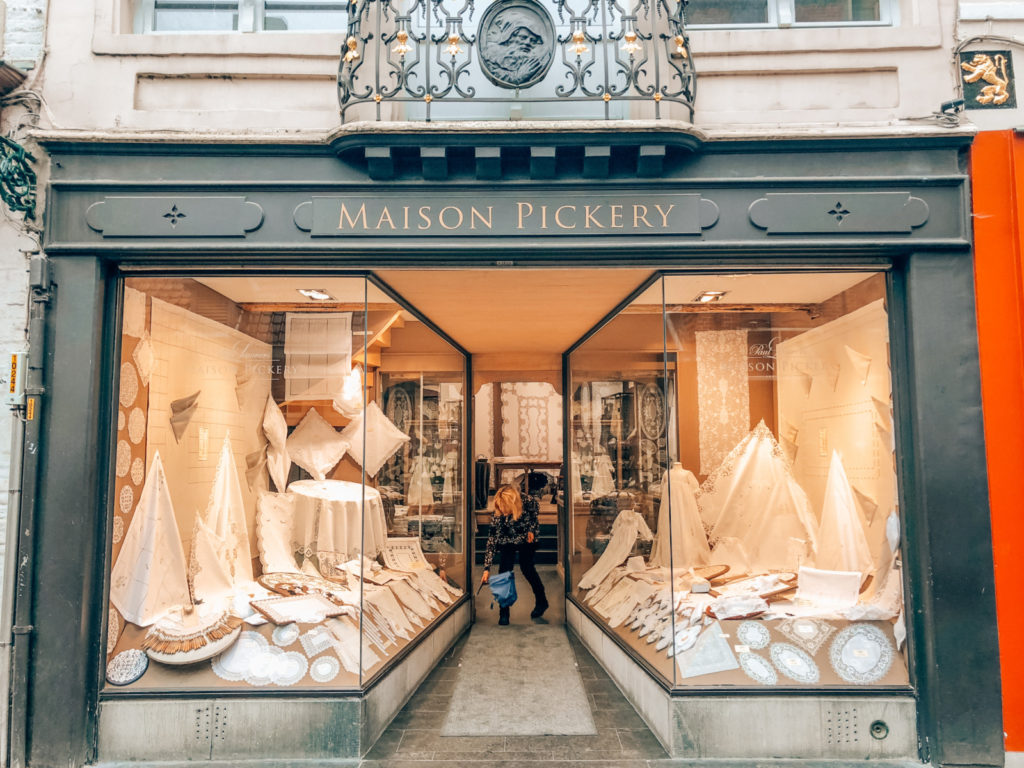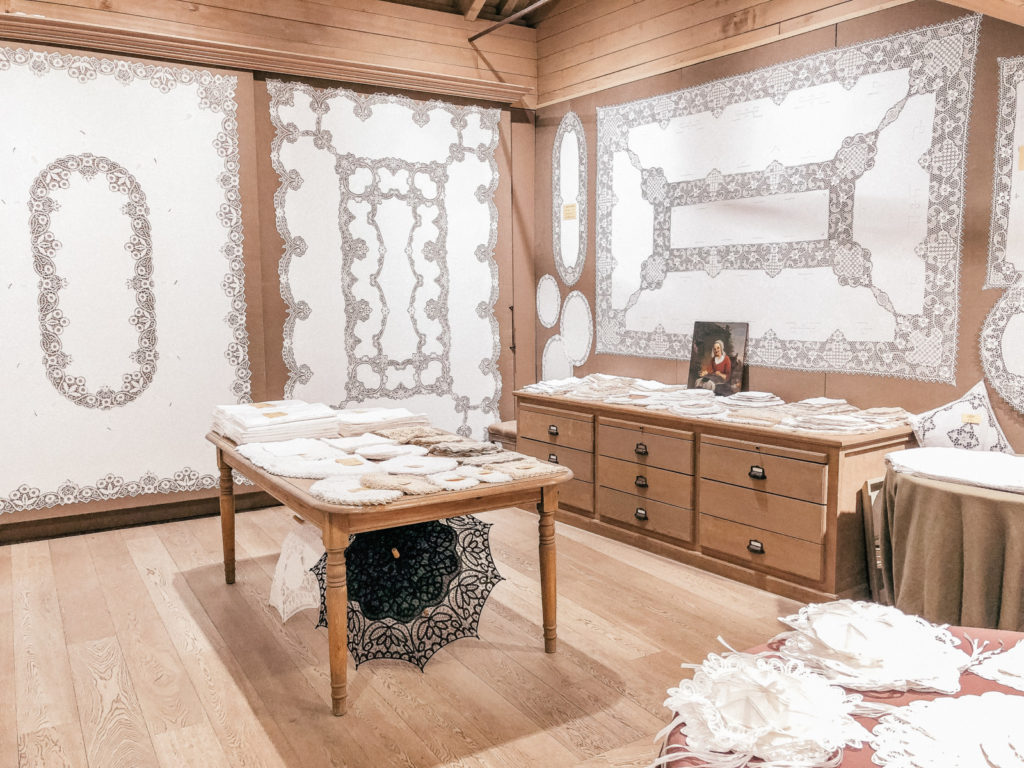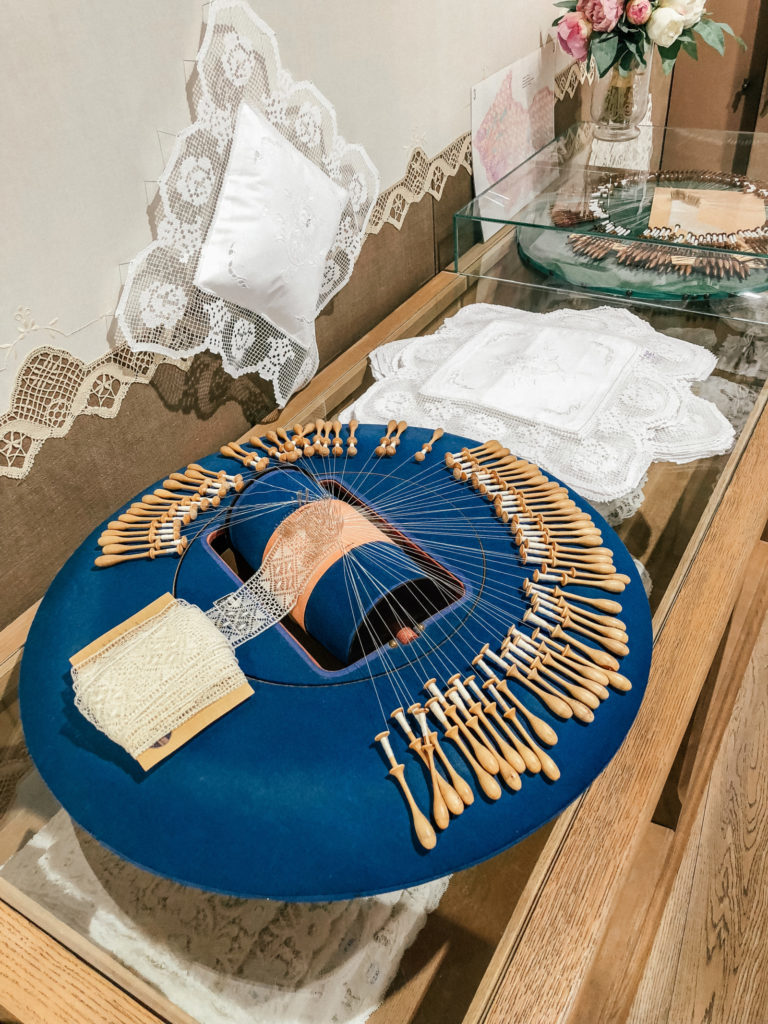 We already have a lace baptismal gown in our family or that's what I would have splurged for, but instead, we chose a delicate lace handkerchief with an "S" on it to give Sully on her wedding day. Cue all the tears! It was such a special memento from our time abroad.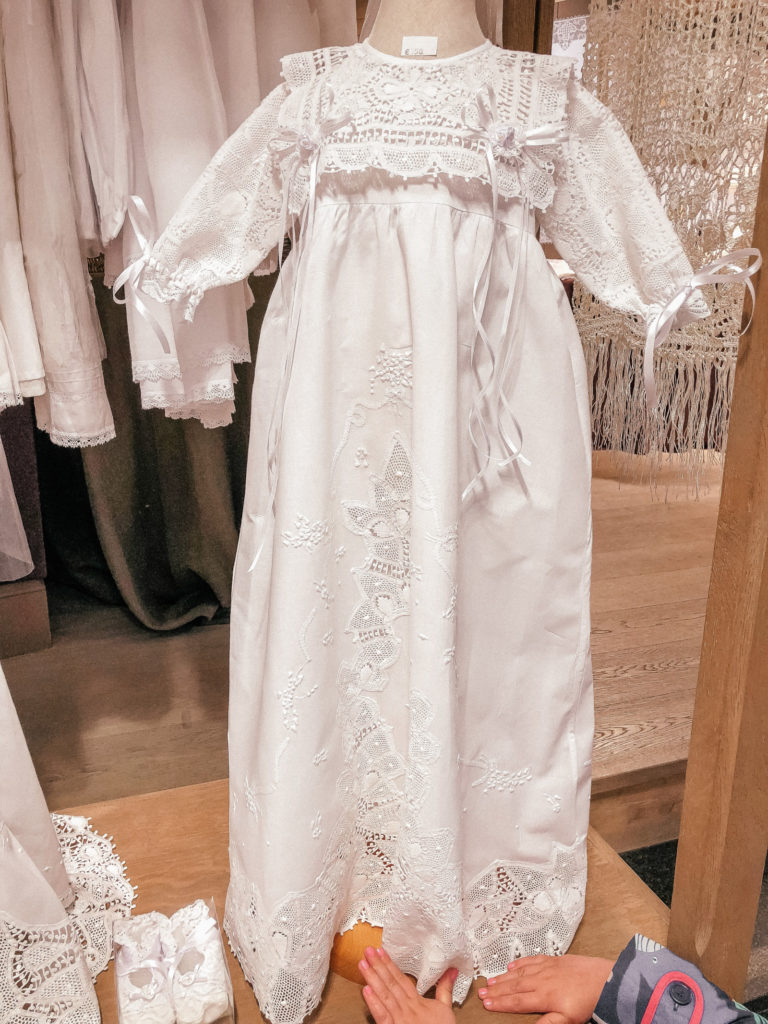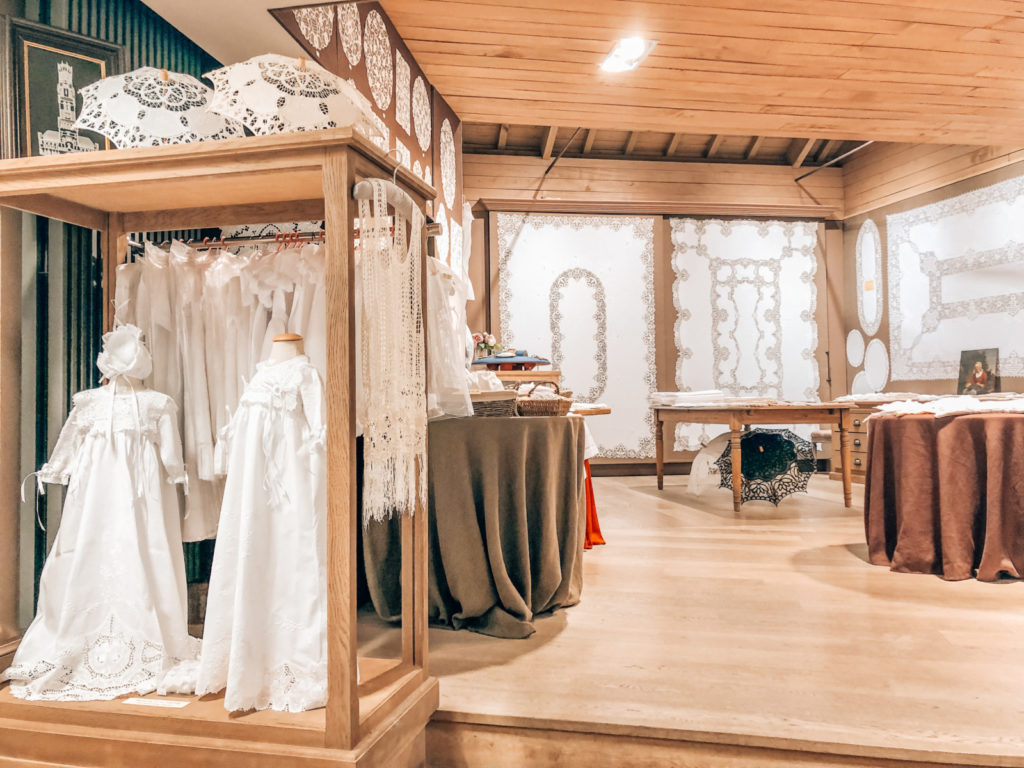 6. See Christ's blood at the Basilica of the Holy Blood
The piece of muslin with Christ's blood was smuggled to Brugge in 1150 and gives the basilica its name. Whether you believe it or not, it's still a pretty neat experience to go into this Catholic church built in the 12th century and see the beauty inside, plus the blood. We're Catholic so we actually stayed for Mass and it was a really neat experience.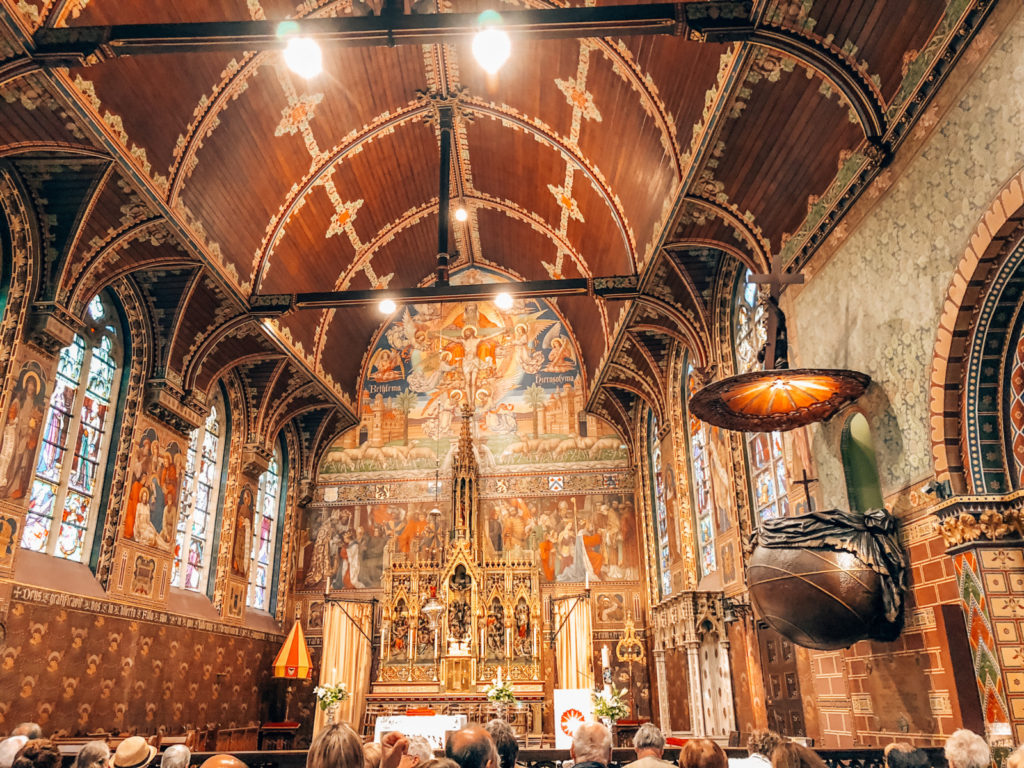 7. Try every chocolate that you fancy at The Chocolate Line (plus drink a hot chocolate from any of the chocolate shops!)
There is literally a chocolate shop on every corner, but my favorite had to be The Chocolate Line. There will be a little bit of a line, but it's so worth it you guys! Get the lavender one and get a regular 'ol chocolate ganache.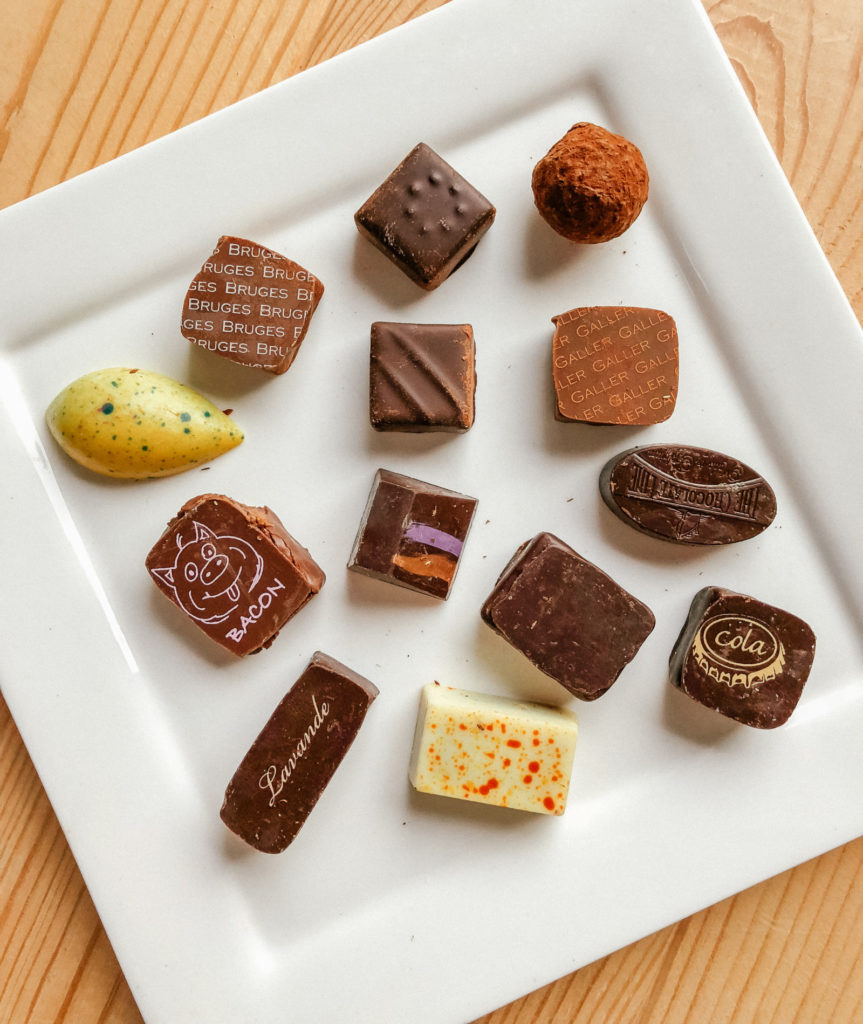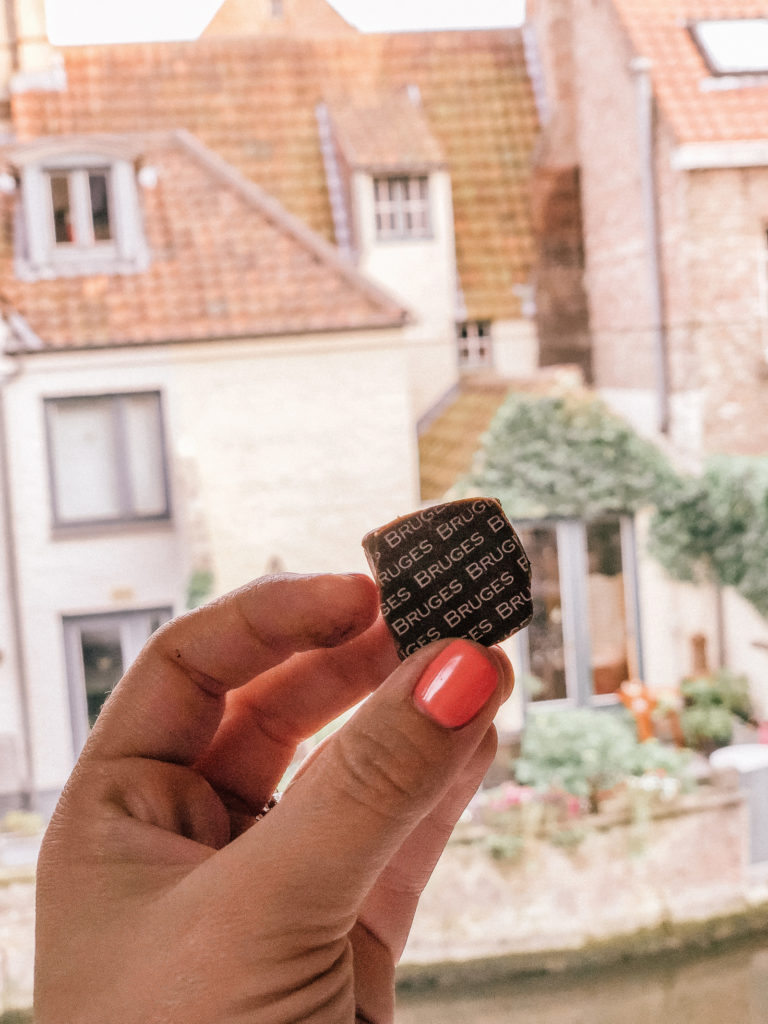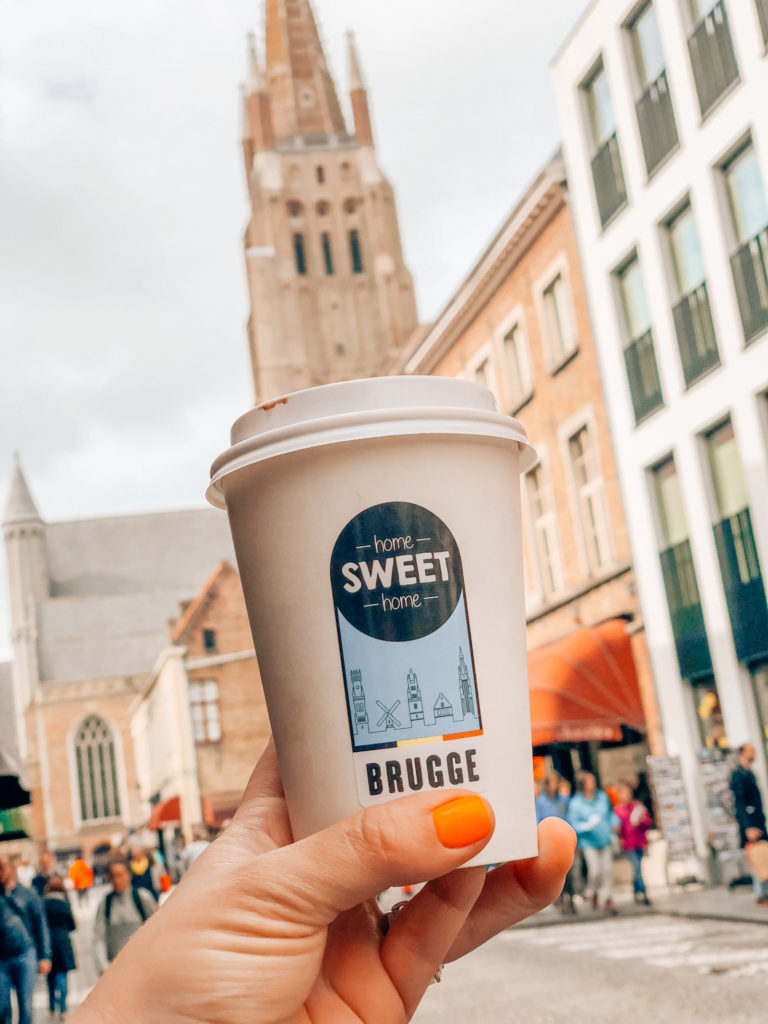 8. Drink a Brugge Zot Blonde Ale – may we suggest at the 500-year-old bar Café Vlissinghe
Ok, so I'm not a huge beer drinker, but I really liked the Brugge Zot Blonde Ale! It was even cooler drinking it at a bar that was 500 years old, America is not even that old y'all! Plus we saw and drank another at the brewery tour (below).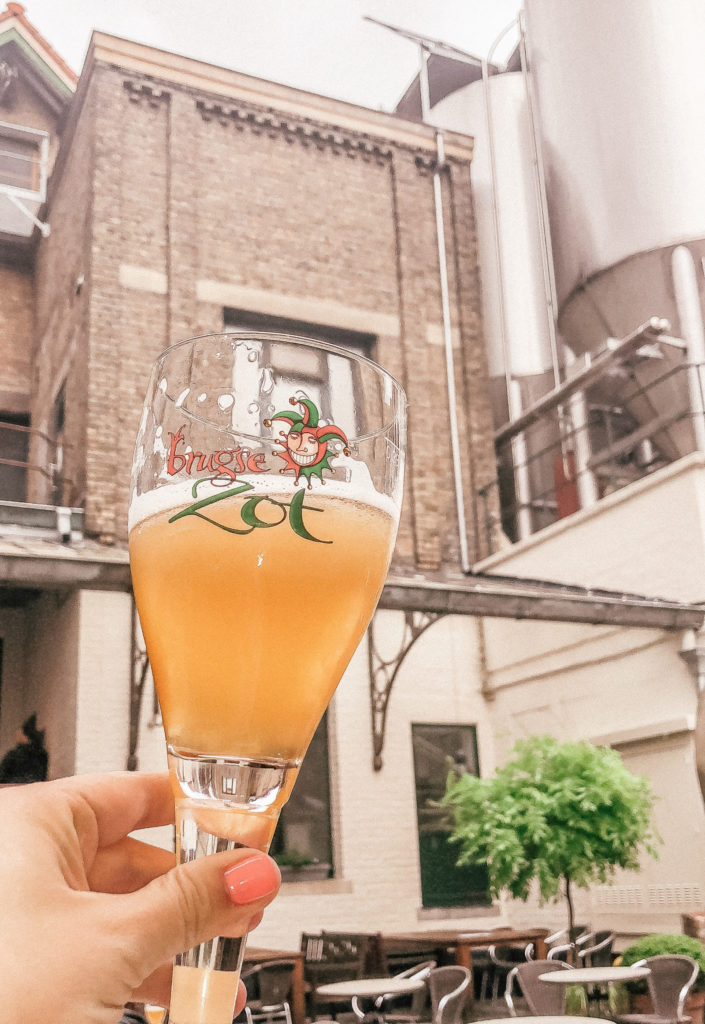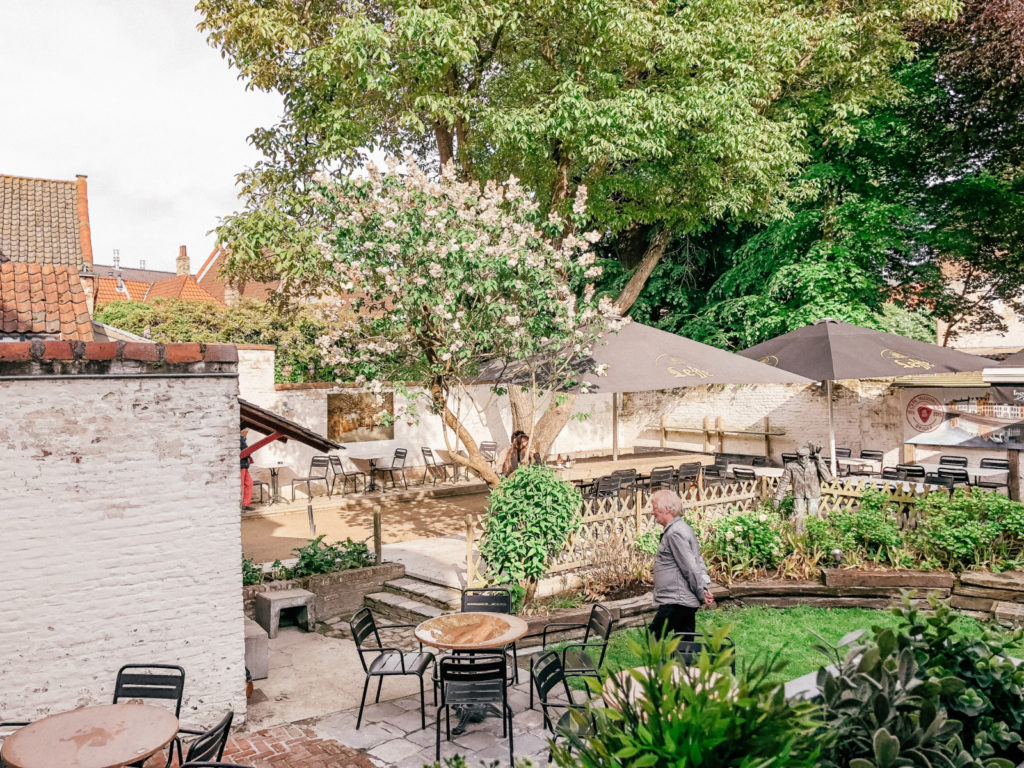 Speaking of beer, Ryan found the world's #1 beer at a random little touristy shop that sold beer and he and all his guys have been geeking out over it. So don't neglect popping in those places if you're a beer connoisseur!
9. Tour the De Halve Man Brewery (mainly for the view and included Brugge Zot!)
There a few different breweries you can go to in Brugge, but we really enjoyed this still family owned brewery because of the view of Brugge at the top. They also are super forward thinking. They even built underground pipelines going from the brewery out to a facility so that they can have beer truly made in Brugge.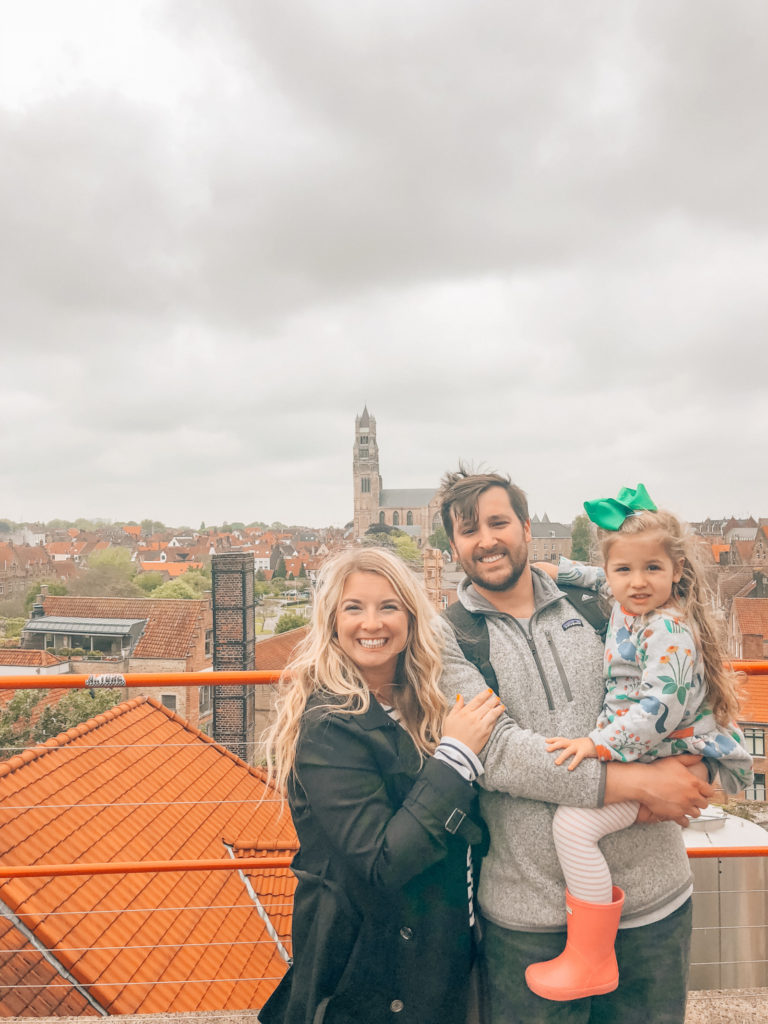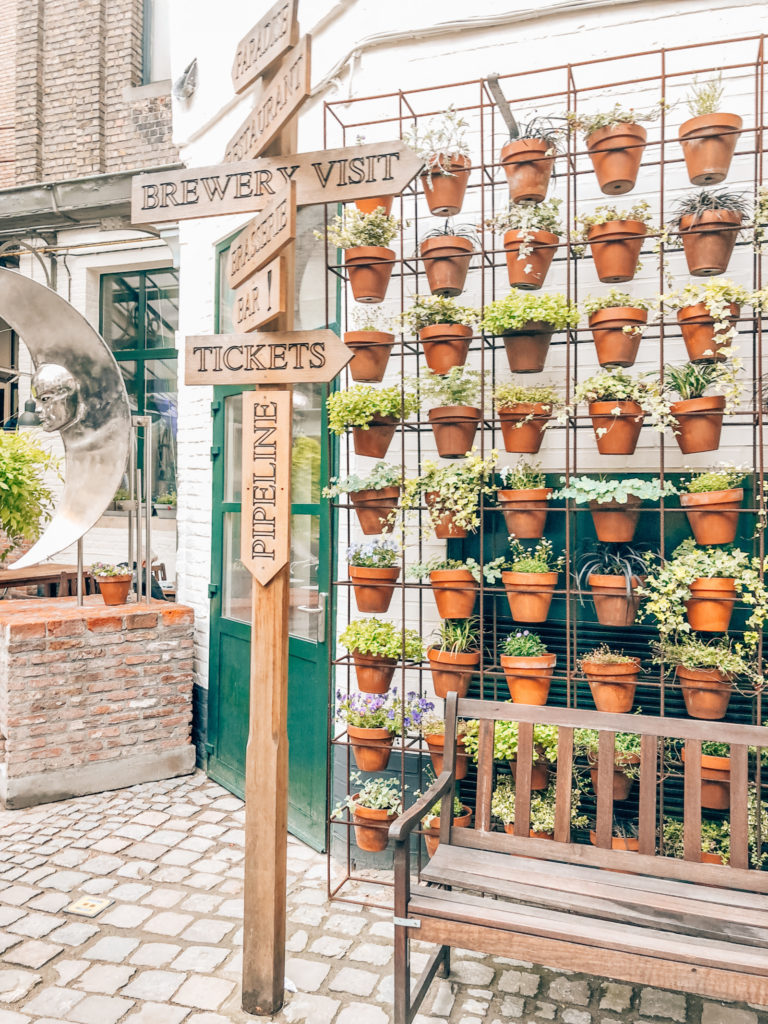 10. Walk across the St. Bonifacius Bridge
We really lucked out with our Airbnb because we were right around the corner from this beautiful bridge and had first dibs in the morning and night before all the other tourists got there. This was the first thing that wowed us about Brugge, this bridge and it's surroundings seriously make you feel like a knight in shining armor was going to walk around the corner any minute.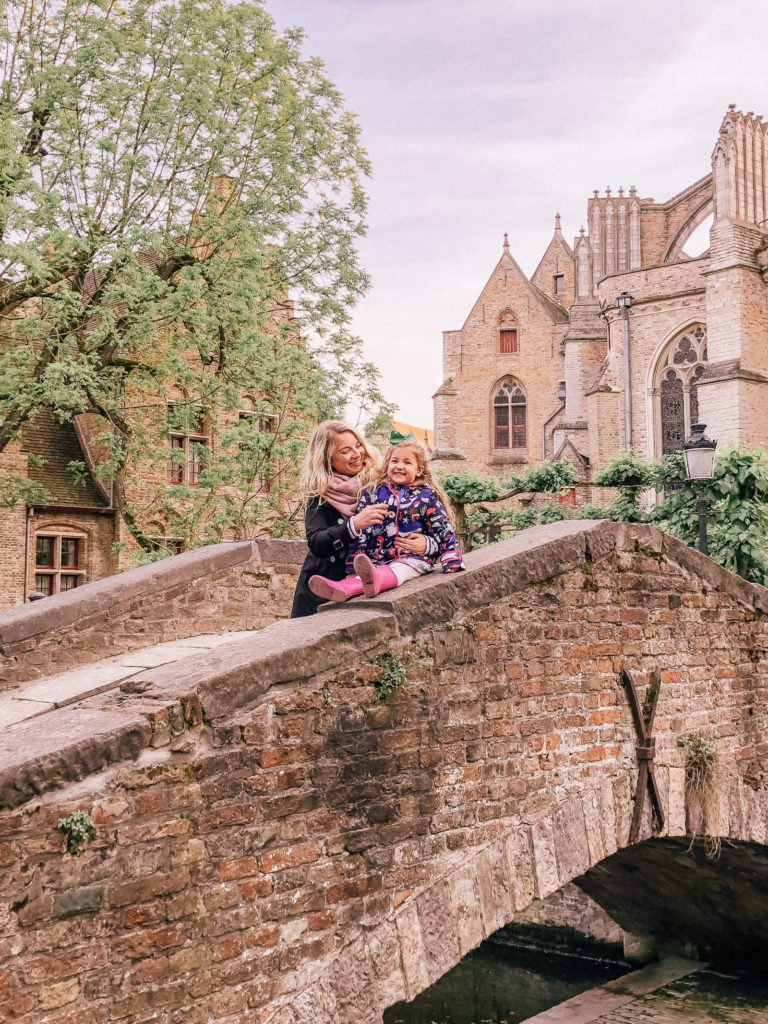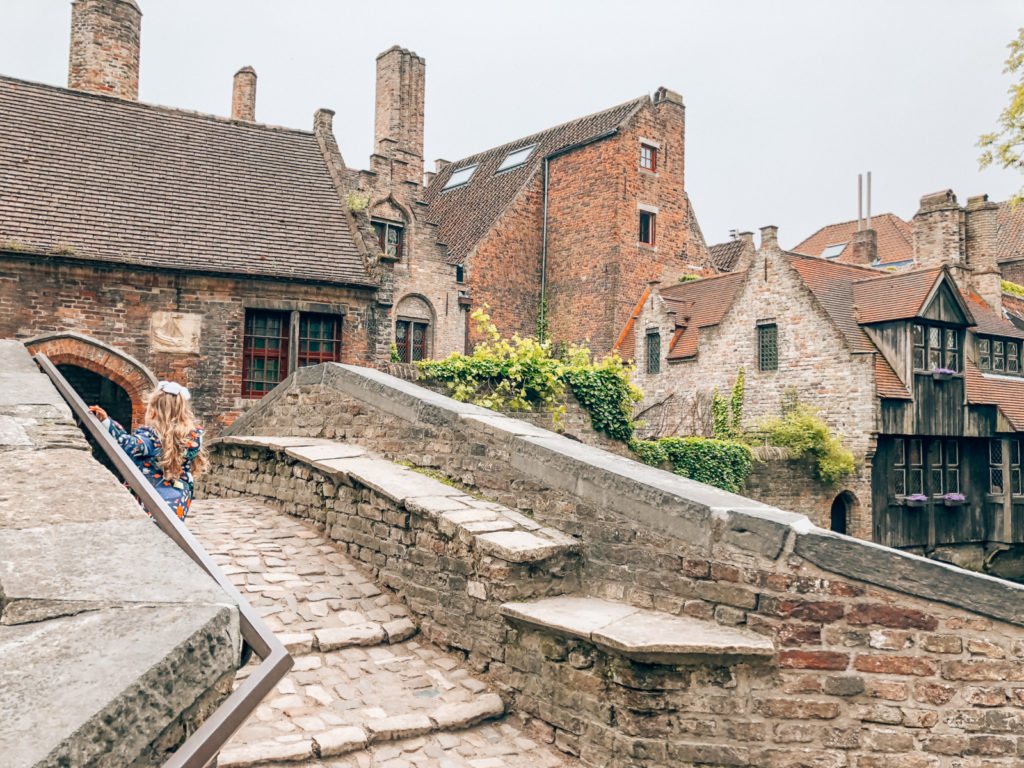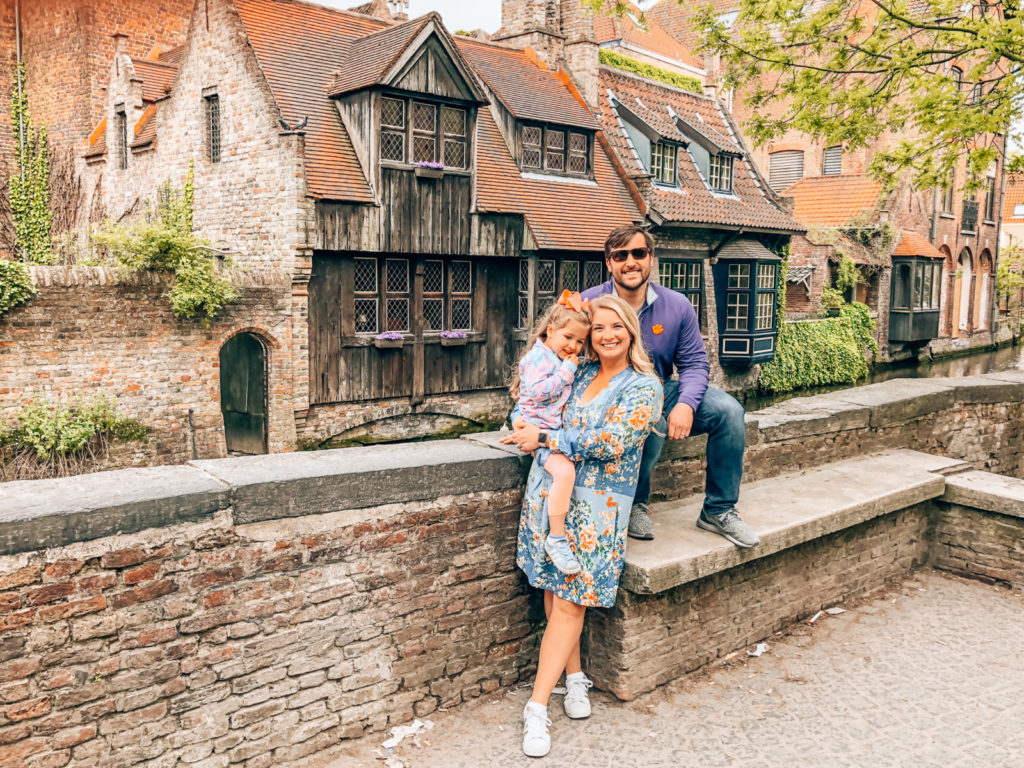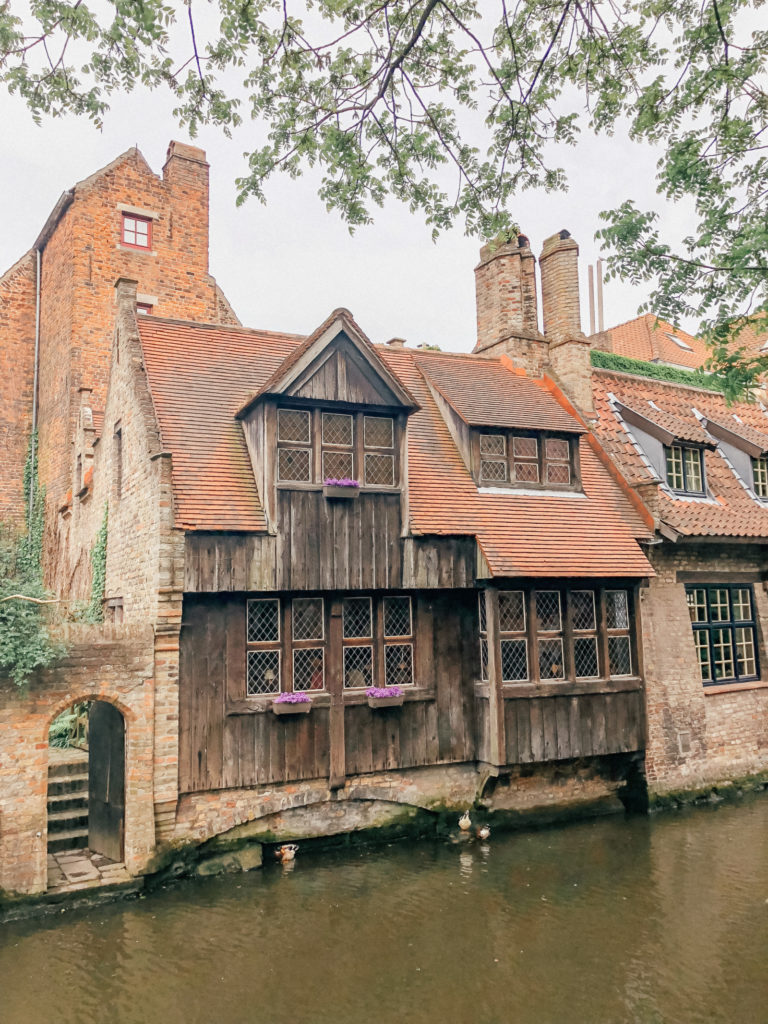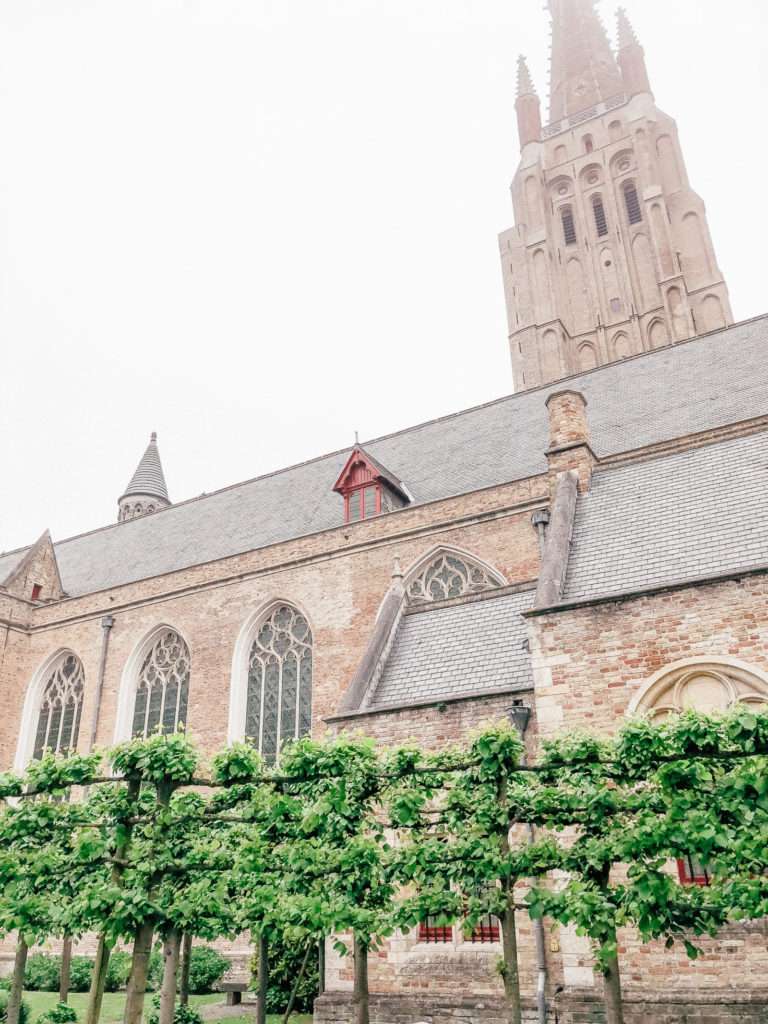 A few honorable mentions too are the whale made of recycled plastic, the Markt which is the big main square, Cambrinus (get the white asparagus if it's in season!), and the horse carriage rides. It's inevitable you'll end up in the Markt so it's not included above. Cambrinus is a yummy meal and fun beer tasting, Ryan probably would have put it above in the top 10. You should see the whale if you take a canal tour, so that's killing two birds with one stone! And horses were a highlight for Sully, but I know they aren't for everyone for good reason.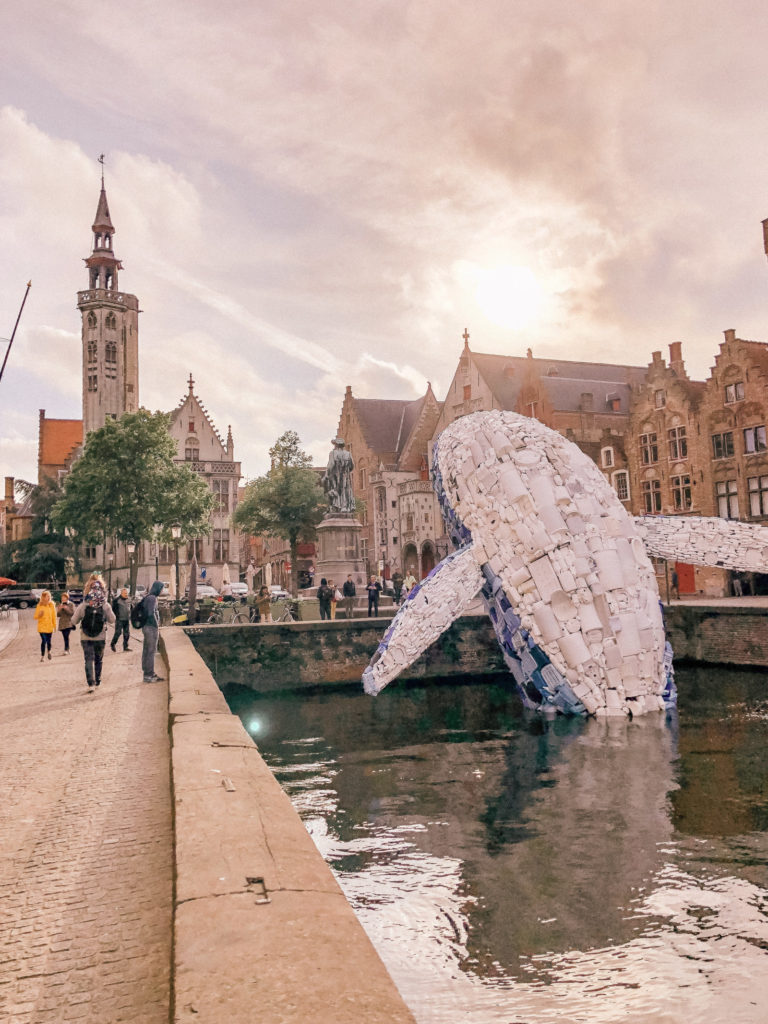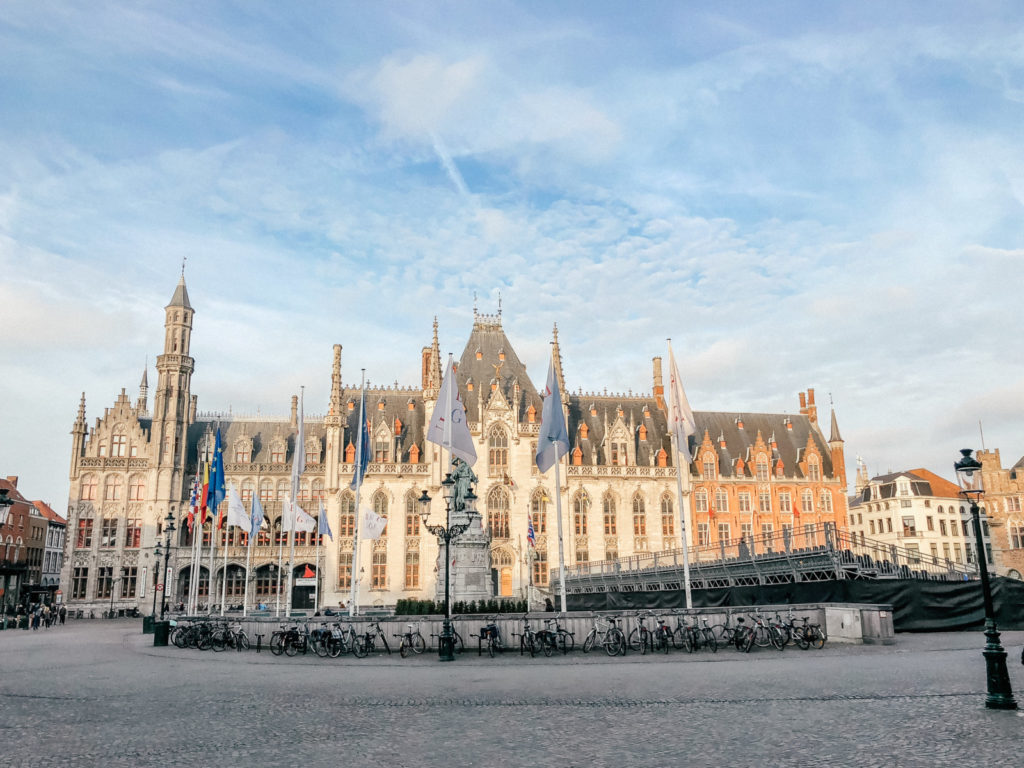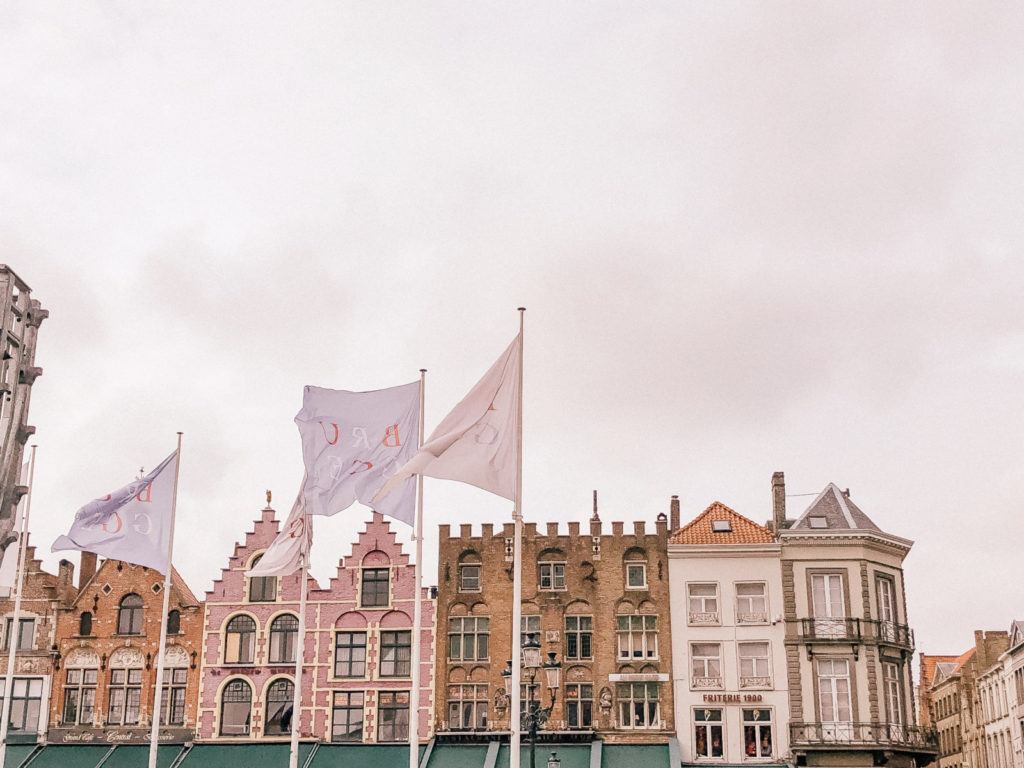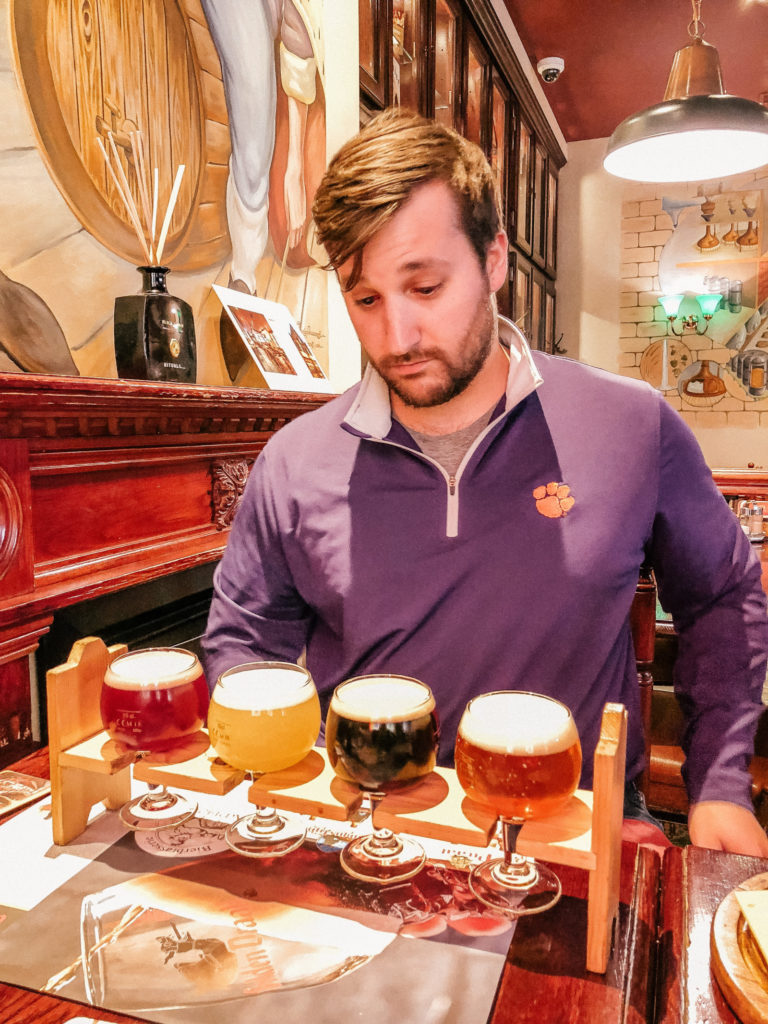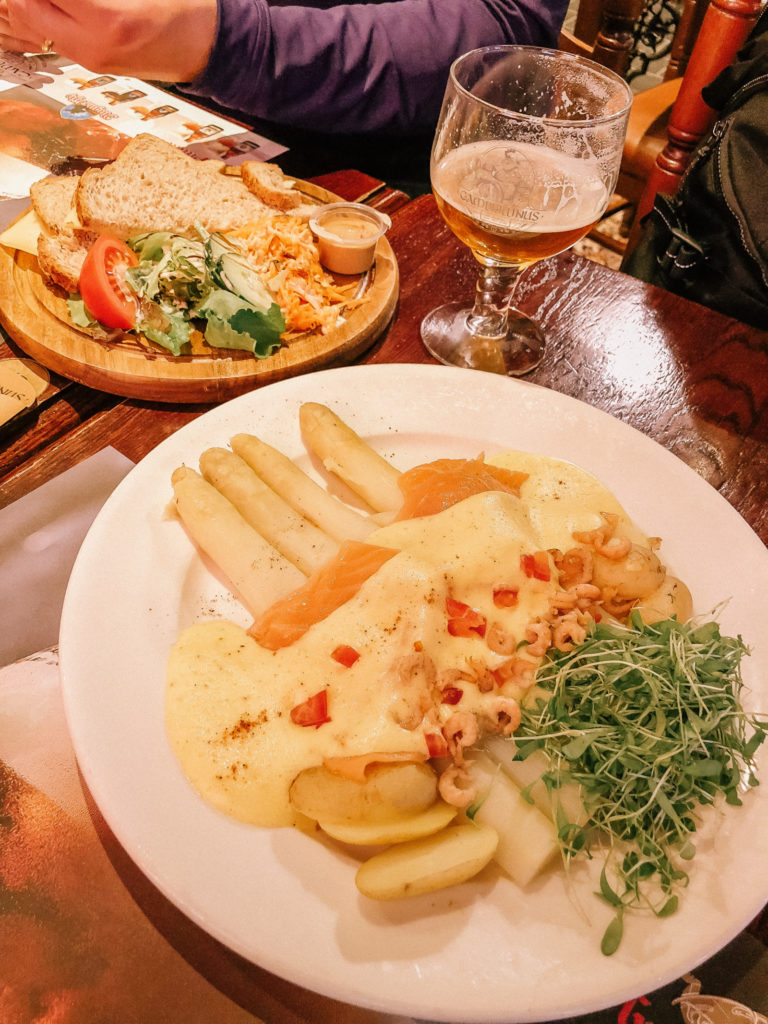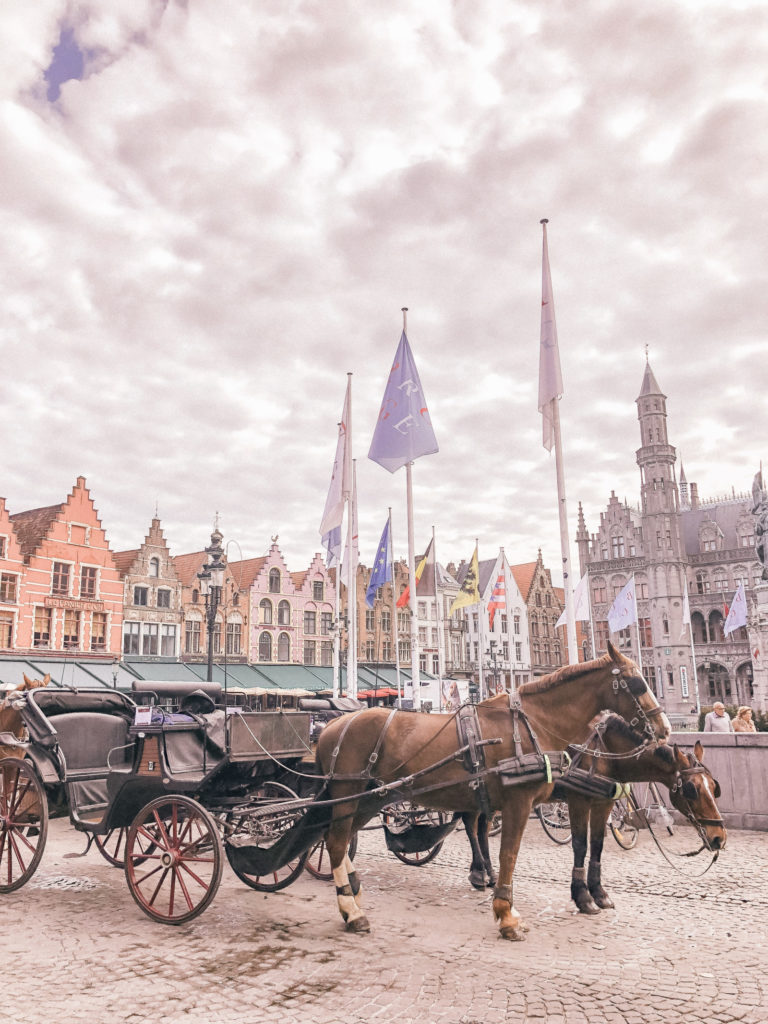 These are the places we loved the most! Note that nothing really opens until 9-10am so if you're staying in Brugge, make sure you get some breakfast for your Airbnb if you have a toddler that wakes up at 6:30am hungry as can be. Also, not a lot is open on Sunday and Monday, in fact a couple of the restaurants we were recommended ended up being closed and we should have checked to make sure they were open Monday (one was Chef Et Moi).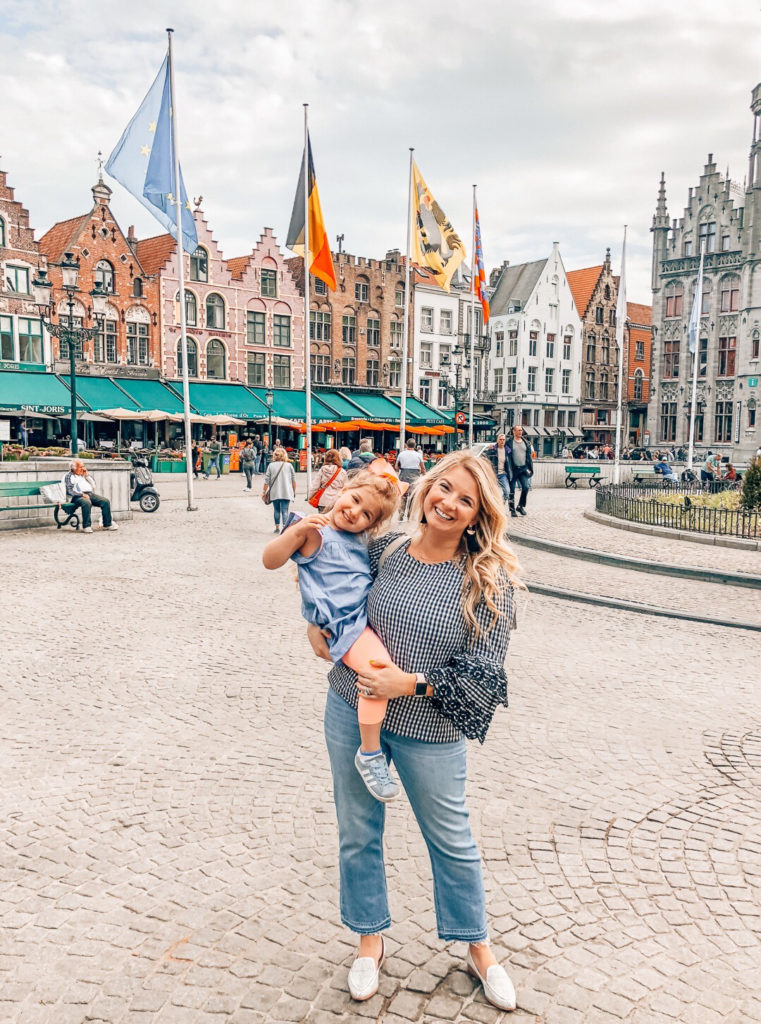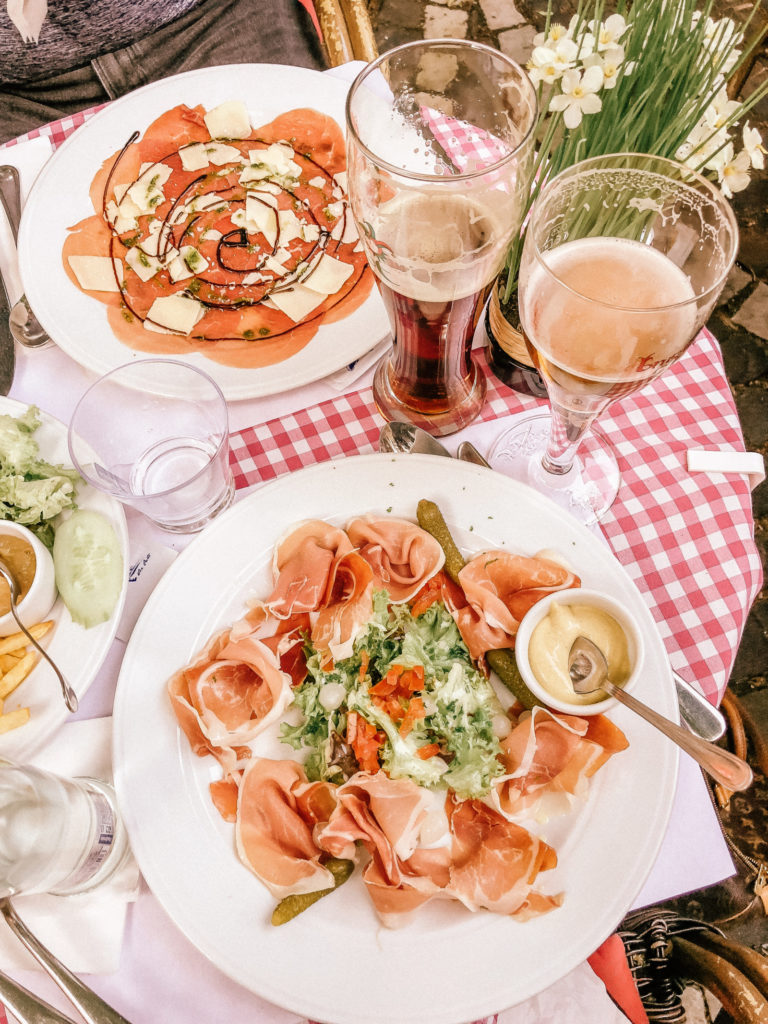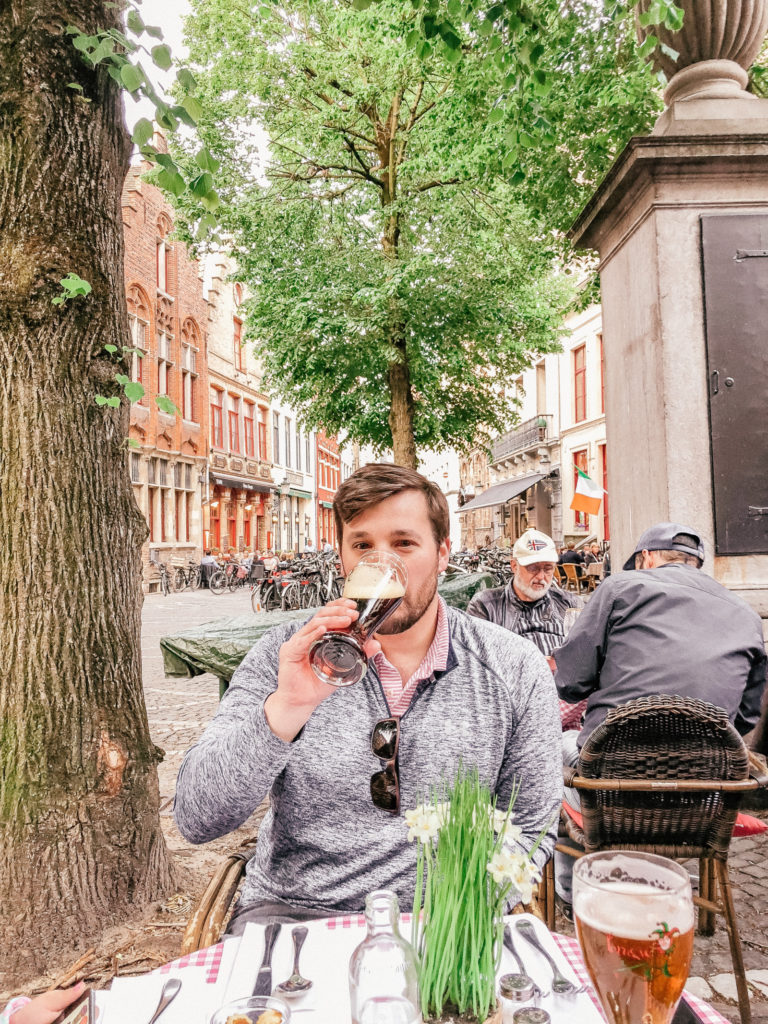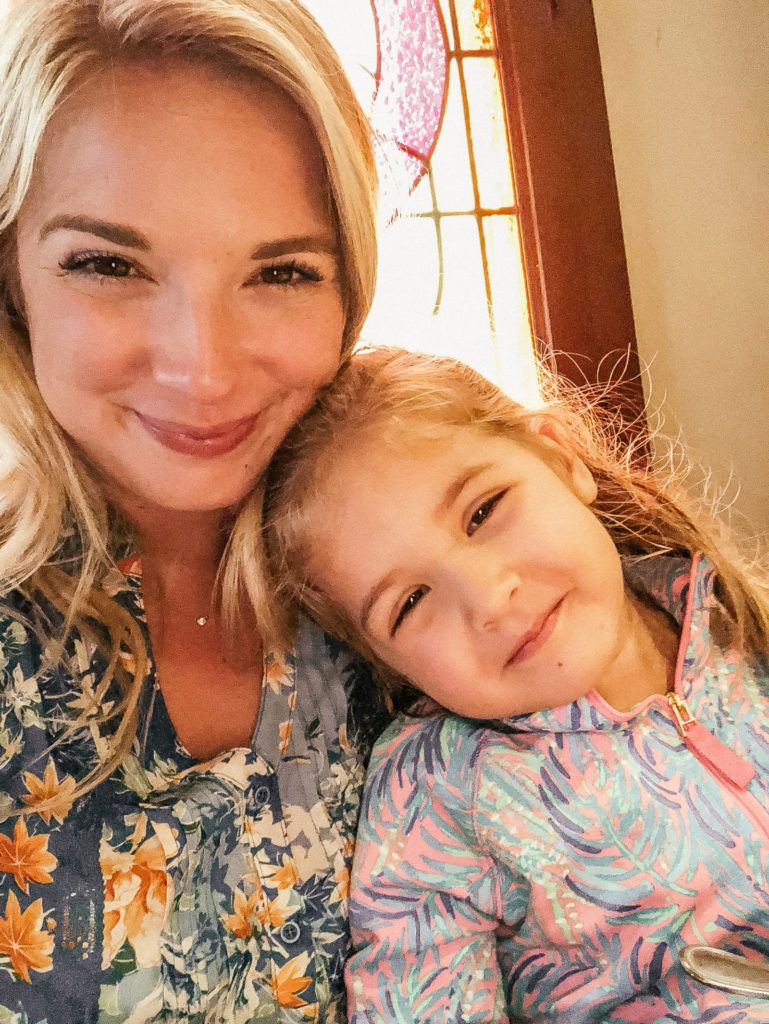 Now, also not included above is the Chocolate Museum. We were really underwhelmed. It's multiple floors and is really just wall displays to read with some free chocolate interspersed. Sully had no interest and it made the experience rushed and frustrating with a toddler. Hopefully, you have a different experience if you go, but I just wouldn't recommend with all the other great things to do and amazing chocolate shops on every corner!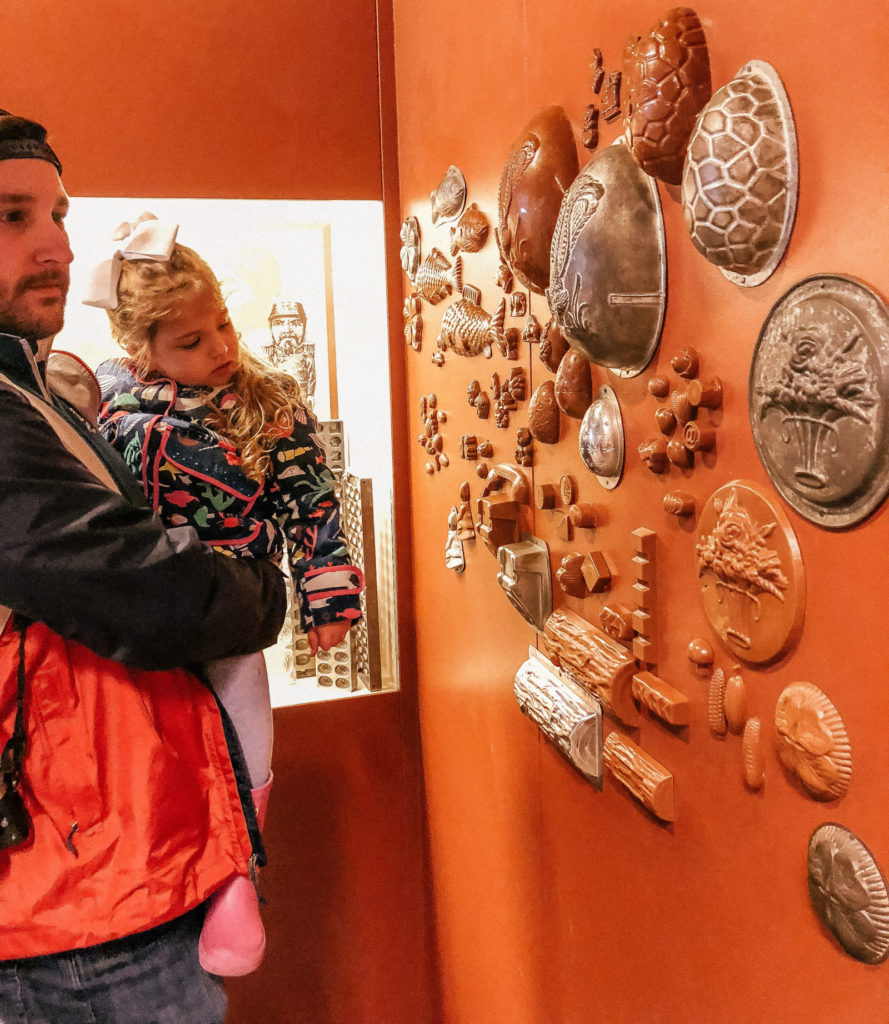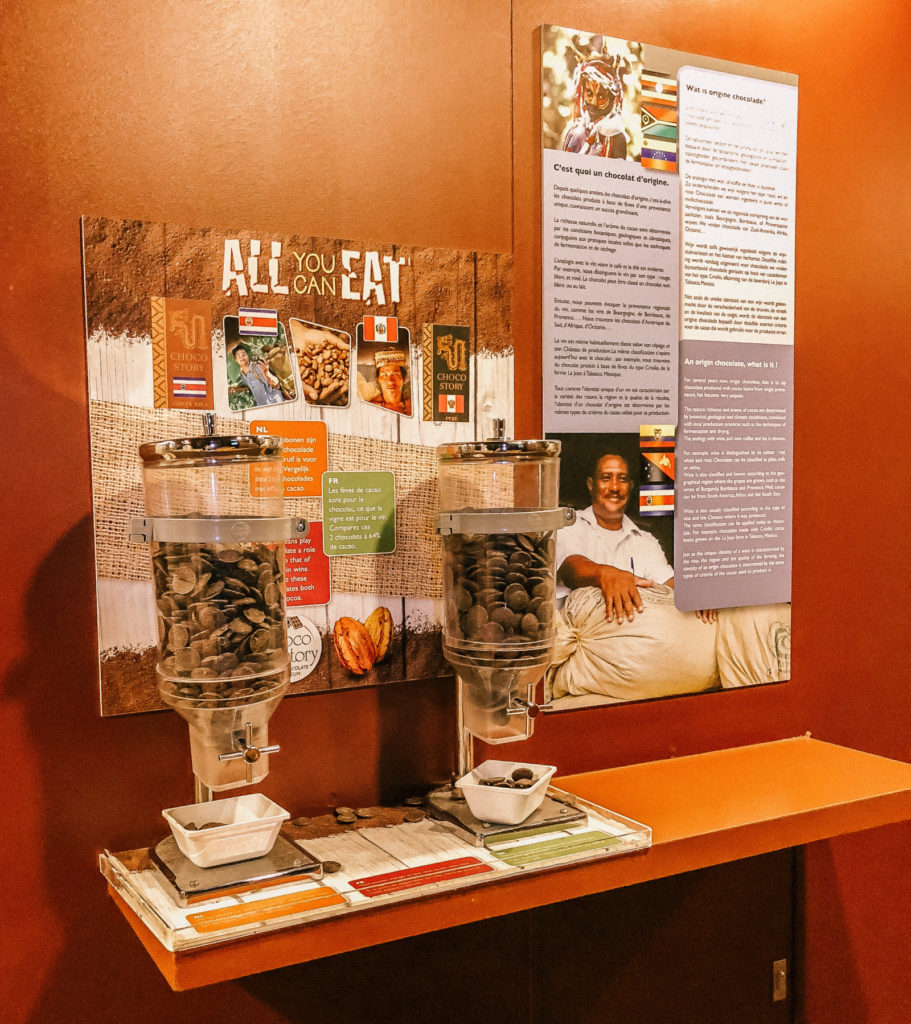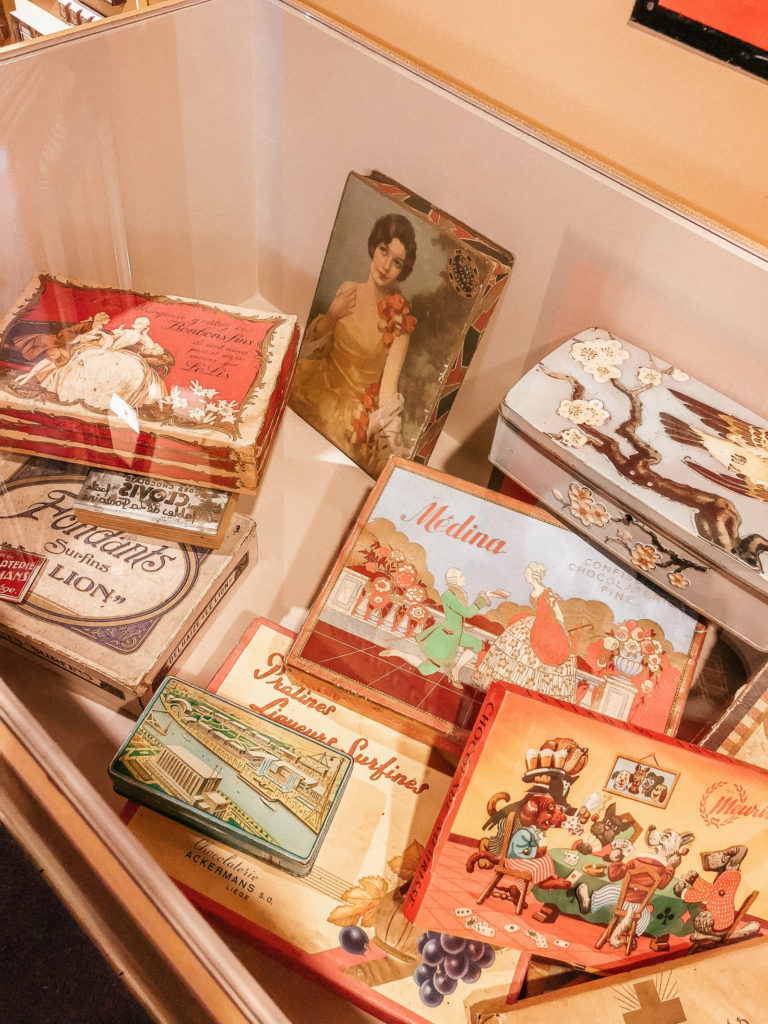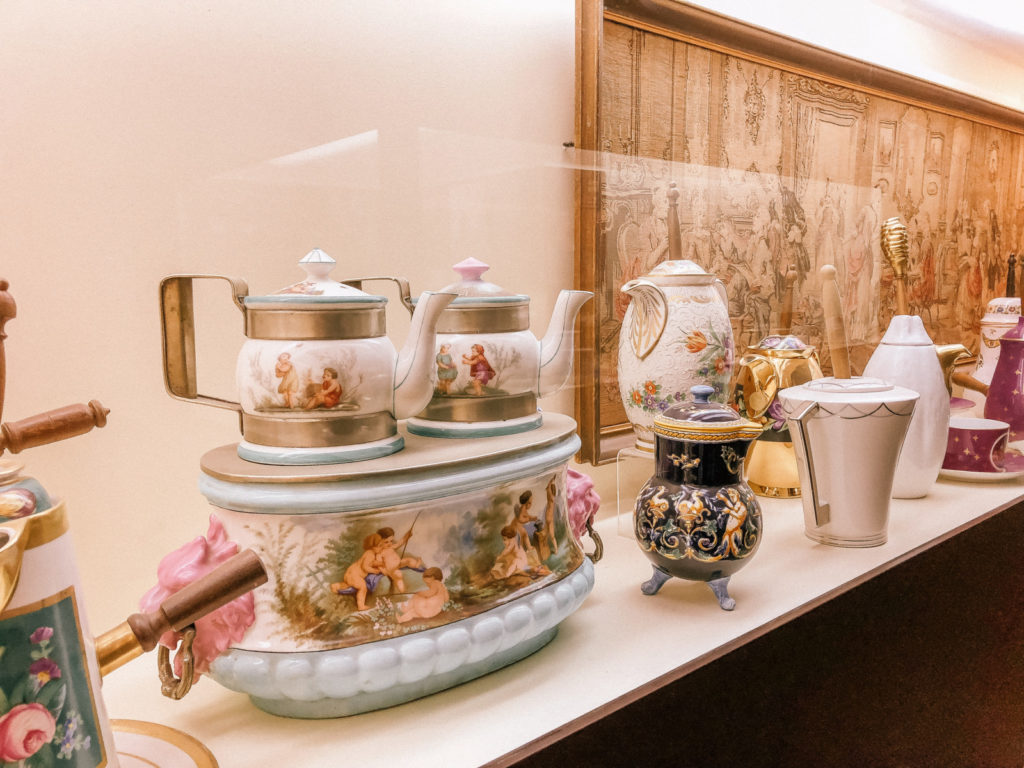 If you can't tell, we're now in love…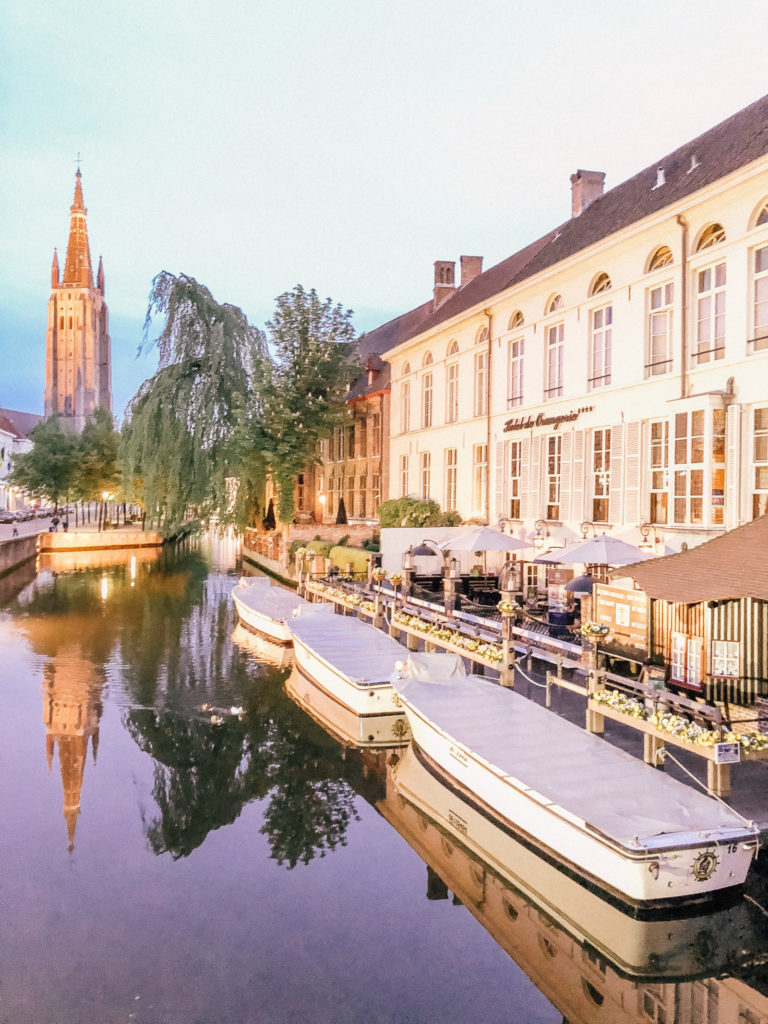 Now without further adieu, here is a little video of our fabulous weekend! Make sure you subscribe to my YouTube channel (click the red box that says "subscribe" in the right corner) to stay up to date on all these fun videos. Coming soon – the Chelsea Flower Show and our weekend in Windsor!