Happy Wednesday friends! I hope everyone had a lovely Valentine's Day yesterday.
After a weekend away in Richmond and then turning around and spending three days at the Southern C Summit (more info coming soon), slowing down and celebrating Valentine's Day with my little family was so nice. We had a yummy meal, a perfectly sweet dessert and gave Sully some simple surcies (mostly all from the dollar section at Target, ha).
As you know from
my first post this year
, I'm having grace with my blogging and things have been slower around here as I focus on my goals and strive towards
my word
for 2017.
I find myself missing Welcome Home Wednesday though! It was a weekly reset for me on our list of house projects and what I've been loving in the world of Interiors. So without further ado, let's jump into this week's Welcome Home Wednesday – Spring Refreshers!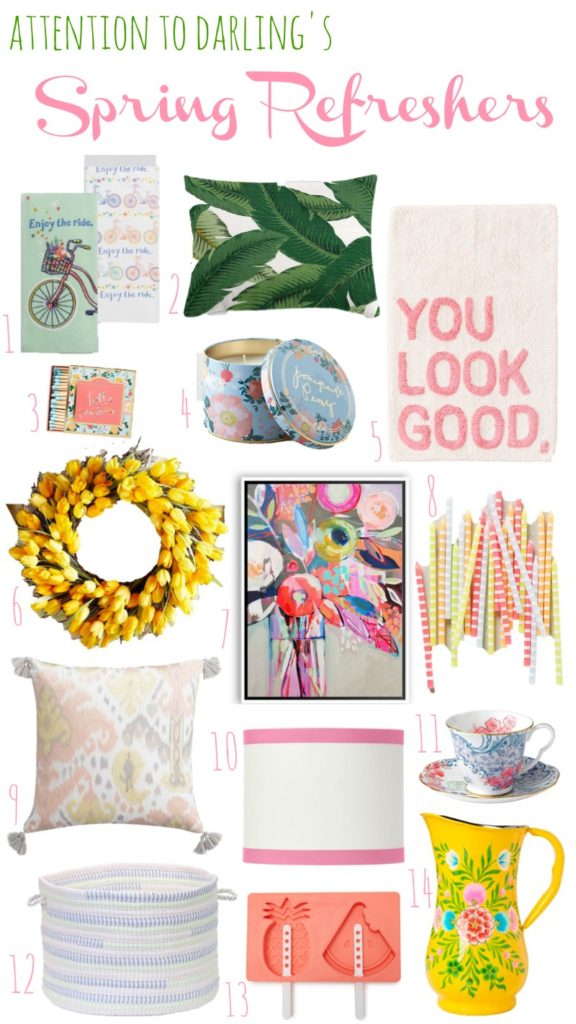 Aren't these finds all so refreshing?! I can't wait to insert some brightness and floral/fruity scents into our home as the weather down here in Charleston warms up (we're already seeing days in the mid-70s!). As you can tell, there's everything from a new front door wreath to simple updates like a candle and matches to make your home fell like it got a bright update.
Enjoy! And let me know, what are your favorite spring refreshers?
Craving more Welcome Home Wednesday? Check out these additional posts which are some of my favorites:
This post contains affiliate links which means when you click on some of the links in this post, I get a few dimes thrown my way at no charge to you. Thank you for your support!