Tis the gift giving season you guys and I'm SO EXCITED! Each year I start this process early and actually keep an ongoing list on my phone throughout the year as I think of the perfect gift for someone, or they mention something they've been eyeing. I find I especially get some good shopping in during the Thanksgiving break (it's almost here!)!
UncommonGoods is always one place I turn for gifts each year and was so excited when they reached out to me this year to collaborate on a post. What I find really cool, besides the fact that the products are truly unique, is their focus on artisans small, large, near and far. They also highlight stories of these artisans and build a community of people (like us!) who care about the maker behind our products.
They even made it super easy this year and organized an entire gift section on their site, you can see all Christmas gifts, gifts for women and gifts for men.
We have a pretty diverse list of people on our Christmas list from little Sully at one and a half to my grandfather who's in his 70s, to a secret santa at work and UncommonGoods has me covered. This year I decided to round up a list of my favorites for everyone on your list too!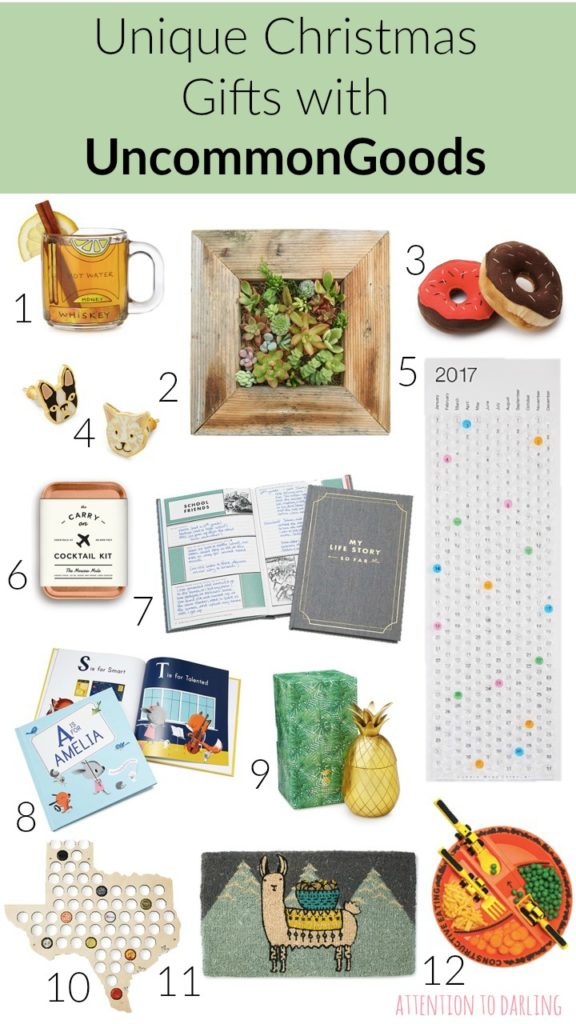 1. Hot Toddy Mugs // There's just something about sharing (and just saying) a Hot Toddy, I love this fun mug for the fun couple on your list
2. Succulent Wall Decor // I'm eyeing this for myself and love bringing something green and full of life to your space, perfect for a Mom or Mother in Law who has everything
3. Donut Dog Toys // Cute and perfectly squeeky for the special pooch in your life
4. Dog and Cat Earrings // I love these studs! A boston terrier and a sweet white kitty, one for each ear, perfect for your sister or even your babysitter
5. 2017 Bubble Calendar // Bubble wrap in calendar form, yes please(!), perfect for a co-worker
6. Moscow Mule Airplane Cocktail Kit // Great stocking stuffer or white elephant gift
7. My Life Story So Far // I was just talking to my Nana about gifting her a book like this to write down her life story so I can learn all about her prior, leading up to and during the craziness of welcoming her 4 kids, 13 grandkids and 1 great-grandkid into the world
8. Personalized M is for Me Book // Sully has this book and it is one of her go-to favorites from her shelf, perfect for the little one on your list
9. Pineapple Tumbler // I love the packaging and this gorgeous brass pineapple, perfect for your bestie
10. Bottle Cap State // Ryan loves this gift for all his beer loving buds (PS: couldn't help but look at this and think, Texas Forever, any other FNL fans out there?)
11. Llama Door Mat // Love this for neighbors, new homeowners and quirky friends alike
12. Construction Plate // Another gift for the little one on your list, anything to help out with meal time
What are some of your favorites? Have you tried out any of these?
And I mentioned it above, but just want y'all to know I was compensated for this post and it contains affiliate links, but all opinions are 100% my own. I really do love all the products above and have ordered or own some of them too!