Can you believe we're already talking about Valentine's Day?! As you can tell, I did get a little creative when writing this title (+ I'm obsessed with Ryan Gosling "Hey girl" memes). My hope is that, 1) I repped all my gals out there on your Valentine's wish list, and 2) Made it easy to send to your beaus so they get something you'll truly love (are you reading this Ryan?!?!).
What do y'all think, did I hit the nail on the head? What else would you have included on your gift guide?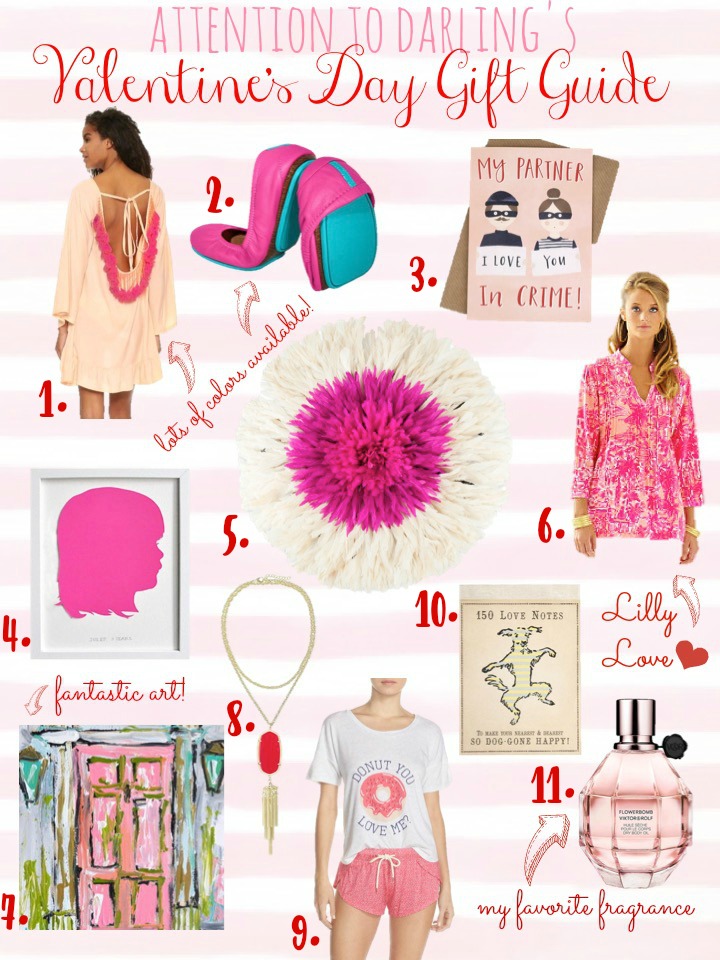 2. Tieks Ballet Flats in Fuchsia.
These have been on my list for a
long
time due to their comfort and versatility. There are a million colors, but I'm loving this fuchsia right now.
5. Pink and White Juju Hat.
I am obsessed with Juju hat wall art and this color combo might be my favorite. It adds an instant chic feel to any room!
6. Lilly Pulitzer Sarasota Tunic.
How could I not include Lilly, the queen of pink, in a Valentine's Day gift guide?! This tunic in the Paradise Pink Rule Breakers colorway has been at the top of my list for awhile.
8. Kendra Scott Rayne Necklace.
Ya just can't go wrong with a little Kendra Scott. I have the Rayne necklace in the
Abalone Shell
color and wear it way too much. I would love to add another color to my collection.
9. Donut Pajama Set.
My obsession with pink donuts has been a long one. I even had a pink donut cake for my birthday when I was eight (nom nom nom). I'm so excited to see them everywhere now, including on this adorable and comfy pajama set that's only $54.
10. 150 Love Notes.
We have this at home and rip out a sheet every now and then to give each other, making sure to add a personal message. I've kept all the ones from Ryan and they're my favorite to reflect back on.