Well, tonight is the Natty (the 'Ship, whatever you like to call it) at 8pm where we go head-to-head with Alabama. Today I'm celebrating in my orange and by watching the game at the Clemson bar tonight. I'm also celebrating by recapping our trip to Miami and the Tiger win that got us to the Natty!
We first made a pit stop in Amelia Island, FL at my aunt and uncle's house, this is where Sully stayed while we ventured down to Miami. I love this place and was so excited to get an impromptu trip in!
Sully was in great hands with my Mom, Aunt Chong and the rest of the family, but oh I sure missed her so much! She of course had a blast, I'm just so grateful for FaceTime!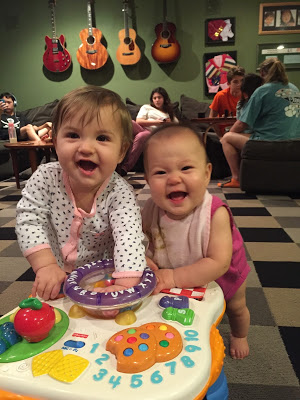 This is Sully with her new best friend Olivia (my Aunt Chong's niece).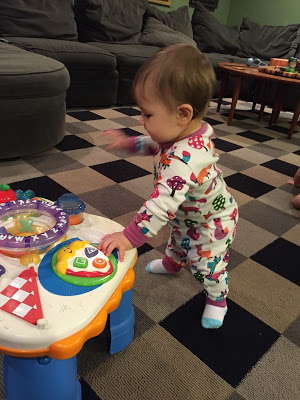 Sully is a standing machine now!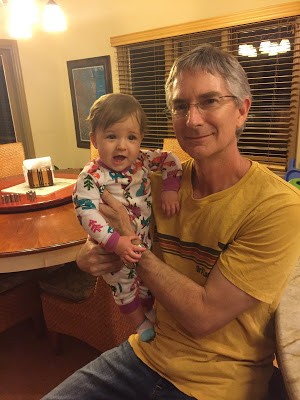 Sully with her Uncle Kevin, my godfather.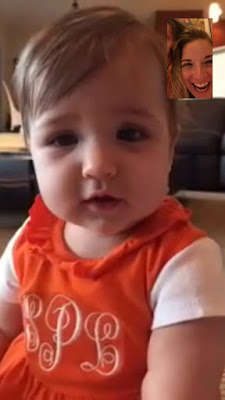 There was lots of FaceTime involved while we were in Miami.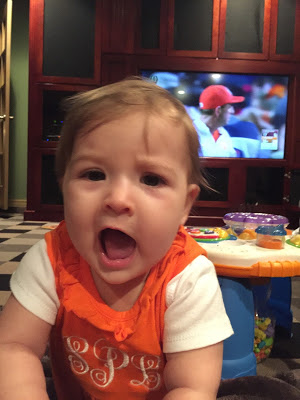 Sully made sure to wear her orange and cheer the Tigers on to a victory, see especially loves Dabo (in the background).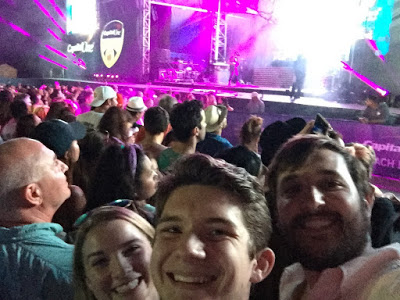 This is how close we were, crazy!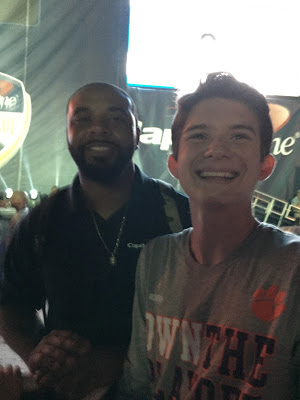 We saw one of our favorite Clemson players, Tajh Boyd, he even sat two rows behind us during the game!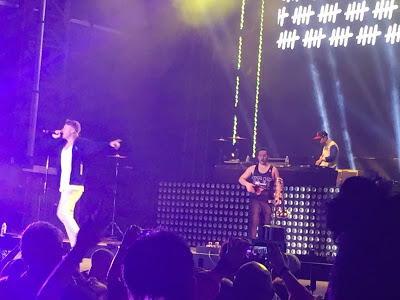 Macklemore and Ryan Lewis killed it, so much fun.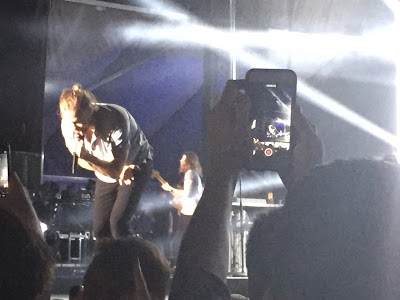 We managed to get even closer for Imagine Dragons and they seriously blew me away. My little bro was in heaven!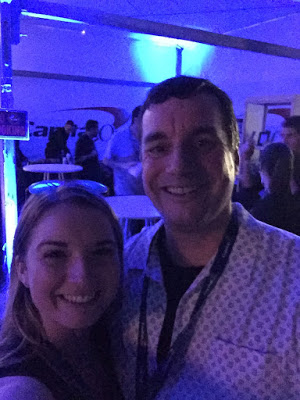 Me and Dad!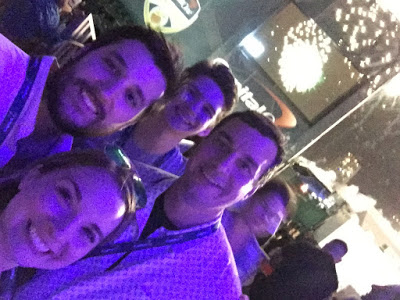 The whole crew during the pretty spectacular fireworks.

I managed to get a panoramic of the event, look at all these people y'all! I think over 20k people were inside the event then tons more outside on the beach.
Next day, it was game time!!! We had great seats and even ended up on TV. More importantly, we saw our Tigers have an awesome game. They're playing in the National Championship, AHHH!!!!!!!! I seriously can't believe it, so excited!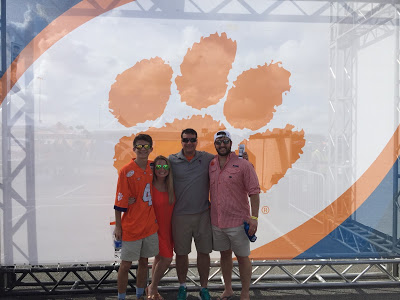 GO TIGERS!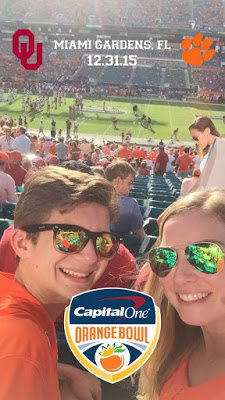 I am obsessed with Snapchat y'all, this photo is from the app, make sure to follow me (username: ephilli).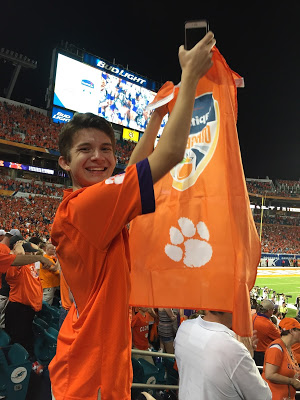 I could cry looking at this picture because my little brother is just so happy!
Our Tigers on stage receiving their trophy (and oranges!).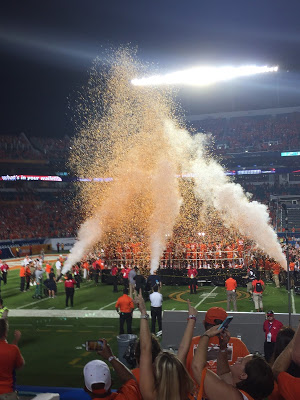 Orange out the Orange Bowl!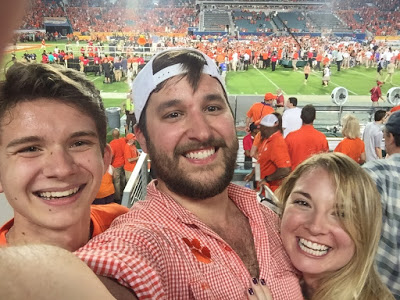 Clearly, we're all really happy (and really hot).
New Years was a blast as we celebrated our win and I got to meet up with my bestie from San Diego. Even better, I met her newest bestie and we danced the night away.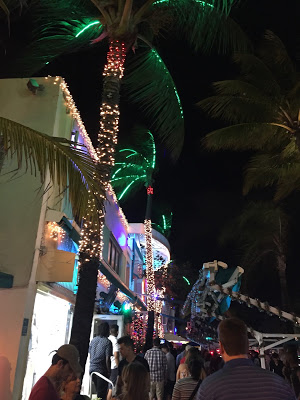 You almost forgot it was December in Miami, minus the Christmas light palm trees.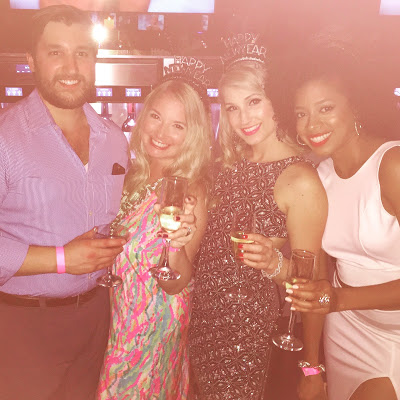 Ryan, me, Barbara and Chantel!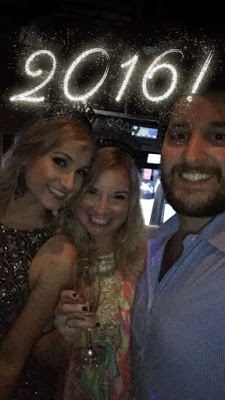 Again with the Snapchat 🙂
That was a lot of fun over a two week period, phew! Then we had to make the trek all the way from Miami to Amelia Island to pick up Sully and the dogs and then on to DC from there. We did make a pit stop in Palm Beach on the way back up and it was amazing, separate post coming later on this part of the trip!
Honestly though, Sully was amazing, I'm so proud of her for being such a trooper the whole entire time. It was a lot of new places, faces and her schedule got totally messed up. She's still my smiley little girl though and her nanny, Miss Wendy, was so excited to see her when we got home.
If you're still reading this, thanks for sticking with me! What a great way to end to 2015!
How did you celebrate New Years?!