Hey y'all! Can you believe the holidays are over and January is well on its way?! Now with Sully in our lives, life is just flying by (Am I right Mamas?!), and these past couple weeks are no exception. So today, I'm excited to share how we celebrated this year of Christmas "firsts" in South Carolina.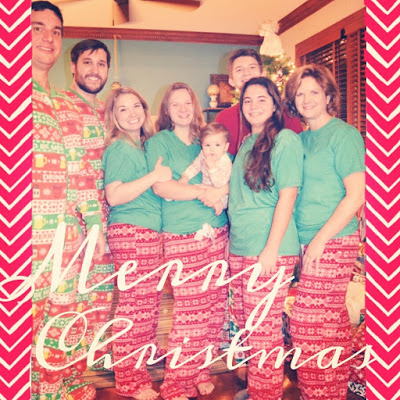 ~Time out for one second though – how did you guys score during the Lilly After Party sale?! Hope you got all the goodies you were hoping for and more! Let me know in the comments.~
Ok now back to our regularly scheduled content. 🙂
Our holiday started on Friday, the 18th of December when Ryan picked me up from Richmond (I was there for a work trip). We then made the trek all the way to Camden, SC which is Ryan's hometown.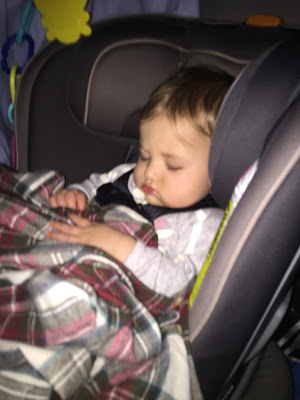 Her cheeks and "jowls" get me every time in this photo!
Ryan and our best friends Tyler and Mikael even surprised me with an early birthday cake and a night out on the "town" (you understand the quotes if you've ever been to Camden :), love small town USA). My actual birthday is Christmas Eve which makes it a little hard to celebrate on the actual day. Thank you Lala for babysitting Miss Sully!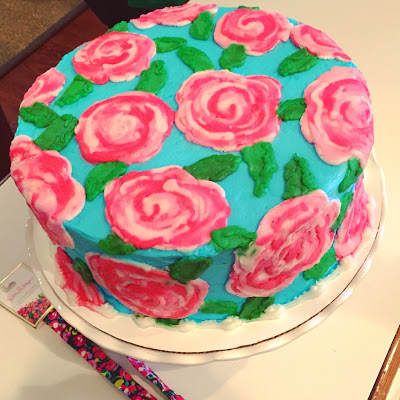 I mean… that LILLY CAKE!!! Favorite bday cake ever!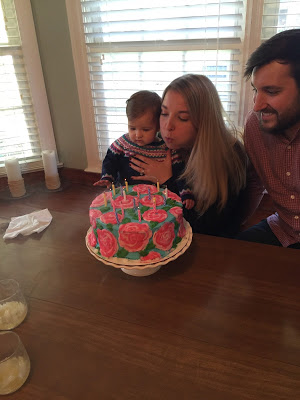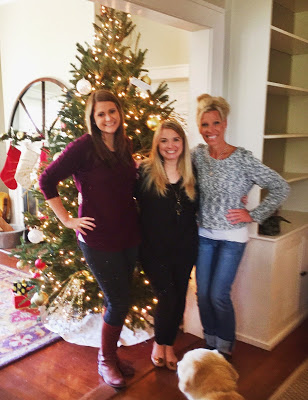 The hostess with the mostest, Mikael, on the left and Lala (my Mother-In-Love) on the right.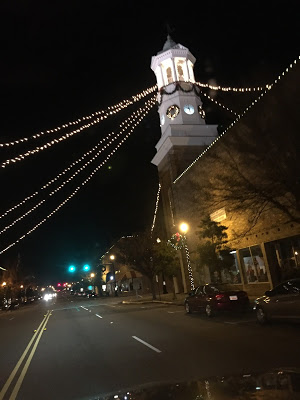 Camden's so beautiful at night, I love this clock tower!
Then it was Christmas time in Camden where Santa came early to Lala and Aunt Maddie's house! We enjoyed seeing the great-grandparents during this trip too, it was so special.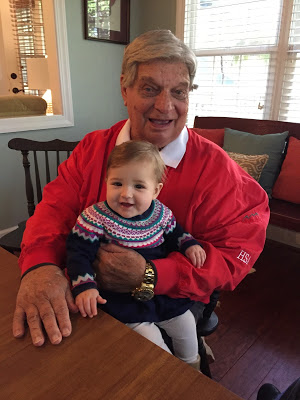 Great-Grandpa Hank was Sully's favorite person, she smiled so big every time she saw him!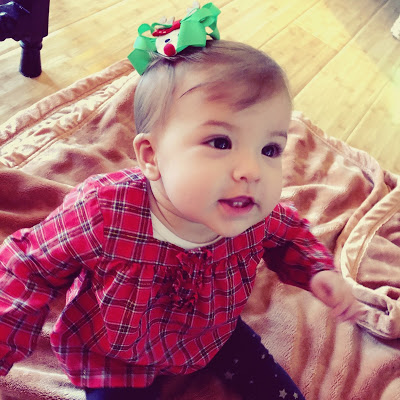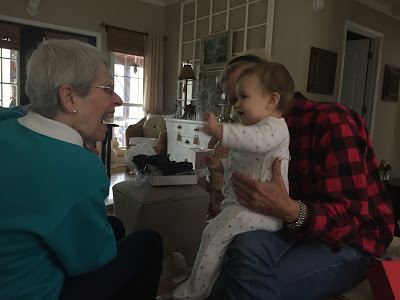 This is Great-Grandma Leigh with her daughter and great-granddaughter!
On Wednesday the 23rd, we packed the car and headed up to Greenville, SC where my family lives. We had such a good time celebrating Sully's first Christmas and seeing friends and family.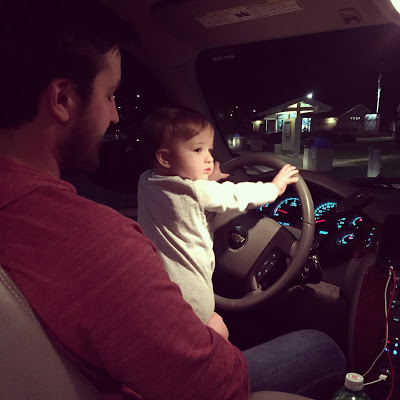 Sully take the wheeeeellll!!!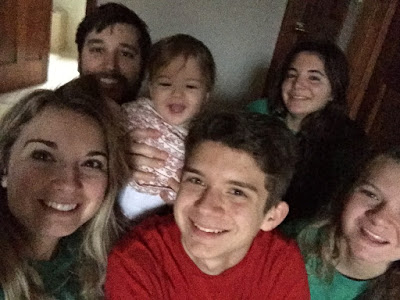 This is all of the kids waiting eagerly at the top of the stairs before we run down to see what Santa brought!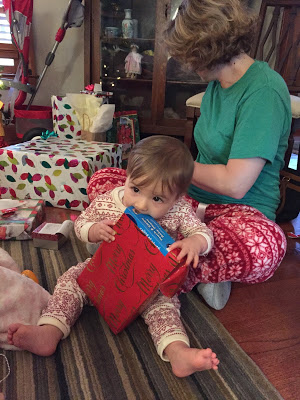 Naturally, Sully went for the boxes.
Buddy the Elf, what's your favorite color?!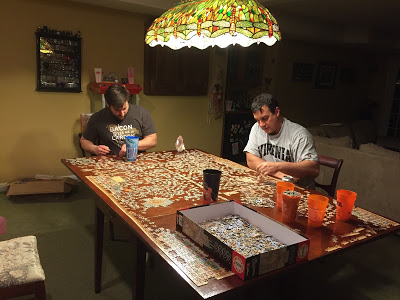 The whole family became obsessed with completing this 4,000 piece (yes, you read that right) puzzle!
Sully's cousin Lizzie was trying to share her cupcakes, so sweet!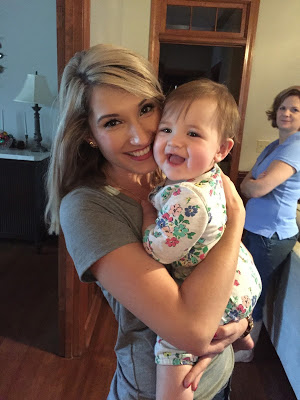 My baby loves my bestie! (+ a creeping Nonna)
On Christmas afternoon we went to my Nana and Papa's house to enjoy dinner, unwrapping of gifts and just good family time. We do this every year, I always look forward to it!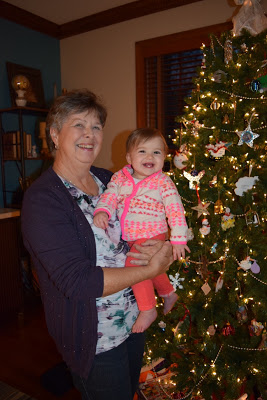 My Nana and her great-granddaughter!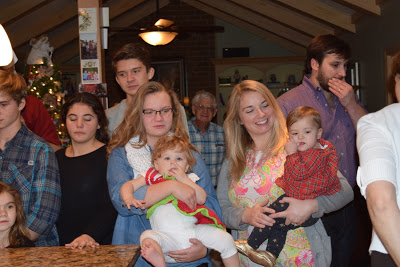 A little candid, but we're singing Happy Birthday to Baby Jesus here 🙂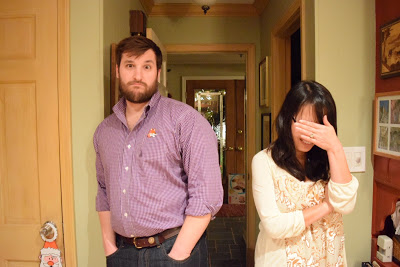 This photo of my hubby and Aunt Chong makes me laugh!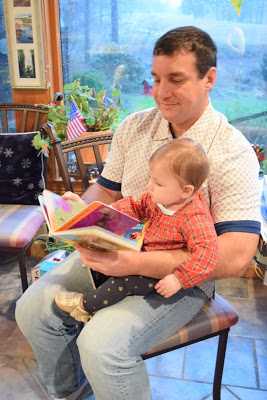 Granddad and Sully reading a new book she got for Christmas.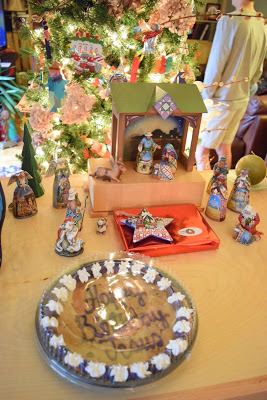 Baby Jesus's birthday cake!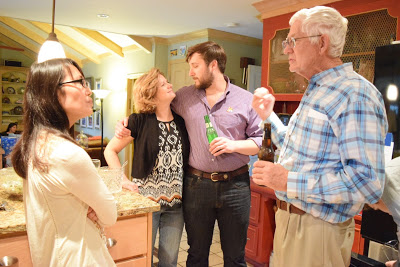 Caught a sweet moment between my Mom and Ryan, love!
We even spent an evening taking family pictures with all 25 of my family members which was a delayed 70th birthday present for my Nana. This is just a sample of all of us: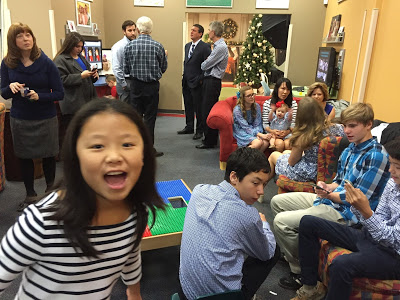 Ryan was husband of the year and set up a nail date with my two besties from home, so sweet!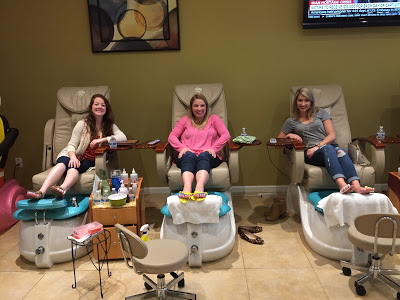 Amanda on the left has been a bestie since 6th grade (that's 13 years!) and Barbara on the right since high school!
Then the birthday celebrations continued when we met friends out for dinner at my favorite,
Lazy Goat
, before hopping around downtown Greenville. It's changed so much since I left in early 2013!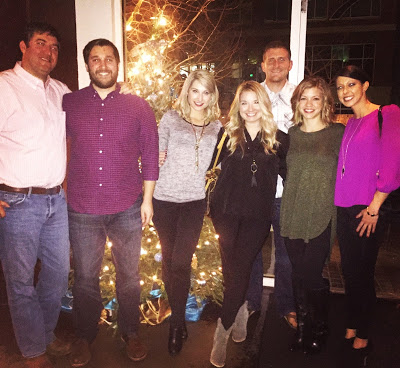 This was such an amazing trip! Not a single complaint. It was just so great to see my friends and family, I only wish we had more time so I could have seen everyone. We miss you already SC!
Up next, a post on our impromptu New Years trip to Florida!