During these in-between fall months when the weather is crisp and we all begin counting down the days until Christmas, I can't help but just want to cozy up under a blanket and enjoy the comforts of home.
This time of year, I always put a little bit of extra effort into decorating for the season. The name of the game is simplicity though. For example, I've been really inspired by a clean, neutral color palate. This translates so well from Halloween to Thanksgiving, and even into Christmas.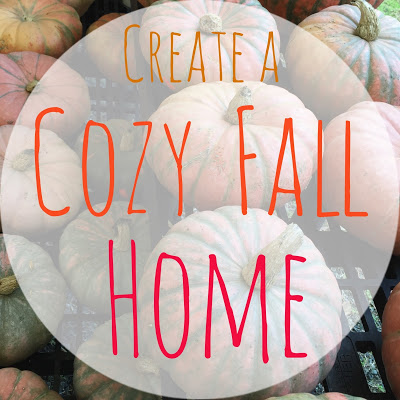 Here are some of my favorite ways to create a cozy fall environment while you binge on Netflix and consume pumpkin everything!
First, bring out the fuzzy blankets.
This grey/brown blanket is one of my favorite purchases ever,
from Pottery Barn
(wait until they go on sale for $99 later in the year!). I like having a basket of extra blankets on hand too for when we have guests over.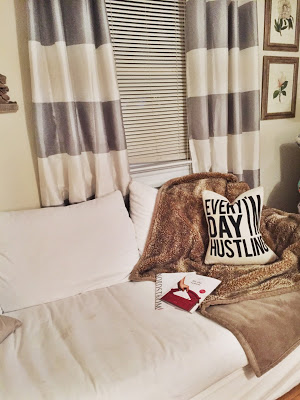 Make your house smell like fall. The warm and spicy smell of pumpkin can really make your space feel cozy. I keep a cabinet of different candles handy all year round, but did buy a new pumpkin spice one this year! Homegoods has a great selection for a good price, and is where I usually stock up on my candles.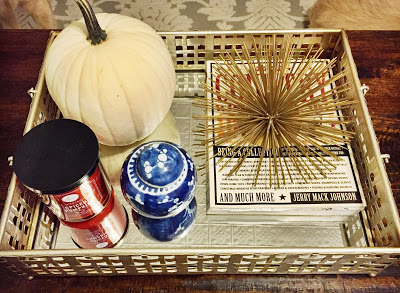 Add transitional decorations. I purchased a bag of little white pumpkins when we took Sully to the pumpkin patch for her six month photoshoot (more on this coming soon). They transition easily between all holidays and have become my latest obsession! I even mixed them with SC cotton from our wedding and oyster shells from VA in a bowl for our coffee table.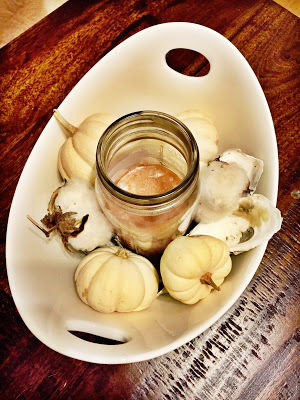 I also added the pumpkins in unexpected locations around the house, like the bathroom!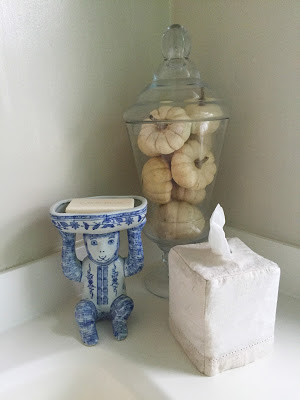 We also decorated with large white pumpkins inside and outside. I just couldn't bring myself to put my summery Lilly napkins away, so I just put the most fall-like print on top and rolled with the punch of color over on our sideboard.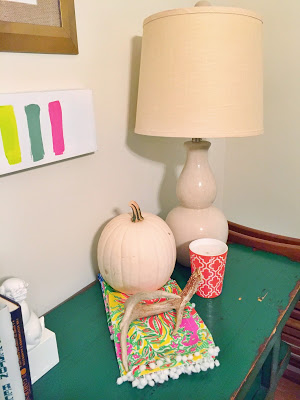 Decorate with pieces you already have. Don't let your most prized cookware, dishes, or entertaining pieces stay cooped up. I used my Le Creuset braiser to hold pumpkins and gourds as a centerpiece in our dining room. The white plates are our everyday dishware from Pottery Barn and the "Eat" plates were a purchase three years ago from Joss & Main. Using pieces you already have on hand helps keep costs for seasonal decorating to a minimum.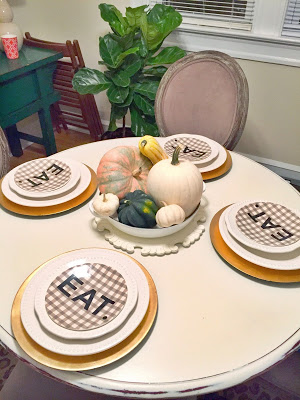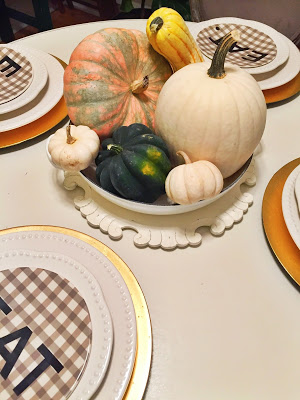 Finally, fill your home with those you love. We all know the best part of the season is the time spent with family and friends. By having a home that feels inviting, I find myself more likely to invite others over and offer to host. I hope this has inspired you to create your most cozy space so you can spend more time in the comforts of home with those you love!
PS: Have you seen the #CozyFallYall campaign that Southern Weddings is doing right now? I am loving following this hashtag to get inspiration for this time of year.