Welcome to another "London Favorites" post! If you missed the first post on our favorite Christmas things to do, you can go see that here and pin it for later! I'm excited to have the second round of our 10 series blog posts be on FOOD!
We get this question all the time and now Ryan and I are sharing all our favorites below – from Indian to a proper British pub to true Italian.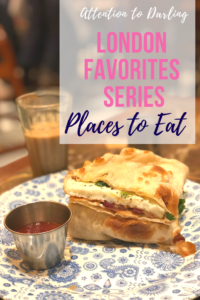 London's one of the largest cities in the entire world so you can imagine there are some downright delicious meals here. While we miss so many day-to-day things from the grocery stores in the US (peanut butter, ranch, chocolate chips, La Croix), we have found some great restaurants in our eight months living in London town.
Even if you aren't headed to London soon, pin this for later (or follow me on Pinterest) so you have it available when you're ready to get into the nitty-gritty of planning your London trip. Feel free to email me or DM me with any questions too!
Borough Market is near so many tourist-y things like The Shard, The Globe Theatre, and more, so make this part of your sightseeing! It's an amazing food market under the bridges in the city and it ends up being our guest's favorite food stop of their whole trip.
The paella is good, the best fish and chips are served here, the yellow curry, the Ethiopian, the pork sandwich, the watermelon juice, the chocolate filled donut, the beef fat fries… gah y'all it's just the best food. Go hungry! Plus, if you're staying in an Airbnb or hotel with a fridge, you can pick up the best cheese, meat, bread, and more to bring back.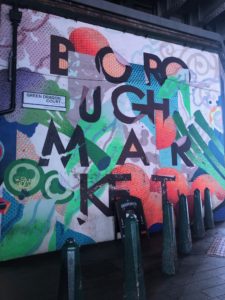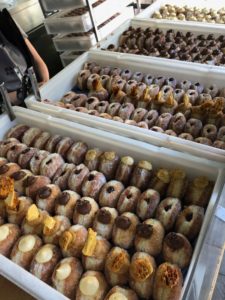 London is known for amazing Indian food. Even if you don't like or think you don't like Indian food, please please please try here. I was in that boat and Dishoom totally blew me away. Actually, more chicken tikka is served in London than fish and chips.
The chai tea, ruby chicken, okra fries, butta butter corn, cheese naan, it's all SO good… for breakfast get the bacon and egg naan, it's my favorite of all their dishes!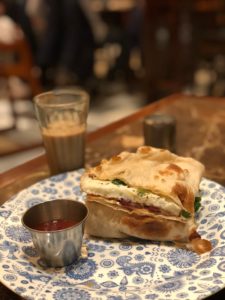 Yes, they have very worthy Michelin stars, but you also get out under £100 and you get freshly made pasta, plus the whole Italian family at your service. It's a pretty awesome place. It's also right near Carnaby which is a fun place to walk around.
We always order every pasta dish (there's usually 3-5) and then some apps before and split it with the table. The house red wine is also pretty darn good.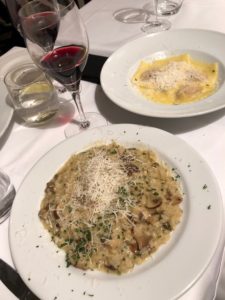 This is our local neighborhood pub and it's just so cozy. It's a true pub experience with friendly staff and local drinks and yummy food, not one of the chain pubs that's on every high street. Now – know they don't serve traditional fish and chips usually, so you'll have to go elsewhere for that. Trust me though, all the other true British food is yummy and it's worth the camaraderie!
Be prepared to wait in line for food or make sure you call way in advance if you want to sit down inside the restaurant. Food wise, if they have the pumpkin soup, order it ASAP. Also, get the chocolate cake, it is to die! Not to mention, the gardens and Richmond in general, are so gorgeous.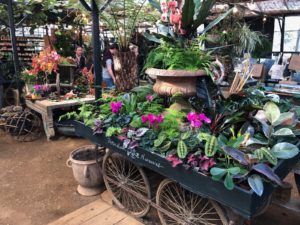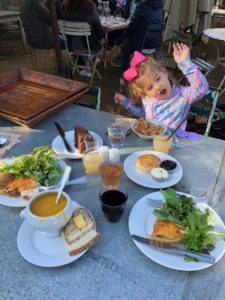 Call in advance and go for brunch! Ffiona herself is so sweet and the food is ALWAYS good. They love Americans and funny enough, have a UVA hat hanging on the coat rack when you walk in.
This is another one where you for sure need a reservation. Know they don't serve alcohol before 11AM and also that you have to specifically request if you want to sit in the garden. Don't leave without getting the pancakes!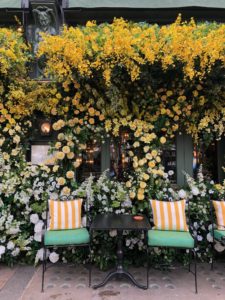 If you love meat or are trying to please the guy in your life while in London, this is your place. They have a butchery counter and you get to choose your cut of beef before it cooks. Oh and they stab knives in the table which is just downright entertaining :). They have really good wine too and it's not crazy expensive. One of Ryan's favorites.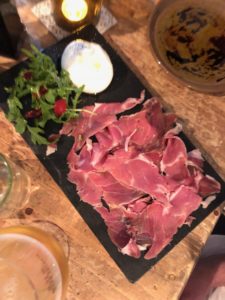 This one is for all you Spanish tapas fans. London is not too far from Spain and this restaurant does it right. We seriously wanted to order the whole menu! There are a few locations, we've only been to the one in Battersea and it's so yummy.
Have kids? 100% go here on Sunday from 12-2pm and they entertain your kids with dance parties, balloon making, games, and more while you sit and have a bottomless brunch (bottomless with drinks and food). Call in advance for a reservation. We need to get this to Charleston ASAP!
SOFT-SERVE WITH A FLAKE
If it's summertime, find a little vintage truck somewhere (our fav is out front of Kensington Palace) and order a soft-serve vanilla in a cone with a flake! You're welcome.
If you're looking for really Instagramable food spots, check out this post! I would now add The Prince bar and Biscuteers in Notting Hill.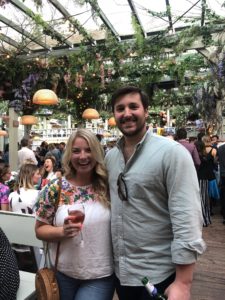 Don't miss the rest of our London posts here! Plus, I have highlights of all our travel on my Instagram profile.