Pasta, limoncello, lobster, cheese, gelato (on brioche buns!), pizza, Aperol spritzers… the deliciousness never ended in Positano, Italy! I'm so excited to share my top 10 places to eat in this perfect Amalfi Coast town with you today!
So for those of you who are doing research, or who are like me and just like to see yummy cuisine from another country, here's the run down of our favorite Positano eateries from 10 to our favorite meal at #1! This is a long one y'all, hang on tight and make sure you're reading with a full stomach ;).
10. Bucca di Bacco for Late Night Eats (+ Coffee)
We actually never had a sit down meal here and had attempted to take a cooking class (more on that later), but what we loved was the cafe downstairs that was open late, had great pizza, good gelato and according to Ry, great coffee.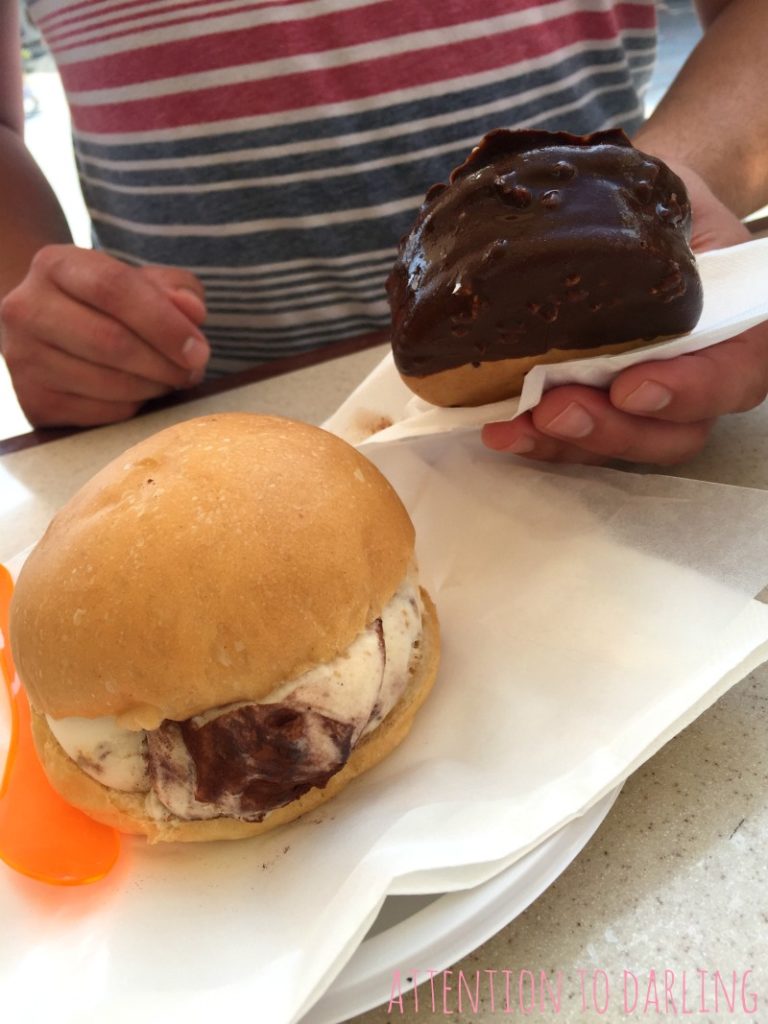 I could have done without the "cookie" sandwich that was more like scones with gelato, but the brioche with gelato was out of this world!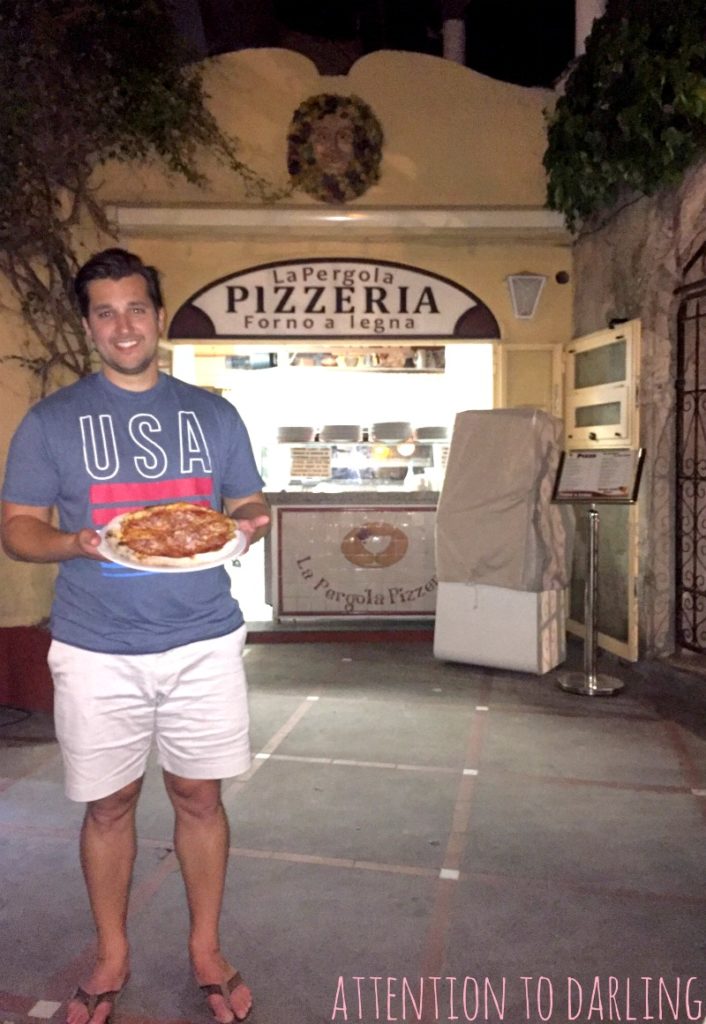 9. Grab a Cannoli from a Café
For the life of me I can't find the name of the café where we had the delicious cannolis below but you can't go wrong if it's dipped in chocolate, in a bubbly crust and nice and cold out of a refrigerator as you wander the streets.
8. Lemon Granita from a Local Stand
Much like the above, you can't go wrong with the granita from local stands on the drive in to Positano among the cliffs and in town. They're known for their lemons and this lemon ice is so refreshing!
We knew we wanted to go to the much hyped private beach and restaurant Da Adolfo that you're taken to by boat. Well y'all, we tried so many times to get aboard their red fish boat and never could because it was so crowded. Even people with reservations couldn't get on and frankly, the boat drivers didn't really care if you had a reservation or not.
So we went with the other private beach which is Bagni d'Arienzo, identified by the star compass at the top of their boats. It was fun, everyone was friendly, it was a really cool spot and the food was good. I went with Aperol spritzers again to drink, yum! The whole fish I had was so yummy and it felt pretty glam to be on a little beach nestled in the cliffs.
6. Il Fornillo for Fast, Amazing Pizza
After a busy day around town, we just wanted to get in our comfies one night and enjoy our balcony view. So we grabbed a bottle of rosé from a little store on the way up the hill and pizza from Il Fornillo that was SO good. It was perfection. So good, I didn't even snap a photo!
5. Il Capitano for an Italian Dinner with a View
We had heard this place was super touristy, so we avoided it at first, but it ended up being so close to the hotel and looked so beautiful we couldn't resist. I'm really glad we went, it actually was one of our favorite meals and evenings together overlooking the Mediterranean. It's worth the wait for a water view table, just hop up to the bar for a drink while you wait!

My seafood gnocchi with crispy prosciutto was SO delicious!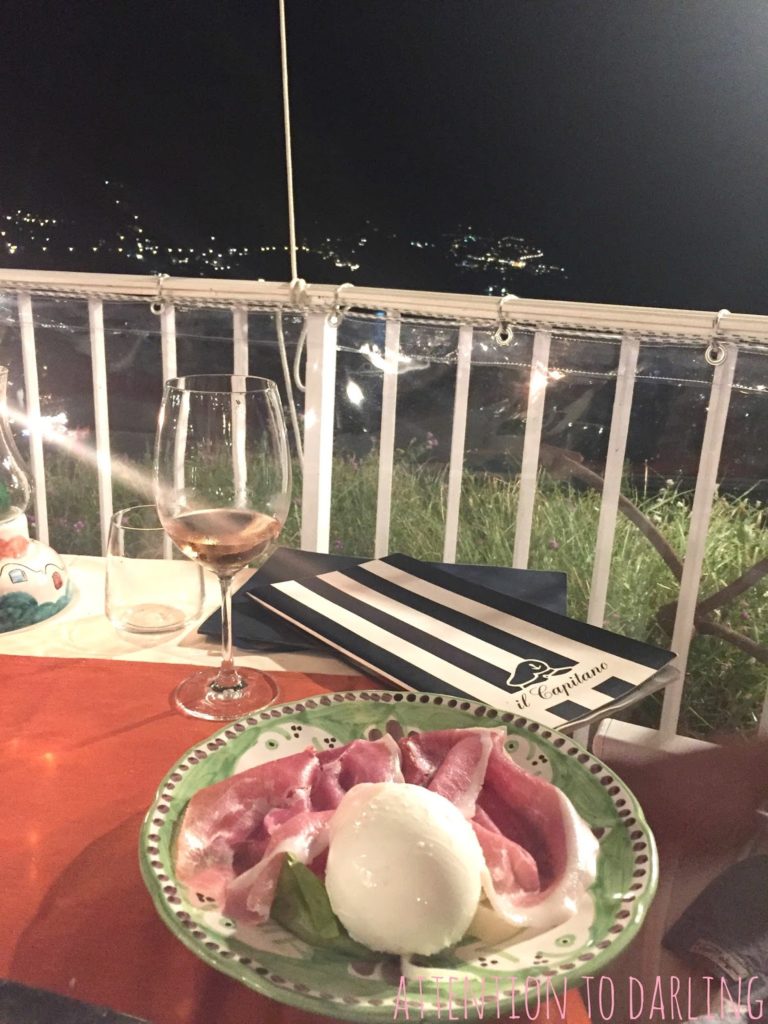 4. La Brezza for a Quick Breakfast
We were running down to catch our boat tour (more on that later) when we hopped in the first little cafe on the corner near the beach, La Brezza, and grabbed a ham and cheese croissant. Y'all, we went back the next day it was so good and I don't even like ham normally!
This was another touristy place we're really glad we went to, it was founded in 1949 and was so awesome. The owner was the sweetest and sat at a front table welcoming everyone as the came and went. Ryan and I split a seafood salad and a lobster plate which was TO DIE! And I mean, of course we got the bibs, how could we resist?!
I bought those pink sunnies above for only 5 euro at a local shop along the beach so that I didn't have to worry about my nicer ones while we were out on the boat!
2. Chocolate Gelato from the Stand Outside Caffé Positano
Not even gunna lie you guys, I had this every night, sometimes multiple times, no joke. Don't know if it was the convenience, the cute stand or if it was just that good, but the cones with chocolate chip gelato from this little place were my jam! Not to be missed!
1. Al Palazzo, our Favorite Meal!
I debated doing a whole entire post just on Al Palazzo. It is unbelievably gorgeous, felt so enchanted with it's gardens, had the best Aperol spritzes, the staff was so courteous and the food was beyond delicious. We actually even tried to move and stay at the hotel for the rest of our trip, even though we loved ours. But it was of course booked, but don't worry, photos of the hotel coming soon. In the very least, wander the gardens and order the seafood pasta while you're here!
Notice the lemons growing on the arbor above!
The garden grew all the tomatoes and most of the vegetables used in our meal!
Prosciutto with cantaloupe is surprisingly delicious!
Writing this post makes me want to book another trip to Positano right this second, it was so amazing y'all, I can't say that enough!
Just as important, there were three places I would definitely avoid…
Da Vincenzo came highly recommended and was right across from our hotel, but we just didn't think the food was that good, especially for the price.
Caffé Positano, while I love the gelato cart they have outside (see #2), the food was terrible and service just as bad.
There's an island drink hut down by the water, the drinks are tiny, watery and WAY over priced. Go a little ways in and get an Aperol Spritzer instead!
For y'all that have been to Positano, what did we miss, let us all know in the comments!
Psst… pin this for your upcoming trip or save it for a dream one!