Yay! Today's the
day, I am (finally) sharing Sully's first birthday party!!!! It
came together beautifully and was such a special day with all our friends and
family. Like, seriously, one of my most favorite days ever seeing everyone we love. I've been looking forward to sharing Sully's birthday since
this inspiration post
 (+ the many pins
on this board
) so here we go…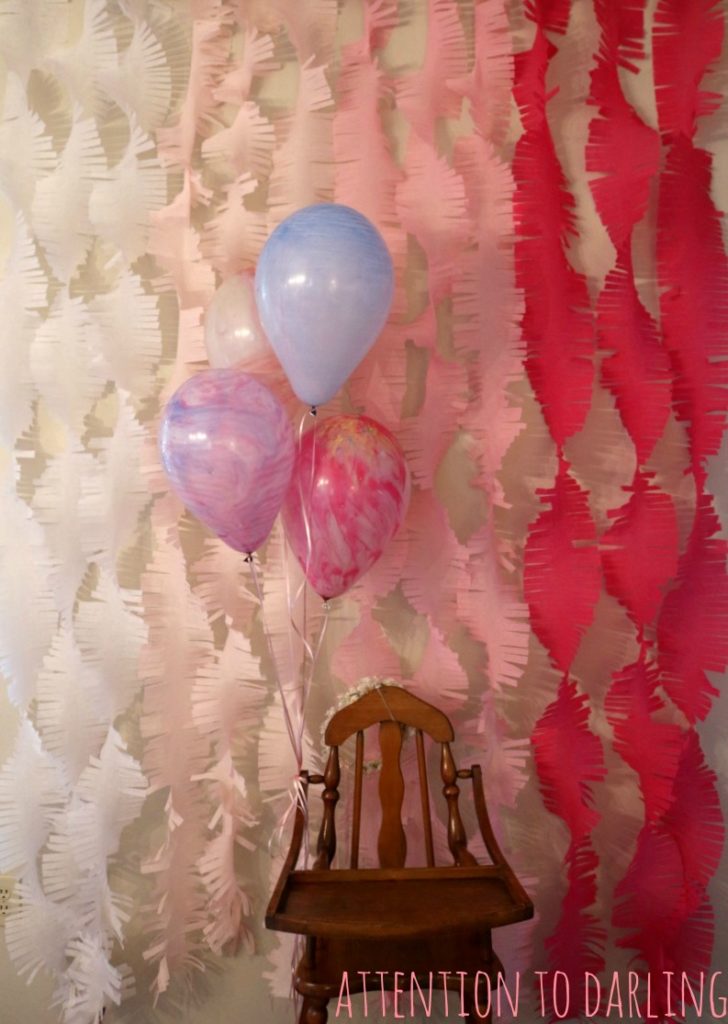 The party was on a Sunday morning (hence the brunch theme), so
Allie
drove us up to Greenville directly from the
Southern C Summit
 (recaps of day
one
,
two
,
three
, plus
Zero George
and
Candlefish
) in Charleston on Saturday and Ryan flew in with Sully on Saturday as well. This
left us no time to prep and decorate, so we decided to hire out the food
and photography. As a gift to Sully, my Nana also did all the flowers which was so
special because she did this for our wedding too.
This whole party was planned to be outside. Well wouldn't ya know it, Mother Nature had different plans. We had about 40 people attend so I was a little nervous, but it turned out great by splitting up the food and drink in different rooms.
Before I knew it, it was time for Sully to hear us all serenade her with Happy Birthday and blow out her one little candle. Happy Birthday baby girl!
Now for my favorite part, the people! Look at our beautiful family and friends, they're the best for showing up for Sully on her first birthday! And we had a VIP surprise guest :). Auntie B flew all the way from San Diego to celebrate with us. Needless to say, I was bawling crying when she arrived and was just in awe all weekend.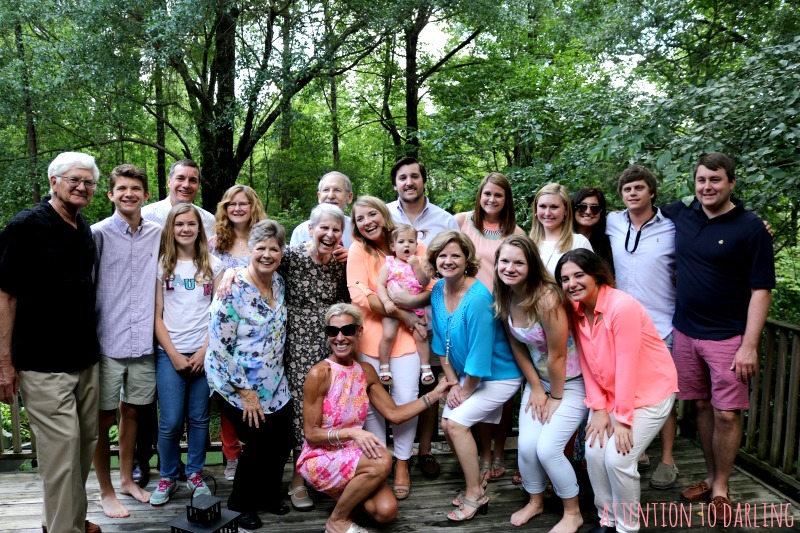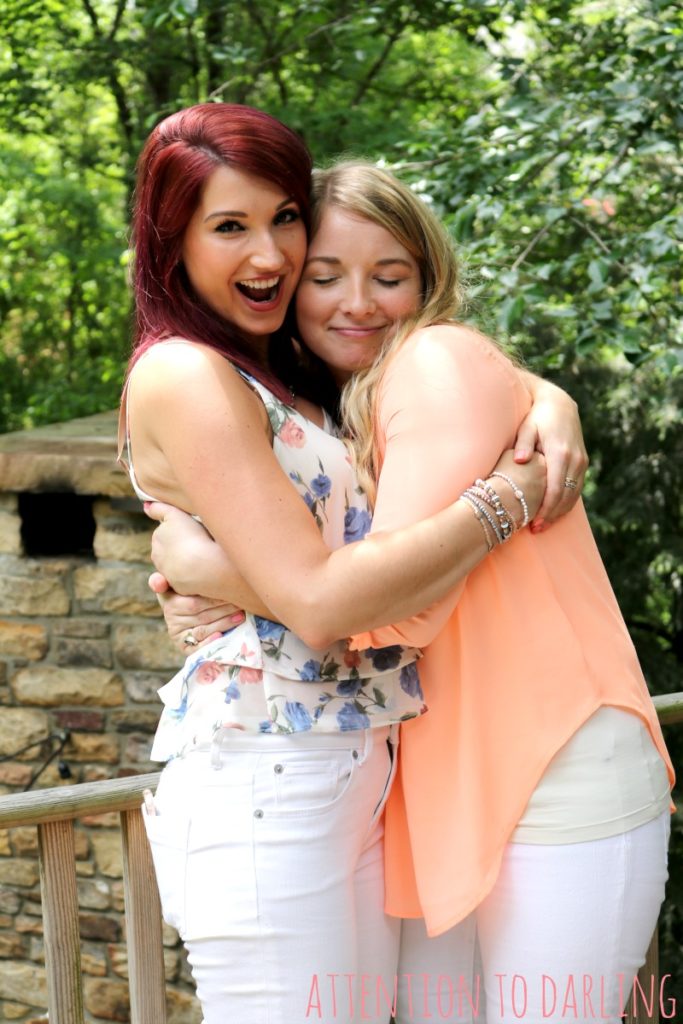 I mean, I was just blown away by my bestie showing up!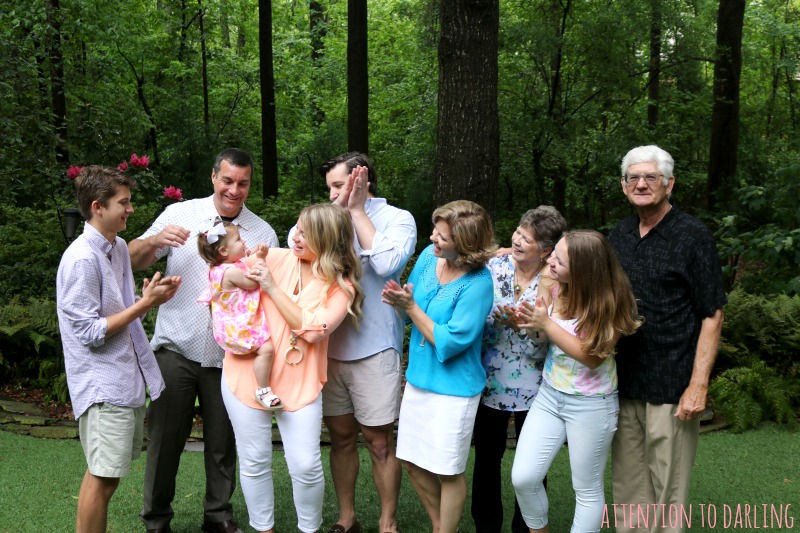 Focus is on you Miss Sully Lou!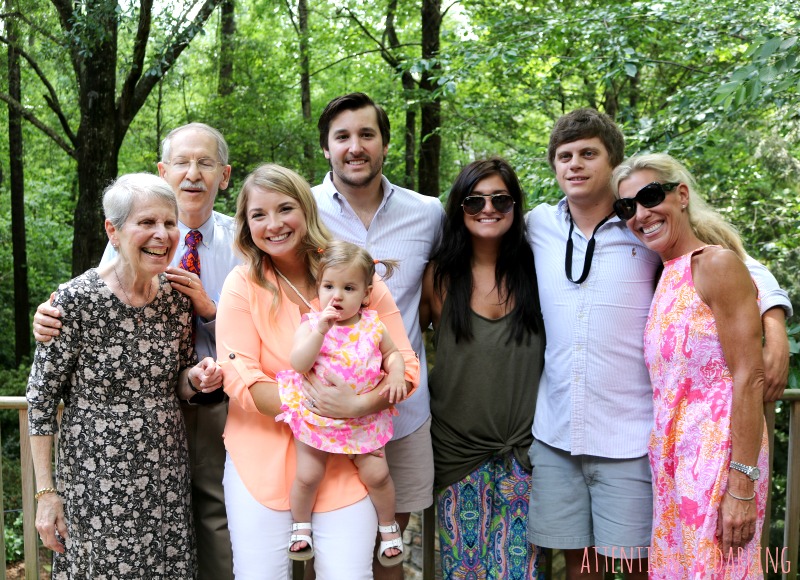 Our family on Ryan's side from Camden and Charlotte!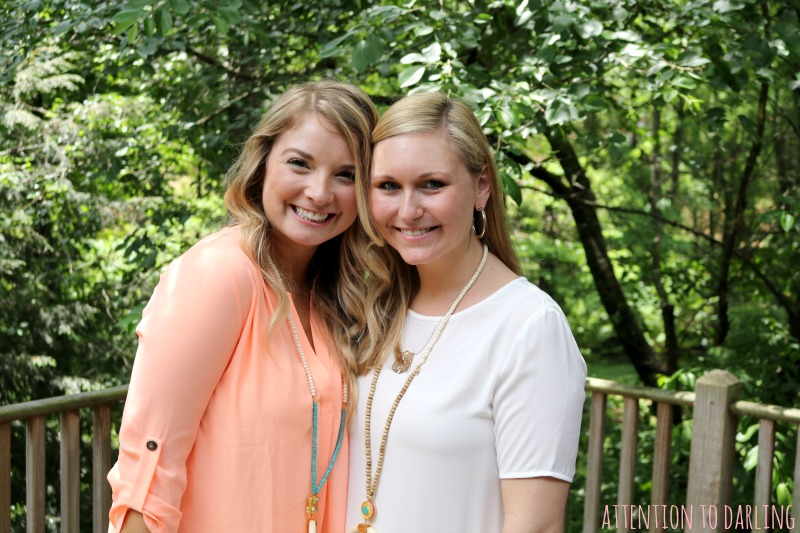 My sweet Allie, I'm so glad she was able to stick around for the party before heading back to RVA!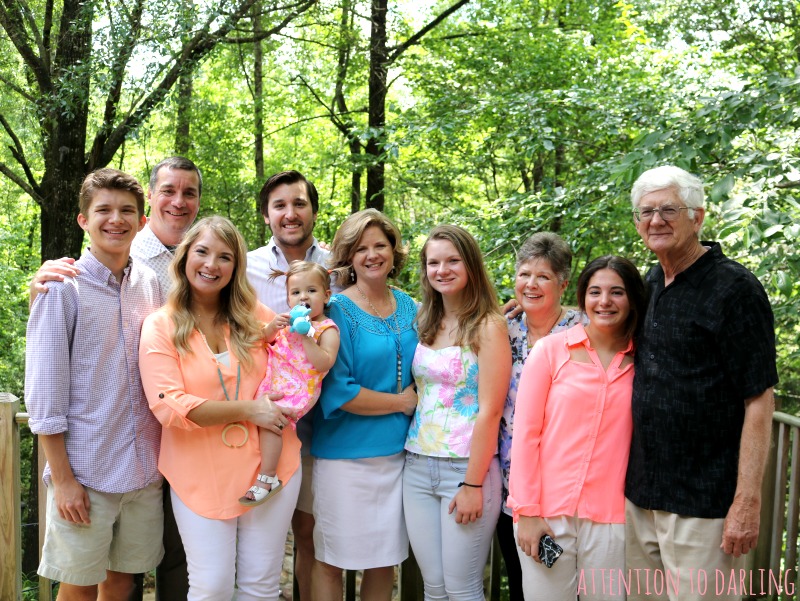 My fam, love them.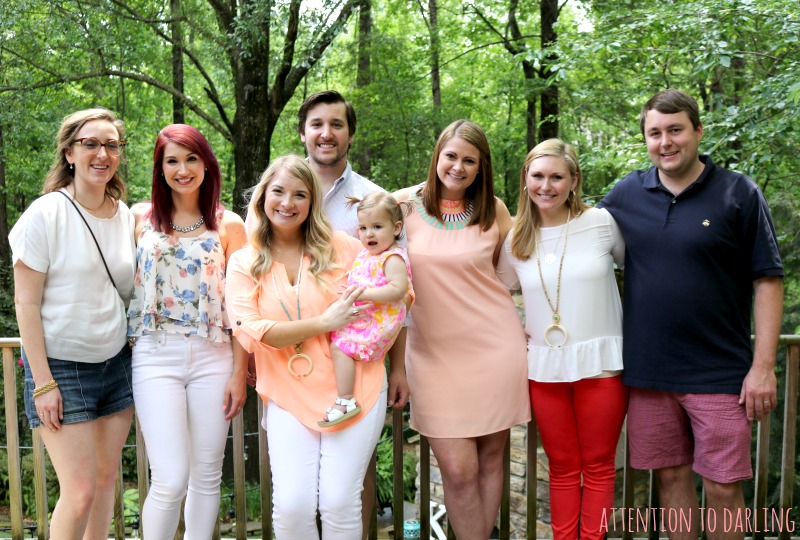 Another surprise was Andee who was in town all the way from Poland! It's kind of cool saying these are our friends from Poland, San Diego, Camden and Richmond :).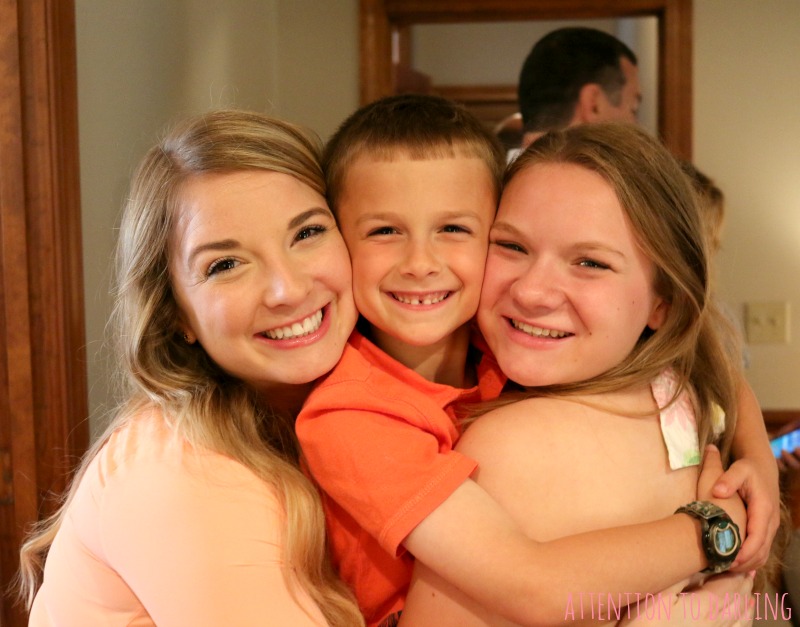 We love you Preston!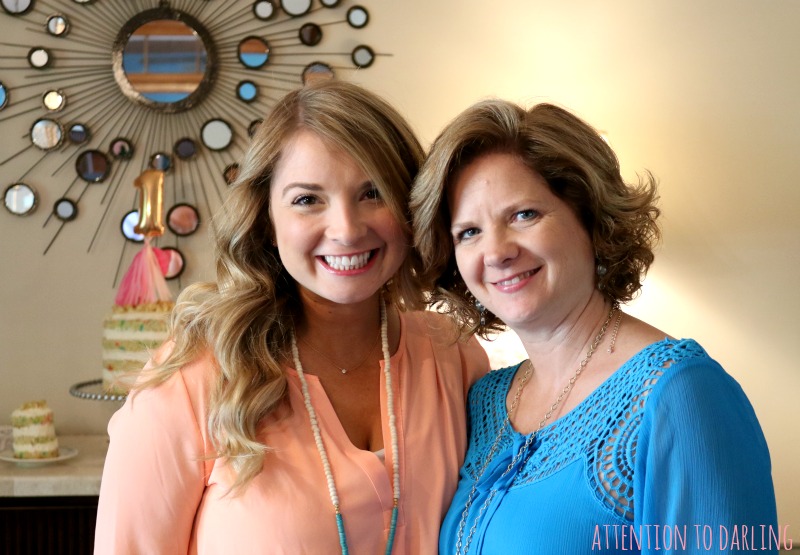 Thank you for all the hard work involved in having a big party in your house Mom!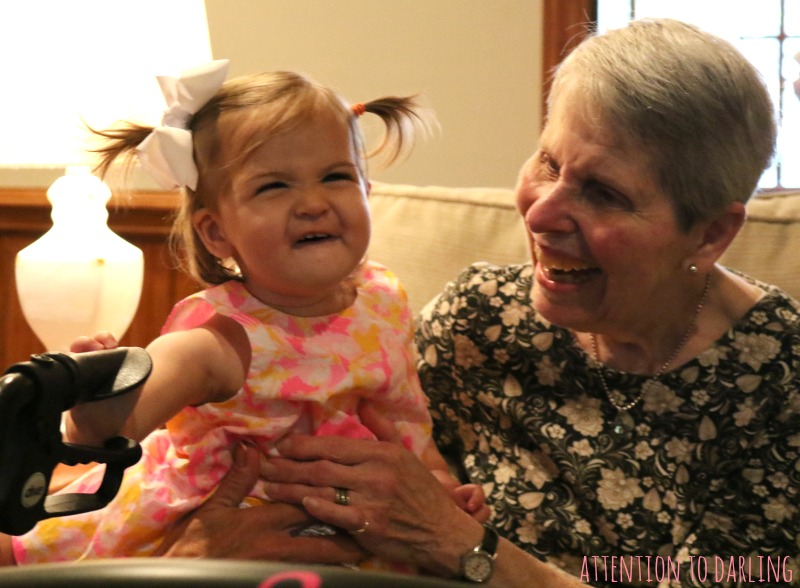 This is Sully's Great-Grandma Leigh (Gigi). Look at that goofy face!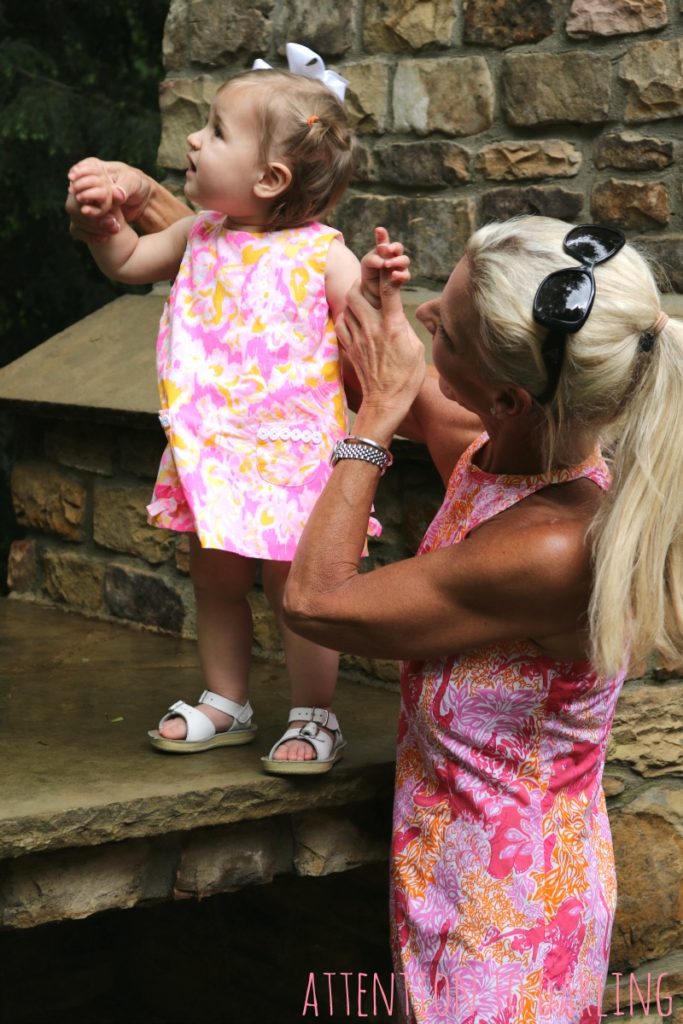 Sully and Lala matched in Lilly!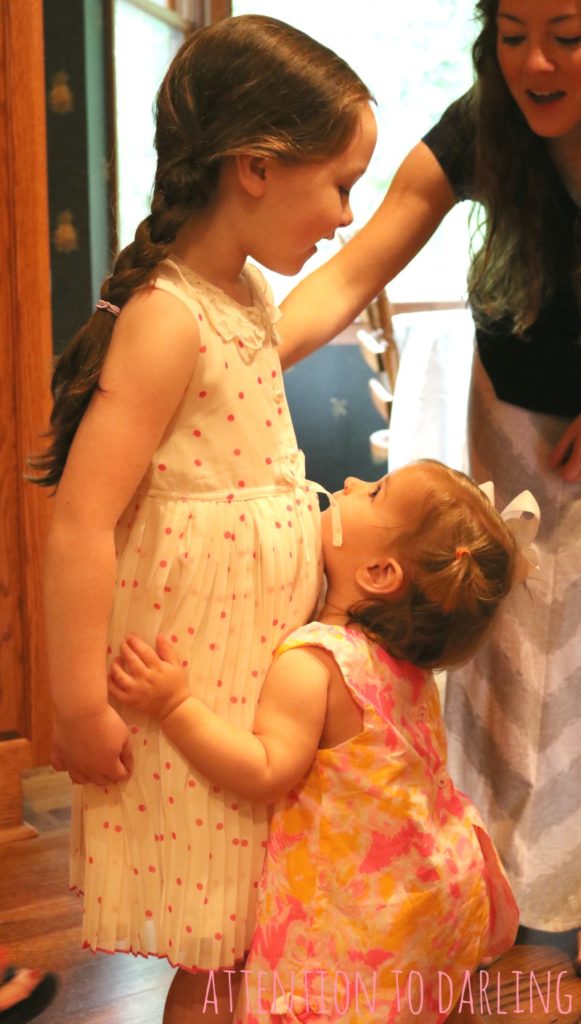 One of the sweetest sights was seeing Sully in love with Madeline, who is my best friend from middle school's little girl (lots to come soon on my friend's recent Greenville wedding)!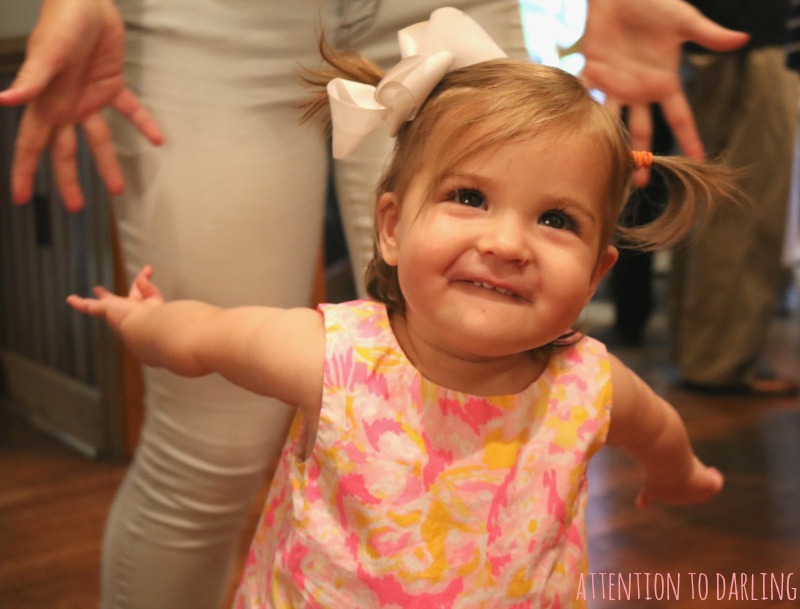 That's it folks, SUCH a fabulous day! I'm so proud to be this little girl's Mama and am so thankful to have this blog to capture all these fun moments.
Click here
to read my post to Sully for her 1st birthday, probably my favorite blog post :).

Now let's talk about sources… for catering we
used Christina and her her husband, Chef Matt from
Trois Chat Catering Company
. I went to high school with these two and the food was so fantastic! If you're in South Carolina, I would HIGHLY
recommend hiring them (contact them
via Insta
). Here's the full menu:
Churro French Toast Sticks
Sourdough french toast sticks dusted in cinnamon sugar and served with both a white and dark chocolate dipping sauce.


PB&J "One" Sandwiches
Homemade strawberry jam and peanut butter served on white bread.
Chicken Salad Croissants
Rotisserie chicken salad served in between buttery mini croissants.
Praline Bacon "Lollipops"
Thick cut applewood smoked bacon with a praline glaze on individual wooden skewers.
Sausage Egg and Cheese Biscuits
Homemade pork sausage patties topped with egg and sharp cheddar in between miniature buttermilk biscuits.
Orzo Tabouli
Orzo pasta with cucumbers, tomatoes and fresh herbs tossed in a lemon vinaigrette.
Strawberry Yogurt Parfaits
Homemade french vanilla almond granola layered between vanilla yogurt and Cottle Farm Strawberries. 
Mixed Fruit with Yogurt
Momofuku Milk Bar
-inspired Cakes
For photography,
my sister's friend Grace came with her fancy camera to take pictures for us.
She is just starting out and still in high school, but as I'm sure you can tell, she did a wonderful job!
Here's the
details on everything else:
Highchair :: A family heirloom, but I really like
this one if I was to buy one
Cake Cutters ::
Kate Spade
, engraved at
Things Remembered
That brings us to the end! Let me know if you have any questions and thank you for sticking through such a long post! It sure was hard even narrowing down all the photos to just the ones above. Happy Birthday Sullivan Louise!