Ok, so its no secret among friends and acquaintances that I'm a super
Lilly
lover. And I'm totally not mad about the
Lilly for Target
line at all. In fact, I'm super excited to get these fun prints and styles at a much lower cost –
see my first round of favs here
. The line launches IN THREE DAYS (Sunday, April 19)!
I'm sure you're as eager to snatch up your favorites as I am, so read below for my strategy shared via some great tips. Oh and because I'm even more of a crazy person, I created a tool that you can use to decide your top favs and to tally your budget (excludes Beauty items). Now, buckle down, this post is a little lengthy and don't forget to…
Excuse me while I toot my own horn here. Y'all! This tool ROCKS!! You can see all the items and when you enter the quantity you want it updates your budget so you know what your total is as you're deciding on must have items. It's the next best thing to adding everything to your cart to see your total (does anyone else do this?!).
Not to mention, you can print this and use it when you're ready to shop online and in-store. See, just look at this sneak peek and download through the link above!
No times have been announced as to when the online store goes live, but I know my local Target stores open at 8am (
find your store times here
). For in store, I live near a popular Target, so I might take a chair and go 1 hr early at least.
For online, I've
heard rumor
that EST launch time is between 1-3AM (woof). I think they're not announcing the online time for fear of the site crashing. My plan is to log on a little before midnight to keep an eye out. Plus I'll stay keyed in on social media, #lillyfortarget.
Alrighty, now lets talk strategy…
UPDATE (4/16) – Shift dresses will be numerically sized and it's been suggested you should go up a size if you're questioning things. Quality is said to be very good on most items, although some non-cotton items feel less high quality. Shorts have been reported to be a little flimsy. Home items reported to be good quality, pillows aren't as luxurious as one may hope. Also, there will be a cap of 5 on each item order online. (info from the NYC launch)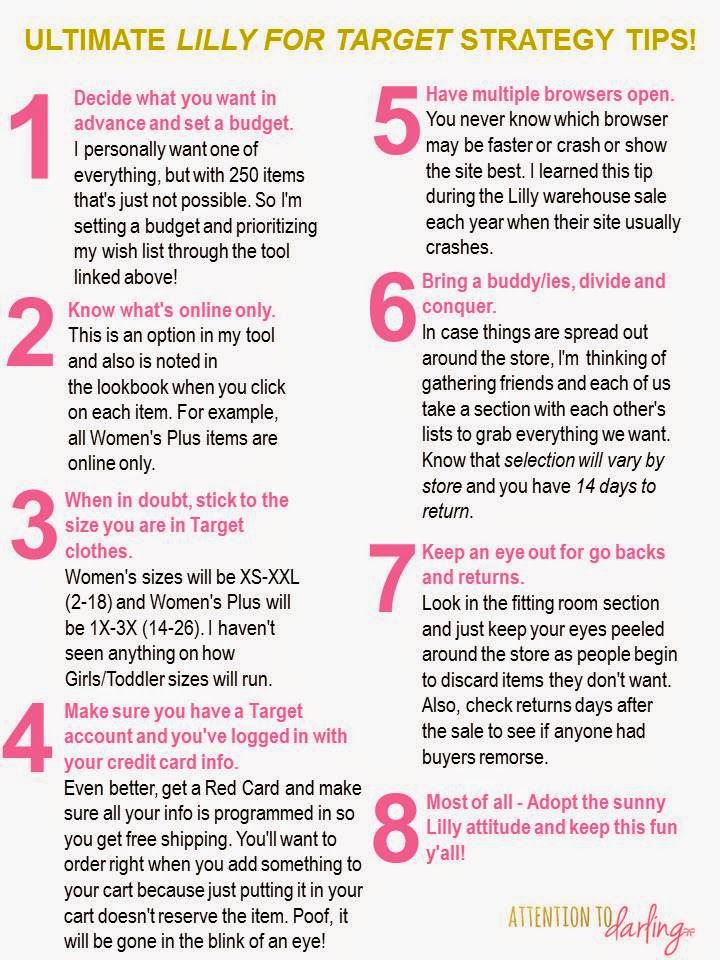 Oh and yeah, just one tiny little thing, my due date and the day I turn 40 weeks is Sunday April 19 when all this excitement goes down. So I'll be making back-up plans just in case :).
And if you still can't get enough like me, go watch this on repeat (not that I have or anything ;)).
What are your strategy tips?
Let me know how the spreadsheet works out for you!
Share your must haves too!
Richmond bloggers and friends, who wants in on an in-store game plan?!