I recently posted an Instagram update of Sully's "Hawaii" room which we're decorating on a budget. Meaning pretty much everything is from Amazon :). While the room is 100% completed yet, I got so many DMs for sources, so I thought I'd pop them all on the blog so you have them in one place! No edited photos or anything fancy here gals, just links to all the products.
As usual, this post contains links that when you click them, I may get some change thrown my way – no cost to you! Thank you for your support!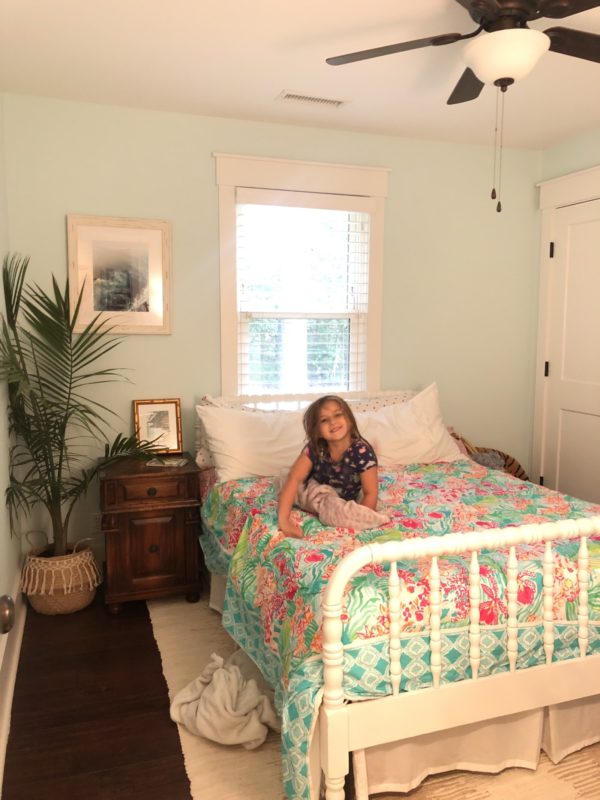 This room used to be a pretty plain and dark guest room that at one point was also my office – it was SO much furniture squished in! Now it's Sully's big girl room, which she requested to be decorated like Hawaii, one of our favorite places we traveled last year.
I already had the Lilly Pulitzer duvet, the bed frame is a family antique Jenny Lind I painted. Her dresser was our favorite Ikea one we've had since we did her nursery (see the original nursery tour here) 5 houses ago and the bedside table is from an antique store in Greenville, SC. So most of the big things we already have! I love when I can shop my own house or family's.
Now for the things we did buy!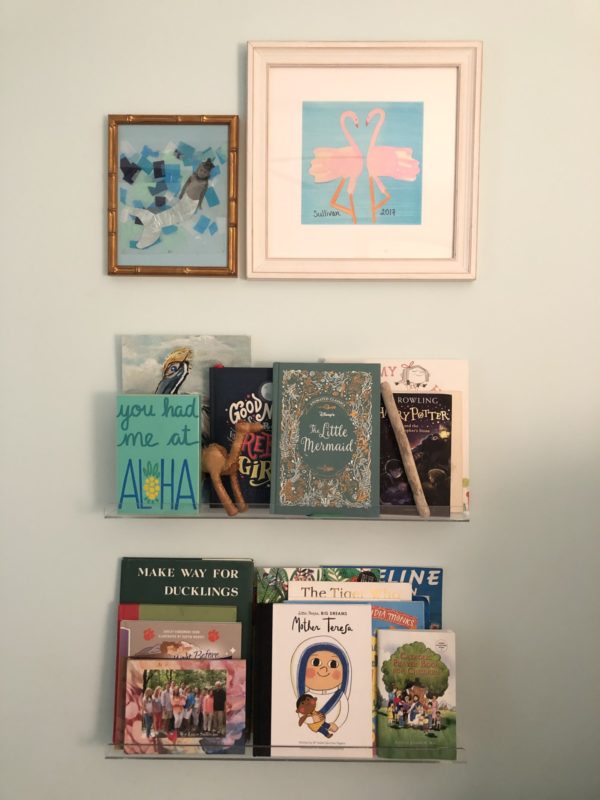 Acrylic Shelves (the #1 thing you wanted a link to!)
Gold Bamboo Frame (great quality, under $20)
Mattress from Costco (I have an old post on this bed in a box here)
Natural Fiber Pendant Light (big, good quality and under $100)
Extra Large Lightbulb (love these for pendant lights!)
Neutral Rug (only $115 for a 6×9)
THE Best White Sheets (I'm picky about sheets, love these and they're $51 for queen!)
I also had all the art, or we used the art I actually did keep from the things Sully brings home from school. The white frames are from Framebridge, unfortunately, they don't carry the frame for the ocean art (buy the art here), but they do have the frame used for her flamingo handprints. The art that isn't up yet is a fun Sullivan's Island piece from Lauren Jane (see below). The driftwood starburst mirror was a TJ Maxx find probably 6 years ago, again, I love shopping my home!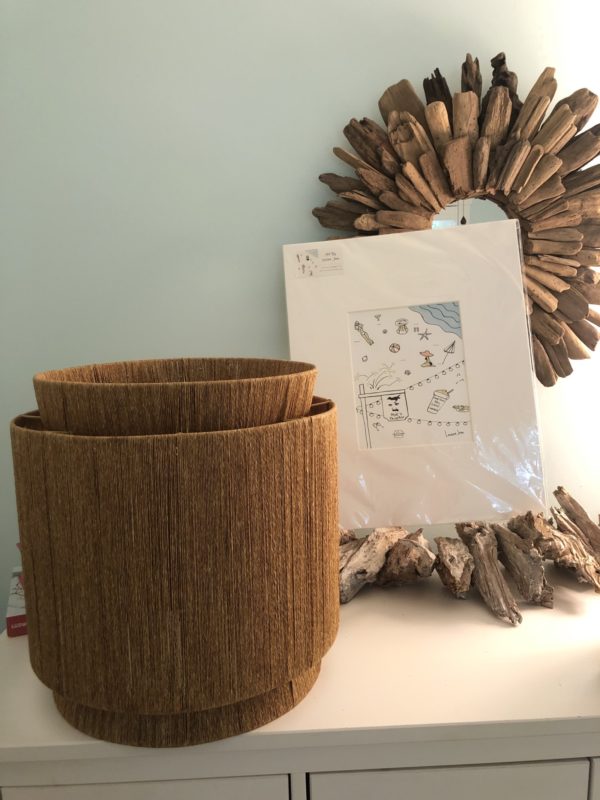 We're still on the hunt for a surfboard to hang on one of the walls and I would eventually love to have a scalloped valance above her mirror + I just love some natural blinds too. You can sometimes find them at Goodwill believe it or not so I have my eye out!
Any other questions?! Stay tuned to Instagram Stories to see how we keep progressing as we get the pendant light up and more!