The Nordstrom Anniversary Sale is quickly approaching y'all! For cardholders, you'll have access July 12th and for non-cardholders July 20th. We usually stock up for our whole family and some things for home during this sale, we even think about Christmas gifts too. I mean y'all, this is not a bunch of last season stuff, this is a TON of NEXT season items they mark wayyyy down prior to launching.
(Please know this post contains affiliate links which means when you click or make a purchase from one of my links, the retailer sends me a small commission. Thank you for supporting my little blog!)
After browsing the Nordstrom catalog for the sale online, here are some things I'm already eyeing, or I even already own and would highly recommend! You can pin this image to shop on the 12th or 20th if you're loving some of these items too!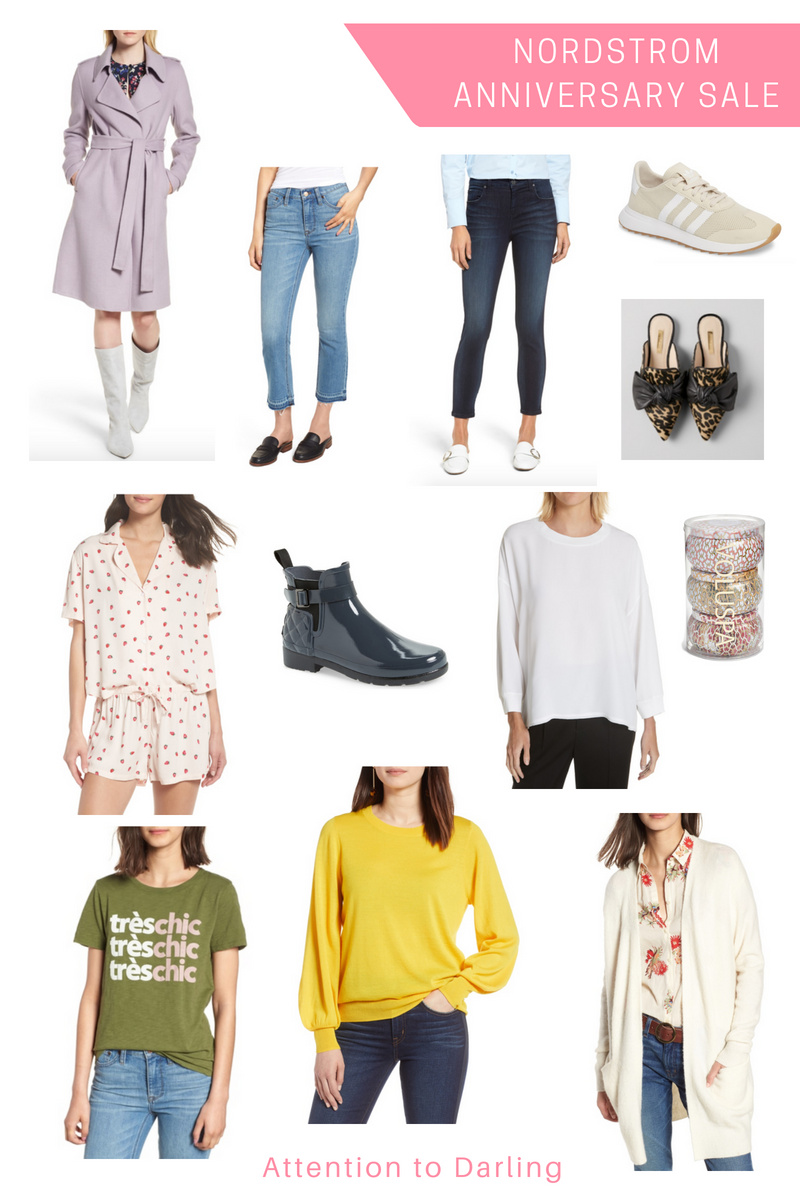 LAVENDER COAT – Originally $349 // Sale $229
Loving this color for fall actually! I could use a nice, heavy coat for the brutal winter I'm about to weather 😉 here in England. This Badgley Mishka one is giving me all the feels. 
I actually already own (wish I could have gotten the sale price!) these jeans and I wear them at least once a week. They're super high waisted and have a button fly, so for all you Mama's, they really suck you in! 🙂
I'm in desperate need of an every day jean and being the shorty I am, I need an ankle jean. Love the price point and color of these!
My Adidas tennis shoes are my favorite thing to wear all around London, especially when it's cooler. I am head over heels for this neutral pair and the thicker base looks like they'll be comfy and stylish.
LEOPARD BOW MULES – Originally $129.95 // Sale $84.90
I bought a pair of leopard mules last Nordstrom sale and seriously get a million questions about them every time I wear them. I am absolutely loving the bow on these cuties!
I turned 30 and wanted to wear legit pajamas y'all! 🙂 I need a shorts and short sleeve pair and am loving the loose and comfy fit of these.
It's pretty dreary and wet here in the UK and I love my tall Hunter boots, but sure do wish I had an easy pair just to throw on. Ding, ding, ding, these fit the bill! I scooped Sully up a pair of the pink little girls Hunter's last sale too and she lives in them.
Another great long sleeve top, it's pretty darn pricey still, but I'm thinking it might be worth the splurge becuase you can wear it with everything for years to come!
We've bought these three years running in this sale and Ryan and I agree they're still some of our favorite candles. Not to mention, they make awesome stocking stuffers or smaller gifts for friends and family.
I live in t-shirts these days and love the color combo on this one!
YELLOW SWEATER – Originally $69 // Sale $45.90
I really had zero sweaters because of living in Charleston, so time to stock up! I love the style and how lightweight this one is, not to mention the fun color!
I'm already tired of the 2 cardigans I brought with me and neither of them are white, so this would be an awesome steal for all of fall I'm thinking.
Some other items I'll be looking for this year that I didn't see in the catalog is a passport wallet or a small card holder, I just can't lug around my big wallet anymore with all the walking we do! Jeans are the highest on my list to get as well as sweaters and some no-show socks that actually stay on my feet. Also just saw they have my go-to perfume! And forgot to add my fav pants – Spanx leggings, these are a cool black/gray camo!
For Ryan, I love this t-shirt and these shoes for his 40+ minutes of walking to and from work each day. He also loves the Bonobos pants if they have those again this year. For Sully, these UGGs are a staple I get every year. I always look for Mini Boden clothes items for her too and a new Patagonia (this one is actually 25% off right now).
What else do you have your eye on?!