Wowza y'all love Amazon shopping as much as me! When I asked on my Instagram if you all wanted to see my most favorite Amazon purchases recently, you came out in droves with an overwhelming YES. So here it is friends – all my best Amazon purchases from dresses to kitchenware to food.
Please keep in mind these are over like 6 months, even when we lived in London. So no, I did not just purchase all this last month :)! Also know that I used affiliate links so I may make a small commission when you purchase through my link with no cost to you!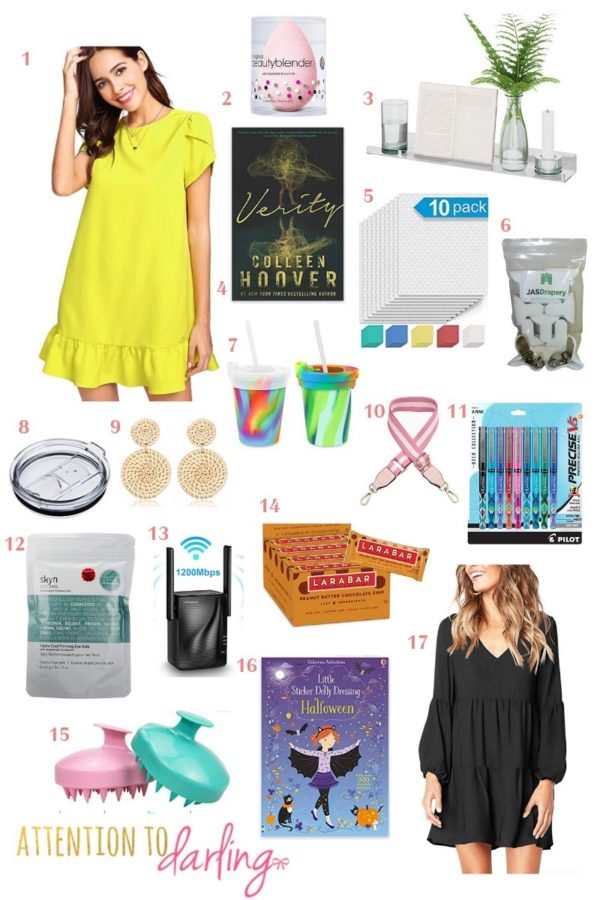 1 / 2 / 3  / 4 / 5 / 6 / 7 / 8 / 9 / 10 / 11 / 12 / 13 / 14 / 15 / 16 /17
1 Short Ruffle Dress – I legit have this in two colors and get so many compliments. It's under $30 and really good quality for what it is, it doesn't shrink in the dryer either.
2. BeautyBlender Makeup Sponge – I can't live without this beauty tool, it's what I use to put on my concealer and my Dew Skin "foundation", I was so happy when I found it on Amazon after my last one cracked from Sully pulling on it (ugh!).
3. Clear Acrylic Bookshelves – These are the ones from Sully's big girl room update and gosh they're sturdy and pretty!
4. The Book That Shook Me – Verity – Okay, DO NOT judge me for reading this book y'all. It's so dark and twisted and will leave you SHOOK! That's all I'm going to say, it's bad. But I couldn't put it down. So does that make it good? I'll leave it up to you if you even dare.
5. Swedish Cleaning Cloths – These truly have cut my paper towel use in half or more! I just gotta remember to use them, but when they get wet the texture is even like a paper towel and then I just throw them in the wash.
6. Comforter Clips – I love duvet covers, but I hate when the comforter in them slips. These clips keep it all together and you have a happy bed!
7. Silicone Kids Cups with Lids & Straws – I have the adult version of this so we could make drinks on the beach which has outlawed glass and plastic. Sully would always steal my cup, so we were so excited to find them in the kids version and even with a lid and straw. They're great in the dishwasher too!
8. Yeti Large Tumbler Lids – I love, love, love my big Yeti or Arctic cups, but like to drink from a straw and the hubs doesn't, so these are perfect for both of us!
9. Rattan Earrings – I have been wearing these non-stop, they're light and so cute!
10. Pink Stripe Bag Strap – THE best! I put it on my Louis and on old bags to make them feel fresh and comfortable on my shoulder.
11. Colorful Fine Pens – I'm a Le Pen fan, but when I needed to order more I tried these and kinda love 'em!
12. Cooling Eye Patches (that actually work!) – Can't live without these, they are a little pricy but so worth it because I only use occasionally!
13. Wi-Fi Extender – Our wi-fi is in the back of the house so this just helps extend it to the front for Netflix watching! So handy!
14. Peanut Butter Chocolate Chip Lara Bars – This is what I break my fast with every day and love them! They're gluten and everything free and so yummy.
15. Scalp Scrubber – You don't know you need this until you try them and then you can't live without them. It's like a massage from the hair salon every time you shower, plus helps get all the dry shampoo and build-up gone!
16. Sully's Favorite Sticker Books – These are a must-have for travel or nights eating out, you're welcome parents 🙂
17. Classic Long Sleeve LBD (only $25!) – I have a feeling I'll be wearing this all fall long!
What do you love that's a little quirky from Amazon? Let me know here or on the 'gram!